Comedian, cabaret star, writer, and general Renaissance woman Catherine Cohen has been sharing her raw, stream-of-consciousness poems on her Instagram since 2016. Now they're gathered in God I Feel Modern Tonight — an unflinching collection that explores sex, ego, art, bodies, millennial ennui, and longing. Last week, I chatted with Cohen via text message about earnestness, comedy, and the reasons we fight to survive, in a conversation as free-flowing and unaffected as her poetry.
AR: Hi Catherine! It's Arianna from BuzzFeed Books. Thanks for taking the time to chat today! How are you doing this Friday?

CC: Omggggg hello!! A text interview, how exciting.
CC: I'm…ok lol
CC: We live in hell obviously but
AR: True, living for the honesty
CC: hahaha
CC: Too honest for my own good vibes
CC: No but things are looking up I just watched the finale of Bling Empire on Netflix
CC: Sooo good
CC: How r u?
AR: Same more or less, I discovered this British show called Rosemary & Thyme and it's about gardeners who solve murders, which I can't recommend enough. So that's been a real highlight.
CC: Omg sign me up
CC: I famously love British
AR: Let's talk about the book!! How does it feel to (almost) have it out in the world?
CC: I'm so excited
CC: Love that girl
CC: (My book)
CC: She's rly good
AR: I am, full disclosure, a big fan

CC: Eeee !
CC: Honored
AR: I suppose we should probably say what it is — God, I Feel Modern Tonight, a poetry collection. For people who might not be aware already, can you tell us about it, how it came to be, etc.?
CC: Yes! Its a collection of lil poems I wrote, some are funny some are
CC: Dare I say…earnest?
CC: Heartwarming etc
CC: I've always loved poetry because I'm Too Emotional For My Own Good (TM) and started writing and posting lil funny poems to insta in 2016
CC: then I started reading them on stage during my act and that evolved into me bravely thinking I should have a book
AR: Knopf agreed!

CC: LOVE Knopf
CC: Working with them has been a dream
AR: What was it like integrating something more earnest into your act/"brand" (sorry) — were you nervous about it?

CC: Hehe yes!!
CC: It's mortifying
CC: But I will be dead one day (annoying) so might as well share the things I'm proud of !
AR: True! Solid advice
AR: I'd love to hear about how you approach comedy vs poetry, how they feel similar or different
AR: I know you do a lot of songwriting too, which feels sort of between the two
CC: ya sometimes I'll have an idea that could be a poem or a song or a joke and I have to decide what feels right
CC: All of it is very stream of consciousness
CC: Writing poems and songs is easiest for me. Jokes are hard and boring lol
CC: I've come up with most of my standup bits from just being on stage every night and now that we famously cant do that, poetry has been a good outlet for whatever I'm feeling in the moment
CC: I try not to overthink it…..I just kind of throw shit out there….I don't rly edit……my attention span is short because I love my phone....
AR: Understandable. How have you been coping with the shutdowns, as a really prolific performer? Have you been doing virtual events?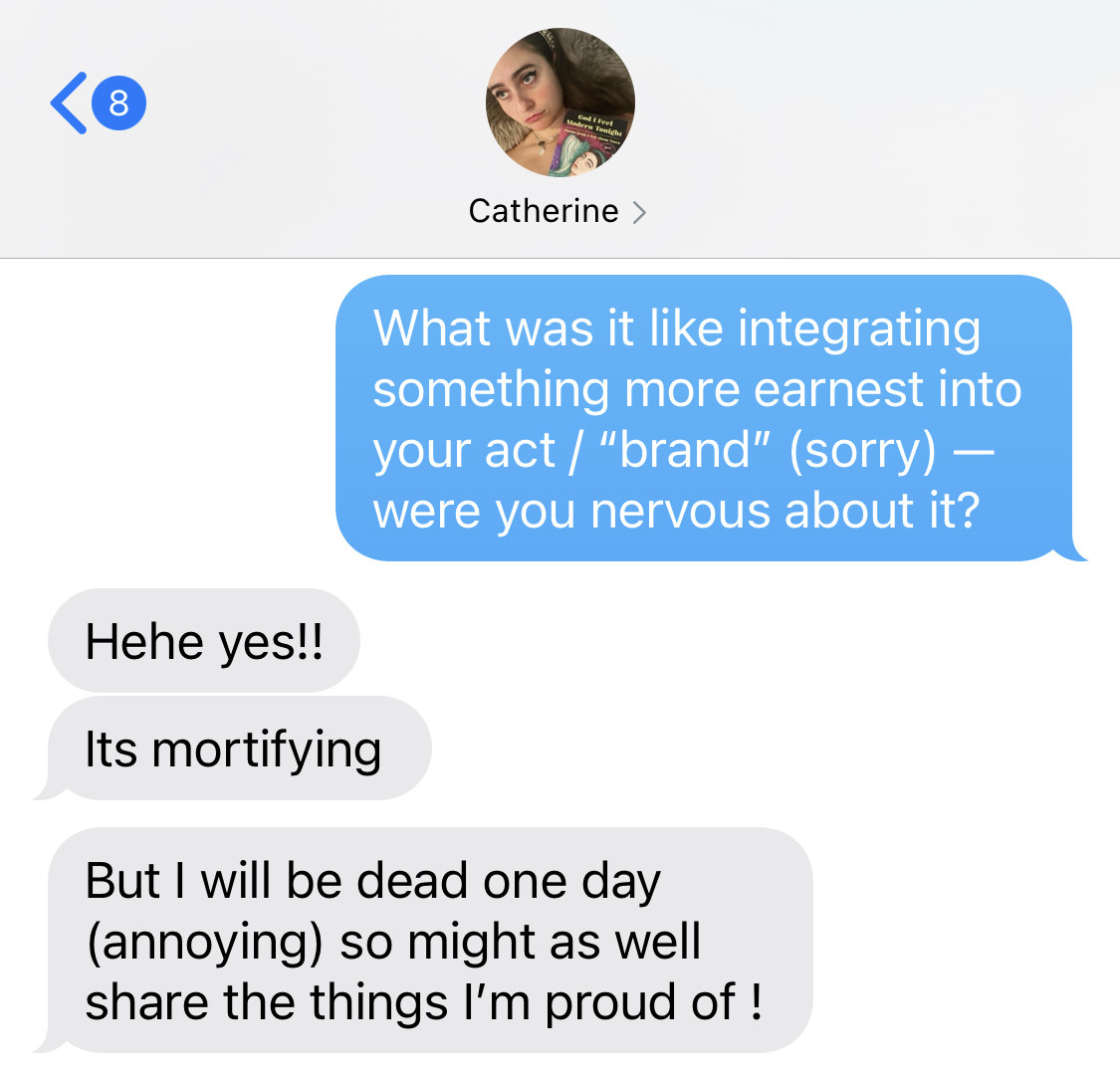 CC: at first it was totally devastating but now I'm just happy to be healthy and alive
CC: I've done lots of virtual show and will be doing a few events for the Virtual Book Tour (horrible phrase) as well !
CC: the show must go on as they say in the biz
AR: I'm torn right now because on some level I think questions like "aren't you NERVOUS about being so OPEN?" are overdone, but at the same time I'm curious if you've ever regretted posting a poem. I say this as someone who used LiveJournal religiously and would constantly wake up and think "yikes." Have you had to figure out a balance of what you explore?
CC: EEEE omg I knoiiiii why am I like this
CC: Sometimes I feel like being so open is a defense mechanism like….u cant say something about me that I wouldn't say about myself
CC: But also there are things I don't include..or sometimes I'll check with my bf or a friend like…can I say this and sometimes they're like…mmm no
CC: So I'm down to be open to make fun of Moi self but I don't want to write anything that would upset someone I love
CC: Someone I hate? Sure
AR: Yeah that makes sense. Are there poems in this collection that are favorites, especially dear to you?
CC: Definitely
CC: the road trip poems are prob closest to my heart
CC: Wrote them when my bf and I drove across the country camping in national parks over the summer
CC: It's obviously been a terrible time for everyone and our trip was a reminder of what we stay alive for
CC: Trees, lakes, kissing under the stars, burnt hot dogs, McDonalds drive thru, etc
AR: I love that. Have you always been into camping or was that part of the adventure?
CC: Surprisingly I have…I used to go on nature trips with my church in high school hahahahahah
CC: Now I wrote poems about my pussy and asshole ❤️
CC: Can I say pussy?
AR: Hahahah yes, by all means

CC: Bless
AR: Have you experimented with other types of writing — do you see yourself working on a novel or essay collection somewhere down the road?
CC: 1000% my dream is to do an essay collection next
CC: Have no urge to write a novel….bc they aren't tru
AR: It seems like working a very different muscle
CC: Yeah I have a hard time writing scripts too…anything that isn't from the first person lollll
CC: but most of creating is just seeing bad art and being like…ok well I can def do better than that and then going for it
CC: Especially when it comes to standup hahha
AR: I truly can't imagine something scarier than stand-up

CC: Its not scary after the first time

AR: Have you been able to focus on reading this past year? Anything you've loved?

CC: Yes! I just read Stephanie Danler's memoir Stray
CC: Sooo good
CC: And now I'm reading We Keep the Dead Close by Becky Cooper, which is amazing
AR: Omg yes I'm in the middle of We Keep the Dead Close too and I'm loving it

CC: It's sooo my vibe
CC: Also this summer when I rly missed NYC I read Natasha Stagg's Sleeveless
CC: She's so great
AR: Ooh I missed that one! I'll pick it up.
AR: I won't keep you for much longer — any upcoming projects you can talk about? Book or non-book?
CC: Hehe I'm working on a few things that I cant chat about (how glam!) but in the meantime, we are releasing new eps of my podcast Seek Treatment that I co-host w my bff Pat Regan every Tuesday
CC: Otherwise I'm just making audition tapes and waiting for someone to put my size 12 ass on the silver screen
AR: Final question! Can you describe GIFMT using three emojis?

CC: 💋🍸🛁
AR: Perfect
CC: That was hard
CC: I was torn between the bathtub and the sunhat with the green bow
CC: But to be modern right now means being inside, in the tub, contemplating reality, and having a drink
AR: True. Well, this was really fun, thank you again for making time for it! Congrats on the book, can't wait to see what's next.
CC: Thank u so much !! ❤️
Parts of this interview have been edited for clarity.