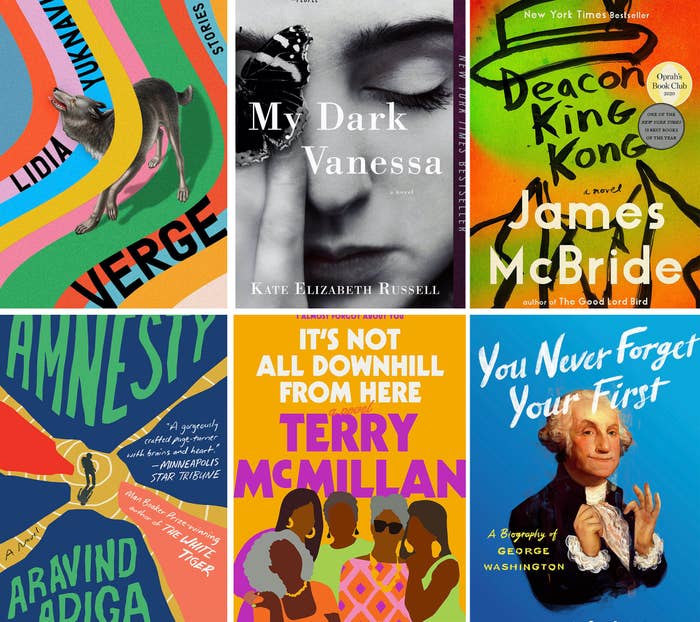 Verge by Lidia Yuknavitch (Riverhead; Feb. 2)

This short story collection refers to the characters on the verge: people forced to the edges of society, outcasts marginalized for their status, proclivity, or misfortune. But these are also people whose desire, rage, and ambition are underestimated or misunderstood, and Yuknavitch shines a light on them in bite-size, evocative, and often uncomfortable stories. —Arianna Rebolini
Get it from Bookshop, Target, or Amazon.
Historian Alexis Coe is certainly not your parents' fuddy-duddy historian, coming to general acclaim for her irreverent, witty approach to chronicling history. In her second book, she upends some popular myths about George Washington — with approval from acclaimed historians like Doris Kearns Goodwin, who has given this book a hearty endorsement. —Tomi Obaro
Get it from Bookshop, Target, or Amazon.
Deacon King Kong by James McBride (Riverhead; Feb. 2)
It's 1960s New York; Cuffy Lambkin, better known as Sportcoat, a deacon at the Five Ends Baptist Church, has just shot 19-year-old drug dealer Deems Clemens in the face, instantly putting a target on his back. Residents try to make sense of the shooting as the mystery behind it slowly unravels in this latest novel by the National Book Award winner. —Tomi Obaro
Get it from Bookshop, Target, or Amazon.
My Dark Vanessa by Kate Elizabeth Russell (William Morrow; Feb. 2)
This slow-burning thriller follows Vanessa Wye, a woman whose decadeslong predatory relationship with her high school teacher has lasting repercussions for her years later. The novel jumps back and forth in time between the late '90s, when 15-year-old Vanessa first meets and eventually ends up in a sexual relationship with her high school English teacher Jacob Strane, to 2017 during the height of #MeToo, when 32-year-old Vanessa is pressured to publicize a relationship she spent years convincing herself wasn't abusive. Russell is particularly adept at capturing the tortuous psychological effect this relationship wreaks on Vanessa; it's a very readable, slow-burning thriller. —Tomi Obaro

Get it from Bookshop, Target, or Amazon.
Amnesty by Aravind Adiga (Scribner; Feb. 9)
Adiga burst onto the literary scene with his Booker Prize–winning debut, White Tiger: a withering indictment of class inequality and a darkly comic story of a poor Indian driver who murders his boss. Amnesty, his fifth book, similarly deals with the haves and the have-nots. Danny is an undocumented immigrant originally from Sri Lanka who lives and works in Australia as a cleaner. When a client he works for is murdered, Danny must choose between admitting what he knows — that his client was having an affair with a doctor whose jacket was found at the scene of the crime, thus risking deportation — or staying silent. —Tomi Obaro
Get it from Bookshop, Target, or Amazon.
If there's one person whose books fully encompass what it means to have a thorough, unbreakable bond among friends, it's Terry McMillan. In her latest novel she tells the story of Loretha, a middle-aged woman dealing with the unexpected loss of her beloved husband, Carl, the grueling realities of aging, a life-changing diabetes diagnosis, and the dysfunction that comes with family and friends. In the midst of grieving, Loretha, or "Lo," finds herself taking on the responsibility of everyone around her. From an estranged daughter who pushes Lo away whenever she gets too close, to a best friend who's on the brink of ruining her marriage — no matter what, Lo is reliably the person they can always count on. Unfortunately, sometimes she forgets to pour that same love and dedication into herself. With helpful reminders from her sincere tell-it-like-it-is friends and family, Lo quickly learns there isn't any battle she has to face alone and that getting older doesn't have to be something you dread, especially when you have people to do it with. —Morgan Murrell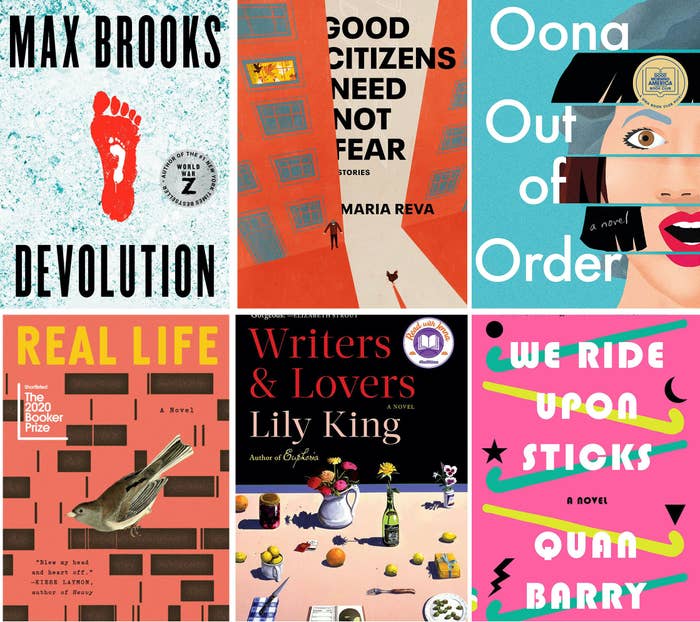 Devolution by Max Brooks (Del Rey; Feb. 9)
Brooks's latest thriller is an eco-horror story set in Greenloop, a community designed as the perfect back-to-nature experience with the full amenities of modern living provided by solar smart houses. But when Mount Rainier erupts, residents are cut off from the rest of the world with no weapons and dwindling supplies. They're completely unprepared for actual survival — especially when faced with an actual monster. The novel is told through the journals of resident Kate Holland, discovered years after the town's unexplained massacre. —Arianna Rebolini

Get it from Bookshop, Target, or Amazon.
An apartment building in Soviet-era Ukraine is accidentally erased from municipal records — and, in nine absurdist stories, the residents figure out how to survive when their existence isn't recognized. —Arianna Rebolini
Get it from Bookshop, Target, or Amazon.
Oona Out of Order by Margarita Montimore (Flatiron; Feb. 9)
It's New Year's Eve in 1982 and Oona Lockhart, who will turn 19 right as she welcomes the new year, is full of optimism about all of the possibilities unfolding before her. But just before the clock strikes midnight, she faints and wakes up 32 years in the future. Soon she finds out that at every following New Year she will travel to a random year of her life, slowly making sense of this out-of-order life and figuring out who she is along the way. —Arianna Rebolini
Get it from Bookshop, Target, or Amazon.
Real Life by Brandon Taylor (Riverhead; Feb. 16)
Wallace is a Black, queer, chubby, and introverted student attending a graduate science program in the Midwest. In other words, he's a character who doesn't get featured in a lot of campus fiction. In Brandon Taylor's debut novel, though, it is entirely through his eyes that we witness one notable weekend with his friends and colleagues, mining the social drama within the academic bubble of biochemistry. —Colin Gorenstein
Get it from Bookshop or Amazon.
Writers & Lovers by Lily King (Grove Press; Feb. 16)
Thirty-one-year-old Casey Peabody is grieving her mother's sudden death, recovering from a love affair gone wrong, and trying to finish the novel she's been writing for six years. While she watches her friends get married and start families, she's waiting tables, living in a shitty apartment, and clinging to her dream of living a creative life — but when she falls for two men at the same time, her precarious position shifts into a full crisis. —Arianna Rebolini

Get it from Bookshop, Target, or Amazon.
In 1989 Massachusetts, local field hockey team Danvers Falcons are desperate to make it to the state finals — enough to dip into the witchcraft that runs deep in their town's history, which held the first witchcraft trials in 1692. Following the plucky team through their whirlwind season, this sharp and hilarious novel explores strength and friendship. —Arianna Rebolini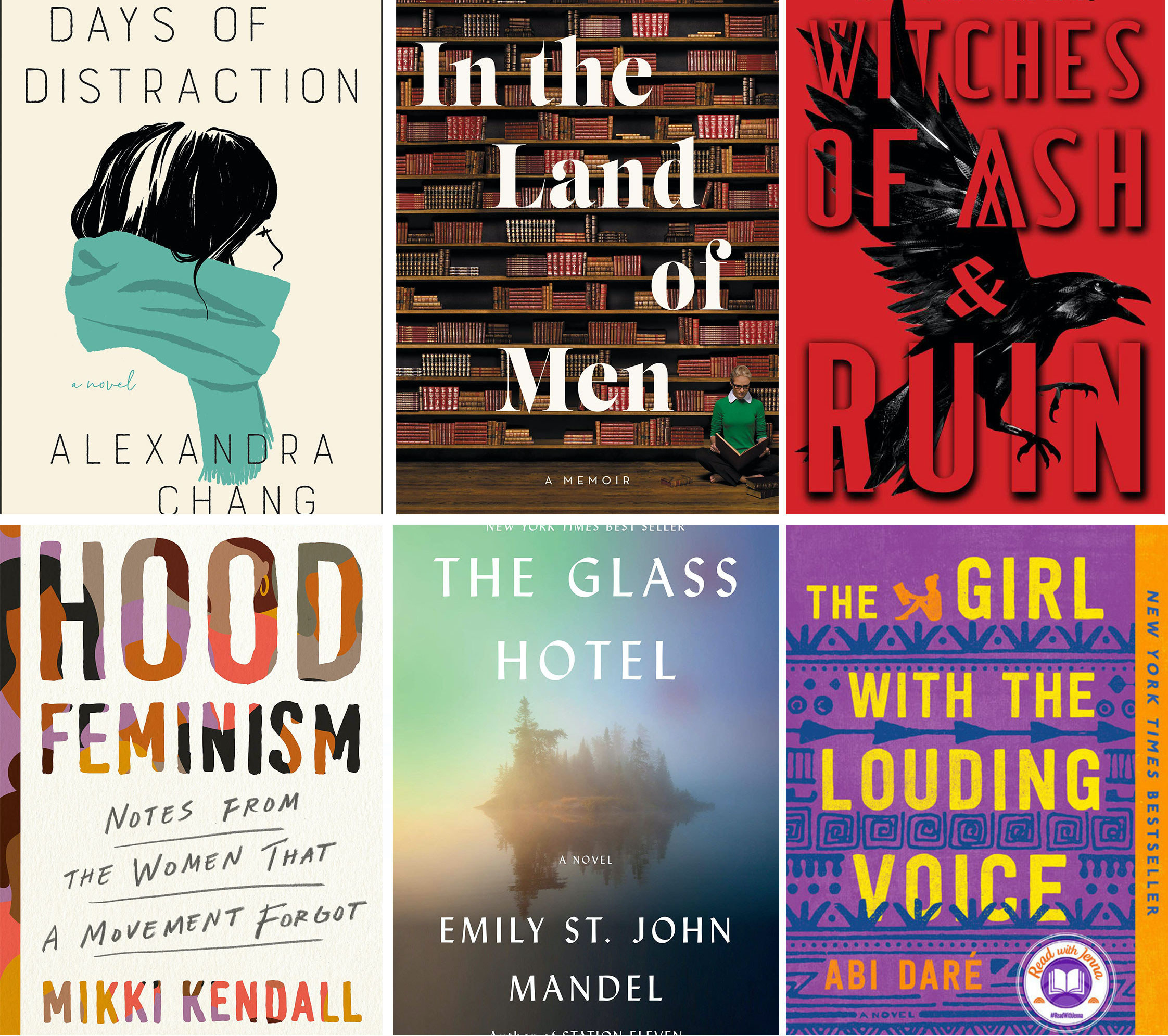 Jing Jing is 24 years old and trying to figure out who she is. She's bored at her job as a tech reporter, dismissed and underpaid as a young Chinese American woman, and when her long-term boyfriend announces he's moving to Ithaca, New York, to attend grad school, she decides to go with him in hopes of achieving her own fresh start. But as Jing Jing contends with a town full of mostly white neighbors preoccupied with proving they're "good liberals," and starts spending time researching the history of Chinese women and interracial relationships in the US, she begins to explore her relationship with her own history and identity, questioning where her boyfriend fits into it. Her journey shifts as she moves from place to place — San Francisco, then Ithaca, then China — and Chang follows her in prose that flows so gracefully across themes of millennial ennui, capitalist disillusionment, immigration, love, and sacrifice. —Arianna Rebolini
Get it from Bookshop, Target, or Amazon.
Witches of Ash and Ruin by E. Latimer (Little, Brown Books for Young Readers; Feb. 16)
Dayna Walsh is attempting to cope with somatic OCD, which can manifest as hyperfocus on things like blinking or breathing — a consequence of being outed as bisexual in her conservative Irish town. Her focus on ascending and finally becoming a witch is interrupted by the arrival of another coven, one that supposedly has a history with black magic. Meiner King is the bewitchingly frustrating granddaughter of their coven leader. When a witch turns up murdered with the symbols of an infamous serial killer who was never caught, Dayna and Meiner find themselves at the center of a web of witches and gods. —Rachel Strolle
Get it from Bookshop, Target, or Amazon.
The Glass Hotel by Emily St. John Mandel (Vintage; Feb. 16)
Rest assured, lovers of St. John Mandel's previous novel, Station Eleven (one of our best books of the decade and a soon-to-be HBO Max series). Her latest novel, The Glass Hotel, does not disappoint. Though it deals with a disaster of a different sort, St. John Mandel continues to weave together disparate storylines and characters in a moving reflection on how interconnected we are for better and for worse. Among the characters in this book are Paul, a recovering opioid addict, his half-sister Vincent, Walter, a concierge at a remote hotel on Vancouver Island, and Jonathan Alkaitis, a rich investment banker with a festering secret. It's my opinion that the less you know about the plot the better, but suffice it to say, I finished this book with a deep appreciation for St. John Mandel's mastery here. —Tomi Obaro

Get it from Bookshop, Target, or Amazon.
Author and former literary editor of Esquire (the first woman to hold that position) Adrienne Miller writes an unflinching memoir about entering the male-dominated literary world as a 22-year-old in the '90s, diving into her formative relationship with David Foster Wallace. —Arianna Rebolini
Get it from Bookshop, Target, or Amazon.
Chicago writer Kendall came to Twitter fame when she coined the popular hashtag #solidarityisforwhitewomen in 2013. In her first collection of essays, Kendall, a military veteran who grew up on the South Side of Chicago, addresses the pratfalls of white feminism™, explaining how providing basic needs like adequate healthcare, housing and access to food, destigmatizing sex work, and dealing with gun violence, among other issues endemic in working-class black communities, are actually bedrock feminist issues as well. It's a helpful reminder for feminists of all stripes. —Tomi Obaro

Get it from Bookshop or Amazon.
Daré's novel follows Adunni, a funny and bright young woman who narrates her life experiences in Nigeria. This'll be an instant classic worth giving everyone on your list, just don't forget to get one for yourself. —Mallory Mower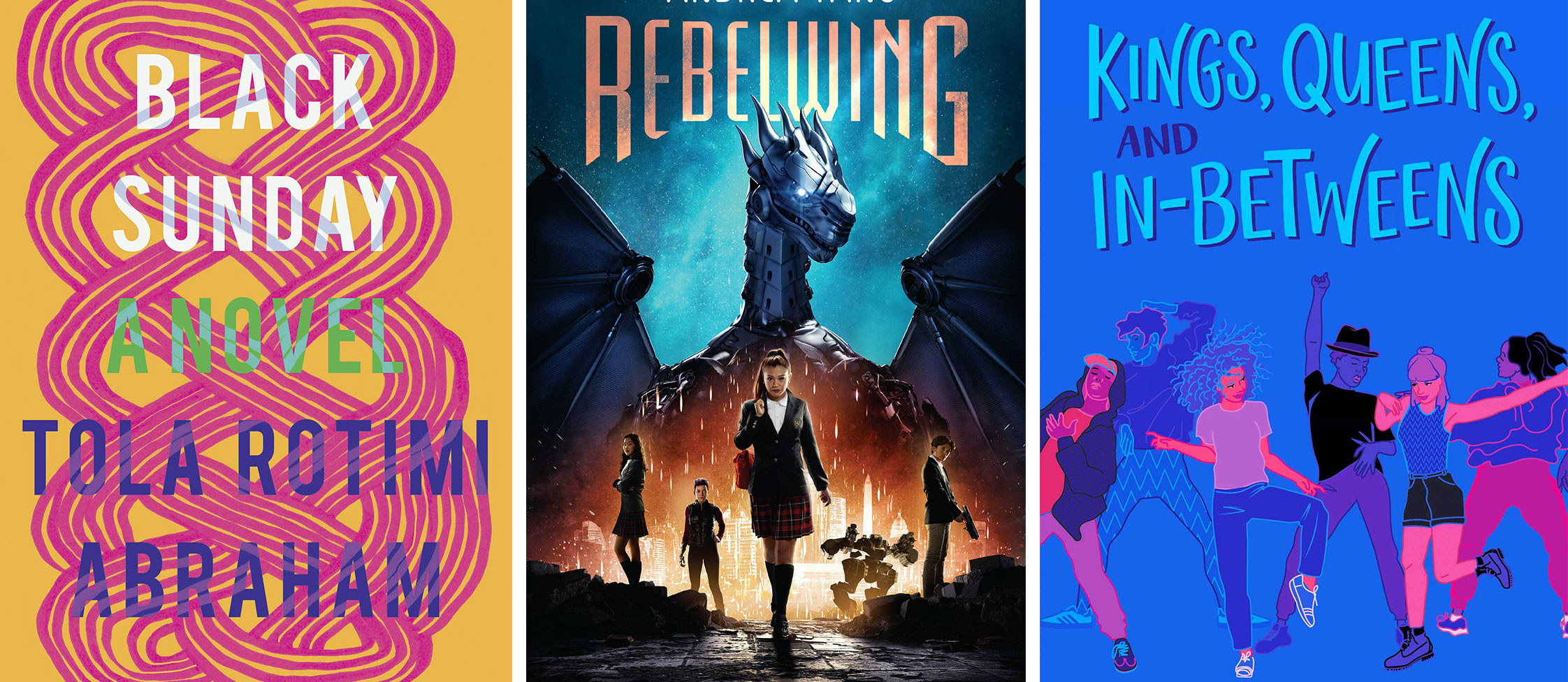 Black Sunday by Tola Rotimi Abraham (Catapult; Feb. 23)
Twin sisters Bibike and Ariyike pride themselves on their street smarts living in 1996 Lagos, Nigeria, in relative material comfort in this debut novel from an Iowa Writers' Workshop graduate. But when their father's various financial schemes go belly-up, the sisters — and their two younger brothers — are forced to fend for themselves. —Tomi Obaro
Get it from Bookshop, Target, or Amazon.
Nima Kumara-Clark unexpectedly finds herself immersed in the drag scene on another side of town. The last thing she expects is to fall into a journey of self-discovery because of it. Boteju's earnest novel poignantly expresses the importance of identity and fitting in for the first time. —Farrah Penn

Get it from Bookshop or Amazon.
Rebelwing by Andrea Tang (Razorbill; Feb. 23)
After a routine smuggling deal goes wrong, Prudence Wu is saved by Rebelwing, a sentient cybernetic dragon. If it hadn't been for the dragon, she'd be in jail, and now it has returned to her side. With enforcers onto her, and the knowledge that Rebelwing is a weapon the government needs in a brewing war, Pru needs to learn how to pilot a dragon — and quickly. Inventive and compelling, Rebelwing is a standout sci-fi book. —Rachel Strolle
Correction: Devolution is an eco-horror novel about a natural disaster. A previous version of this post described it with an incorrect blurb.