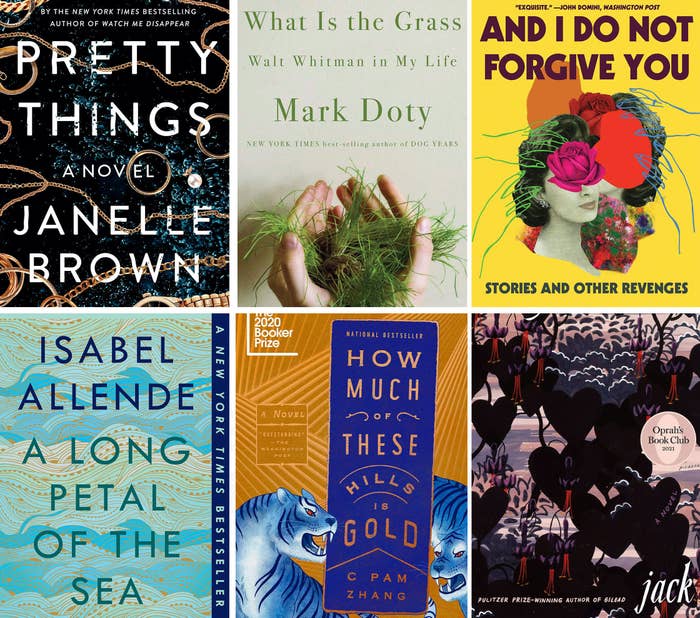 Pretty Things by Janelle Brown (Random House; April 6)
Nina's con artist mother hustled in hopes of giving her daughter a decent life, but when Nina's dreams of getting a good job after college come crashing down, she turns to the skills she learned from a very young age and starts stealing from rich LA kids with her boyfriend. When her mother gets sick, they need to pull off their biggest scam yet — and they have their sights set on an heiress-slash-influencer whose family mansion is hiding dark secrets.
Mark Doty's hybrid memoir weaves a close reading of Whitman's life and writings into Doty's own ruminations on art, queerness, humanism, and the American experience.
Amber Sparks's latest short story collection is full of surreal, fantastical tales about technology and humanity, ghosts and ghosting.

Jack by Marilynne Robinson (Picador; April 6)
"If you've read Robinson's previous Gilead novels, you'll know that Jack Boughton is the wayward son of a stern Irish American preacher living in Iowa in the 1950s. In this fourth installment, we finally get to see things from Jack's perspective and we learn more about his relationship with a Black English teacher named Della. Like the previous installations, Jack is a slow burn with the kind of thoughtful meditations on unfathomable grace that have become Robinson's signature." —Tomi Obaro (21 New Fall Books You Won't Want To Put Down)
In the Gold Rush–era American West, siblings Lucy and Sam (the children of Chinese immigrants) find themselves orphaned when their father dies in the middle of the night. Knowing there's no one left to protect them in their dangerous mining town, they hit the road with a stolen horse and their father's body — in search of a proper burial site that will allow them to say goodbye to their pasts.
In the aftermath of the Spanish Civil War, a young and pregnant widow and an Army doctor rely on each other for survival as they flee on the SS Winnipeg and emigrate to Chile, starting their lives over on a new continent just as World War II erupts.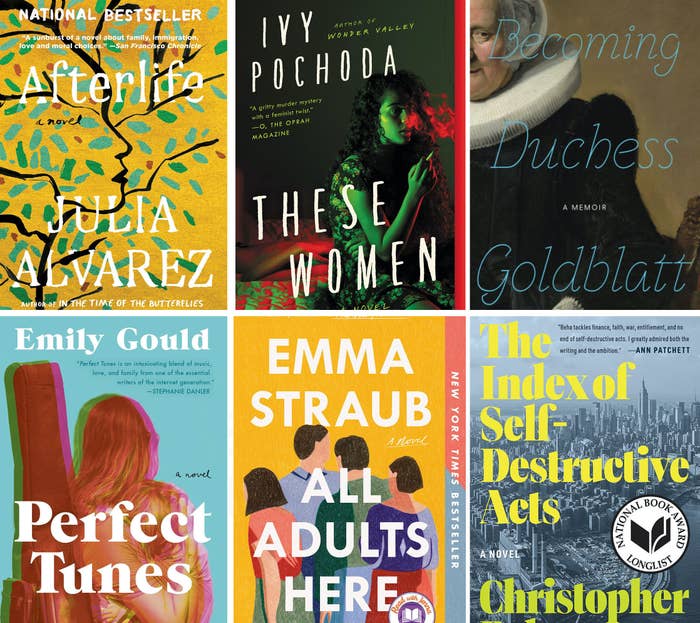 Afterlife Julia Alvarez (Algonquin; April 6)
"Antonia, a retired English professor, is struggling to cope after the sudden death of her husband, Sam. When two twin crises occur — an undocumented immigrant working on the farm next door asks if she could help his girlfriend, who is also undocumented, and Antonia's older, headstrong sister Izzy goes missing — Antonia is forced to grapple with what it means to be a good, present person in a world full of so much incomprehensible tragedy." —T.O. (Most Anticipated Books of 2020)
These Women by Ivy Pochoda (Ecco; April 13)
In South LA, six women are unwittingly connected by one dangerous man: Dorian, a woman trying to solve her daughter's murder; Feelia, a sex worker who was almost killed by the same man; Julianna, a dancer; Essie, a vice cop; Marella, a boundary-pushing performance artist; and Anneke, a neighbor who'd rather pretend "these women" don't exist. When a murderer strikes again, their worlds collide.
Dealing with the lingering trauma of a rough childhood and bad heartbreak, a reclusive anonymous writer invents, and creates a Twitter account for, a fictional persona: 81-year-old Duchess Goldblatt. The plan is to lurk and be snarky from a distance, but as her following grows she finds she appreciates the many connections she makes.
Sam Waxworth is a data journalist and staunch believer in the idea that everything in life is knowable and quantifiable. After successfully predicting the outcome of the 2008 presidential election, he's offered a job as a columnist for a cushy magazine, and he's quickly assigned a profile of Frank Doyle — a disgraced opinion columnist who covered both politics and baseball. But Sam likes Frank more than he expects to, and his previously very neat life philosophy gets muckier as he comes to know Frank's family — his wife, Kit, whose family-run investment bank is failing; his son, Eddie, who's just returned from a tour in Iraq; and his daughter, Margo, an academic who'd rather be a poet. Beha's third novel is a masterful interplay of big, fraught themes of privilege, race, wealth, and ethics.
The Index of Self-Destructive Acts was a BuzzFeed Book Club pick. Check out an excerpt.
All Adults Here by Emma Straub (Riverhead; April 13)
When matriarch Astrid witnesses a school bus accident, the trauma uncovers a long-repressed memory that forces her to question the kind of parent she was to her now-adult children — who are floundering in their own ways. It's a heartfelt, grounded story about family dynamics, forgiveness, and the unavoidable effects we have on those we love.
Perfect Tunes by Emily Gould (Avid Reader Press; April 13)
Perfect Tunes is a candid, big-hearted story about choices and consequences, following young Ohioan Laura, who is a 22-year-old recent transplant to early 2000s NYC. She's chasing her dream of making it as a singer-songwriter, spending her nights waitressing and doing drugs and/or having sex with Dylan, an up-and-coming musician. In the span of just a few months, everything changes — the Twin Towers fall, Dylan drowns while high, his band asks Laura to step in as lead singer, she declines, and finds out she's pregnant. The rest of the book tracks the aftermath of these events, jumping ahead in time to see Laura struggling as a single mom, while her former roommate — who ended up joining the band in Laura's stead — enjoys the critical success Laura so desperately desired. The years progress, and Laura's daughter starts asking about her cult icon father — and through their complicated, parallel journeys of self-discovery, Gould poignantly and carefully explores what happens when plans go awry, expectations and priorities shift, and people adapt in their pursuit of love, meaning, and fulfillment. (24 New Books We Couldn't Put Down)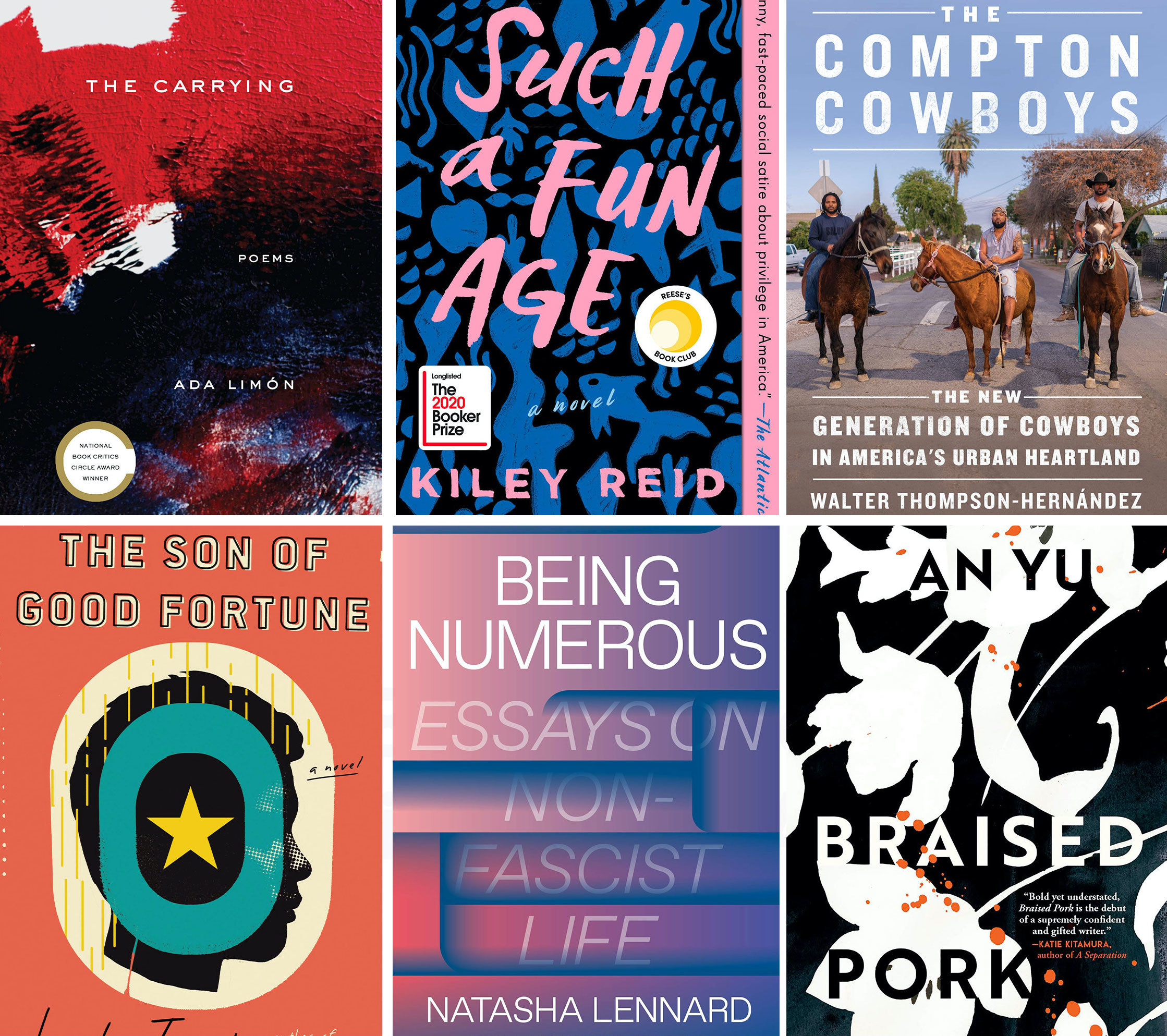 The Carrying by Ada Limón (Milkweed Editions; April 13)
The Carrying is a masterful blend of the personal and the political — a piercing look into the nature of pain and impermanence. It is a deeply intimate book, but through Ada Limón's generous accounting of her bodily struggles with a crooked spine as a child and infertility as an adult, we see overarching themes of life and death, growth and decay, grief and acceptance. In many ways, it is a paean to nature itself, to the peace in knowing it's both part of us and greater than us — especially when everything else in the world can seem like it's falling apart.
Such a Fun Age by Kiley Reid (G.P. Putnam's Sons; April 20)
Such a Fun Age examines the relationship between a wealthy white couple and their young and broke Black babysitter, Emira. Reid shows the uncomfortable ways that relationship strains and how the couple's good intentions are challenged after Emira is accused of kidnapping the couple's daughter while shopping with her one night. It's a canny, scintillating, and deeply thoughtful exploration of race, class, and privilege.
In 1988, Mayisha Akbar founded a Compton youth group focused on the tradition of Black cowboys in the US, called the Compton Jr. Posse. Today, her nephew Randy continues in her footsteps with the Compton Cowboys, a group of 10 Black men and women whose small ranch is one of the last in the city. Walter Thompson-Hernandez paints a portrait of the group — a former drug dealer, an aspiring rodeo champion, a single mother, and more — and explores the way their ranch and horses provide support, community, and strength.
Braised Pork by An Yu (Grove Press; April 20)
An Yu's debut novel is dreamy and surreal, and actually not as dark as one might expect a book that opens with a woman finding her husband dead by possible suicide to be. What we quickly realize is the protagonist, Jia Jia, was extremely unhappy in her marriage and her late husband was dismissive and cruel, so she reacts to his death less with grief than with ambivalence and disorientation. What follows is her journey of rediscovery — of her passion, of her spirituality, of her artistic abilities, and of herself — that evolves in her real life and in dreams. It's otherworldly and deeply moving. (24 New Books We Couldn't Put Down)
"Being Numerous acknowledges that fascisms are, like Virilio's accidents, baked in from the start. And so, of course, we have to look out for and act against those fascisms. According to this collection of incisive essays, doing so can be thrilling." —Mark Trecka, Binnacle Books (44 Amazing Book Recommendations From Our Favorite Indie Booksellers)
Excel has been guarding the secret of his undocumented status since his mother — a former B-list action movie star and current scammer — told him on his 10th birthday that they were living in hiding. Now a teen, he decides to take an uncharacteristic risk when his girlfriend invites him on a trip to a remote hippie town in the desert, where everyone who arrives — Excel included — is invited to remake their future.
Correction: The title of Becoming Duchess Goldblatt was misstated in an earlier version of this post.