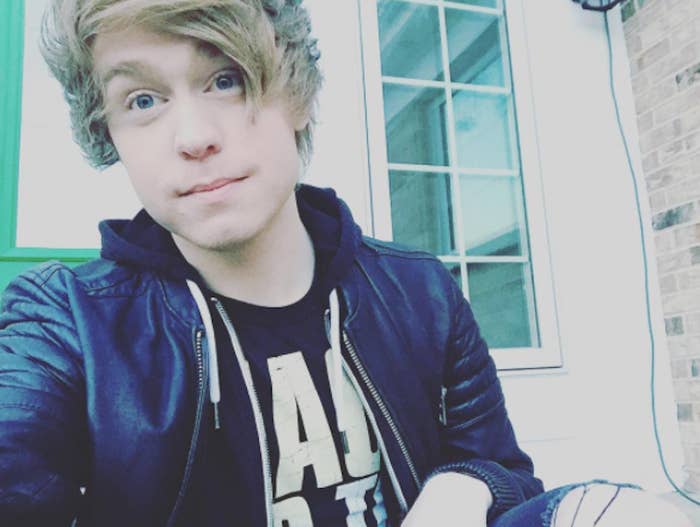 A federal judge in Chicago freed YouTube start Austin Jones on Thursday days after he was arrested and charged with child pornography.
The 24-year-old musician and YouTube star was arrested Monday and faces two counts of production of child pornography. A criminal complaint alleges the singer asked two 14-year-old fans to send him videos, and that in some of the footage, the girls exposed their genitals.
The judge also barred Austin from using the internet and social media as he awaits trial, ordering him locked down at his mother's home in Chicago 24-hours a day. He was released on $100,000 bond.
An affidavit filed with the complaint against Jones says that two girls sent explicit videos to Jones at his request. Both girls were 14, and Jones requested that they refer to their ages in videos where they exposed their genitals, the document states.
The affidavit describes Jones pressuring both girls into sending him videos to his specifications: "Victim B stated that she was JONES's biggest fan. JONES repeatedly told her that she was 'so lucky' to have his attention and that she needed to 'prove' that she was his biggest fan. JONES stated that he wanted to 'spank' Victim B, and told her to '[t]hink about how amazing that would be for you!! To have your favorite singer spanking your ass!' He then said, 'If you're lucky, maybe I'd let you suck my dick.'"
CBS Chicago posted the full document here.
In 2015, a change.org petition circulated calling for Jones to be removed from the Warped Tour for soliciting twerking videos, alleging that he would ask young fans to send him inappropriate videos after chatting with them online, although BuzzFeed News could not find reports of Jones soliciting nude videos.
He later apologized on Facebook for having "communicated with my fans in a way that I have come to fully realize was not appropriate. ... Here's the truth: I NEVER asked them to do anything more than send a twerking video. Nothing EVER went beyond that."
Jones could face 15 to 30 years per count of child porn if convicted of the charges.

CORRECTION
An earlier version of this story understated Jones' potential sentence.