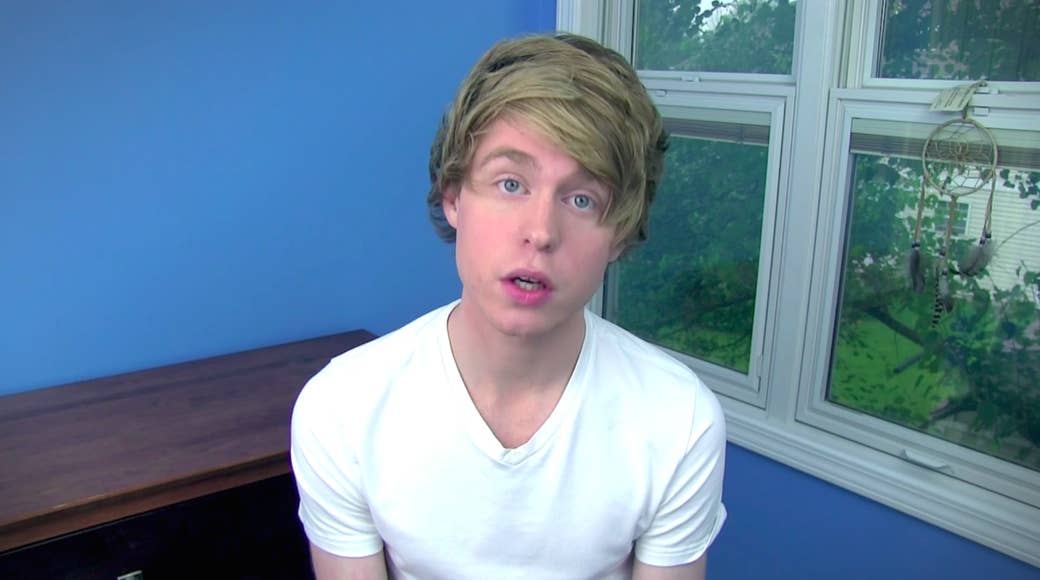 Singer and YouTube star Austin Jones was arrested and charged this June for procuring pornographic videos from two 14-year-olds. The criminal complaint lists interactions he had with one girl in the summer of 2016 and another girl just last month; the court documents say, for instance, that in August 2016, Jones told one girl she was "so lucky" to be talking to him and that she should send him nude images to "prove" she was his biggest fan. At a hearing on June 14, a judge ordered the 24-year-old entertainer to stay offline.

Allegations of this nature should be shocking. But for a group of teen girls on the internet, the conversations described in court documents sound all too familiar.
Two years ago, in May 2015, several young women began publishing personal accounts on social media alleging that Jones, known for his a cappella covers of pop songs, had used his fame to solicit sexually suggestive videos from his fans. Unlike the current case, these were not pornographic videos, but the girls did say that he asked them to twerk for him in private messages, and that the older, more powerful man had made them uneasy, sometimes pressuring them into these performances.
The girls came forward because they wanted Jones "exposed," as several put it to BuzzFeed News. And, at that time, they wanted him off the Vans Warped Tour, the traveling all-ages rock festival, which featured Jones in the summer lineup. These girls' stories exploded within the YouTube community — and yet the allegations didn't stick. Although he was quickly removed from the 2015 Grow Wild Tour lineup midway through the tour and, weeks later, booted from Warped Tour before his dates began, his career rebounded: When Jones was arrested this month, he was at an airport returning from a European tour; he had half a million subscribers on YouTube.
The girls said in 2015 that the singer had been inappropriate with them. Before posting about her experience, then–14-year-old Ashley decided that "he shouldn't be able to have a huge following because it's just easier for him to take advantage." A mystified Chicago girl, who also said Jones requested that she twerk for him, told BuzzFeed News, "All that happened was he got kicked off Warped Tour and he went to therapy." (Jones' attorney did not respond to a request for comment on a detailed summary of this story.)
Two years ago, the girl from Chicago posted a video she'd gotten when she was 14 or 15 of Jones saying it was a good idea for them to stop talking because he was "horny": "I'm horny, like, all the time, so if we just keep talking, I'm probably gonna ask for videos on, like, a daily basis," he said in the clip. "So, it's just, like, easier this way. Yeah. Sorry I'm a guy." A third girl, Ashlee, who said the YouTuber asked her for twerking videos when she was 15, believed that if Jones had faced greater consequences in 2015, "It would have saved a lot of girls from being in that situation of 'proving' that they're his biggest fan."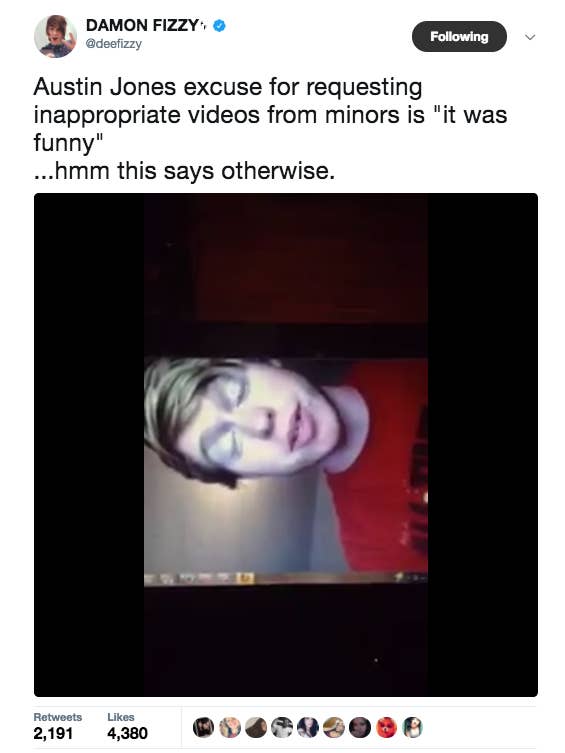 The scandal first began in a haze of internet rumors. Damon Fizzy, a YouTuber who was on the Warped Tour lineup with Jones that year, told BuzzFeed News, "The stories were out there, but they were being ignored." He remembered seeing comments online about strange interactions girls said they'd had with Jones, although he couldn't remember exactly where he first read them. "I saw that he was manipulating underage girls for his own sexual gain," he said, and he felt he had to do something. "I know the demographic of Warped Tour: It's all underage girls."
Fizzy told Jones' manager at the time — another YouTuber named BryanStars — that Jones was asking his young fans for twerking videos; Jones recalled that BryanStars changed the subject. (BryanStars did not respond to a request for an interview.) Fizzy said he sent an email to Warped Tour founder Kevin Lyman on May 8 that was full of stories he'd collected from young women online. He recalled Lyman saying he would look into it.
Things escalated quickly because on May 7, 2015, the day before Fizzy emailed Lyman, a bizarre video appeared on Twitter. It was posted by a girl named Star, who got the video from Ashley, who said she got the video from Jones about a year prior, when she was just 13. The footage shows Jones leaning into the camera smiling and saying, "Hey, cutie. So this is like, the first basic twerk move." He laughs, and says gently, "This is what you do." He turns around, demonstrating as he continues: "You stand with your legs apart, and bend your legs, and then you arch your back, and you unarch it. You do it faster. So it's like this." He twerks directly into the camera, and then in profile. He turns to face to the camera again, and says with a shy laugh, "Now it's your turn."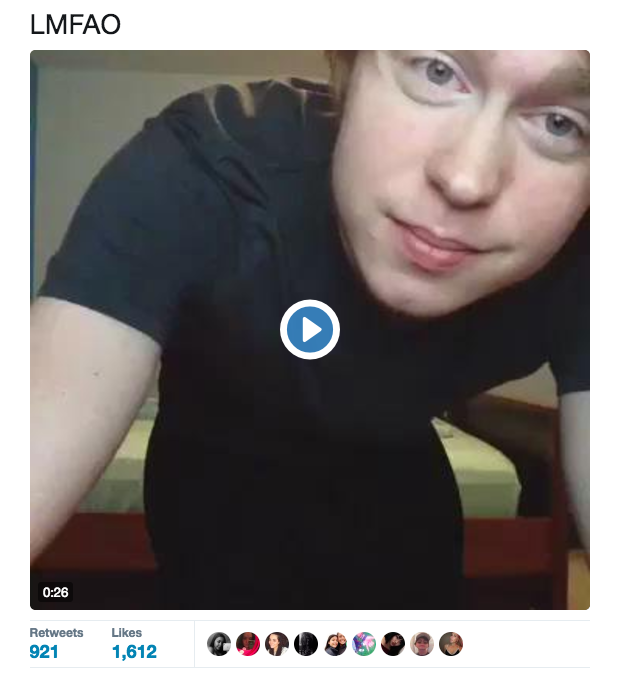 The tweet went viral, and Tiff — another girl who knew Jones in passing — saw it. "I contacted [Star] asking about how she obtained the video, etc. I was then directed to Ashley, who I spoke to, and we both decided we were going to try to get Austin kicked off his tours," she said. Ashley said, "When I exposed him with the help of [Tiff], so many girls" — at least 20 — "came forward and had similar stories."
"I thought Ashley was the only victim," the original poster, Star, told BuzzFeed News. She was surprised when the tweet was met by a chorus of "me too."
Fizzy also saw Ashley's video the same day Star posted it. In response, he tweeted, "I do not feel comfortable touring with this dude." Later that night, he tweeted about feeling "anxious," and then he said, "Do what's right." The next day, "Why can't people just be good people? Is it really that hard?"
And then on May 9, the day after contacting Lyman, Fizzy posted a tweet that went viral: "Austin Jones excuse for asking 13 year old girls for videos of them shaking their asses is because he found it funny...great excuse man!" A followup: "I feel like it is my responsibility to help protect people. That kind of behavior SHOULD NOT be tolerated."
"If he was asking for these videos from the two of us, we knew he would have been asking others."
Many other girls saw Fizzy's tweets about Jones over the next few days, including Ashlee. She said she had tweeted about Jones' twerking requests a year prior, in 2014, but he pressured her and her friend to delete their warnings; she said that, in private messages, Jones told them they were making his "anxiety and depression worse." She and her friend had previously tried to publish their accounts after they realized he had asked both of them for videos, "because we knew we were not the only ones anymore. If he was asking for these videos from the two of us, we knew he would have been asking others." After Fizzy had a hand in making these new allegations against Jones go viral, "My friend and I both posted our stories about Austin to show more proof of how disgusting he is," Ashlee told BuzzFeed News. This time, with greater numbers and louder allies on her side, Ashlee tweeted her screenshots on May 10.
The day before, Tiff had sent Lyman a detailed email that contained links to tweets full of allegations and screenshots that seemed to show Jones asking for twerking videos from young fans. Tiff told Lyman that Jones "was attempting to solicit questionable videos and photos from minors while he was of legal age … many brave girls have began tweeting their experiences with Austin and expressed concern." He had no place on the tour, she continued.
According to screenshots Tiff sent to BuzzFeed News, Lyman asked her, "[Tiff] do you have copies of the police reports? I have not been able to find them." Then he sent her a second email: "You seen [sic] like a very caring person and are speaking with them. Please encourage them to go to their parents and police. It is the right thing to do, and being a 'vine star,' should not deter them." Lyman also asked multiple people on Twitter for the "police reports." The girls BuzzFeed News spoke with did not go to the police. (Notably, it's unclear what the girls would have reported, since no one said Jones was soliciting — or sending — nude images, unlike the allegations in court documents from this month.)
BuzzFeed News could not find a contemporaneous announcement stating when Jones was kicked off Warped Tour, but a spokesperson for the tour said Jones was informed he was removed from the lineup on May 29, 2015 — at least 21 days after Lyman was informed of the controversy. Before making his final decision, Lyman had decried a "Salem witch hunt mentality" in the Alternative Press on May 11.
In an email to BuzzFeed News, Lyman wrote that the Warped Tour investigation entailed "phone calls, yes people still make them. Talked to a lot [of] people which might have taken those 2 [sic] weeks. … Kinda like the comey, Russia investigation but we did it a whole lot quicker." He later added that he "it all comes down to due process. … Sometimes it takes time but usually comes to the right end."
For Ashley, it was disappointing that it took so long to get Jones off Warped Tour. "People didn't take it seriously enough back then," she said. She read through the court documents published this month; she said she was horrified by the parallels between what Jones allegedly told the victims and what he told her when she was 13. After Ashley declined to send him a twerking video when he asked for one, "he told me that I was lucky to be even talking to him, similar to what he said in the police report … it's crazy and disgusting." (According to the documents, Jones exclaimed last summer to a 14-year-old girl online, "I bet you had NO IDEA when you met me that just 1 day later you'd get to show me your butthole how special do you feel?!")
The first time around, Ashley said, "So many people defended him, saying, 'It's just a dance! This isn't a big deal.'" The sexual nature of these exchanges was minimized; there was no particular emphasis, for example, on the the evidence that he'd allegedly told a young girl, "Your body is nice. I like it." Indeed, after the stories were made public, Jones himself emphasized multiple times that "nothing ever went further than twerking videos" and that he wrongly thought these conversations were "just fun and goofy." For the most part, he didn't deny the girls' stories: He reframed them as youthful "mistakes."
On June 29, 2015, Jones posted a video called "Setting The Record Straight." In it, he talks for nearly 17 minutes — about how sorry he is; about how all the inappropriate messages happened in the past; about his sister's death when he was a small child; about his absentee father's death when he was 16; about his house burning down; about how, after the allegations emerged, he became suicidal. He repeatedly says he wasn't trying to excuse his actions, but to explain that he asked underage girls to twerk for him because of "depression piling up into me searching for attention."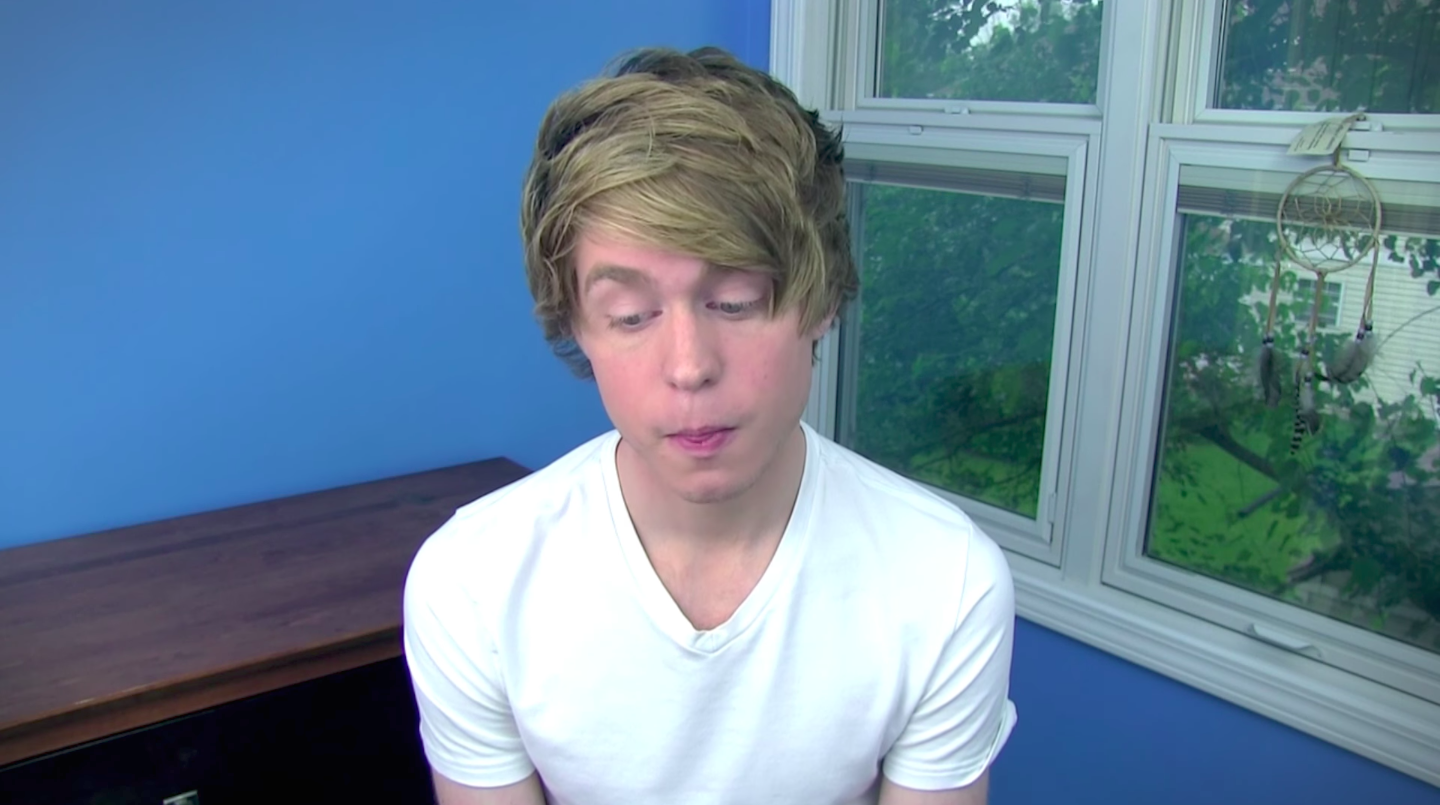 In the video, Jones never refers directly to the sexual aspect of his requests. In this video — designed for a wider audience — he presented himself as a man reborn. "I don't know how to show you guys that, but I think with time, you'll see," he said. "You'll see that I'm better now."
Some of the girls found "Setting The Record Straight" compelling, to a degree: the Chicago girl said the controversy "kind of died down after Austin pulled the I-almost-committed-suicide-about-it. … I stopped tweeting because I was like, Okay, I don't want to be the cause of that."
It seems the singer who now could face 15 to 30 years in prison for each count of child pornography was believed at the time, which is haunting to one girl who came forward in 2015. "It's just so frustrating, how all of us presented pretty clear evidence that what he was doing was at least predatory," said Taylor, who posted a video that described her experience with Jones. Taylor said that, once Jones emerged from the controversy effectively unscathed, she had to stop thinking about him: It was too upsetting to see his rise. "He continued to book national tours. ... He was making money off the girls he was targeting. Just thinking about it — I cannot."