Production Company Behind "8 Minutes" Manipulated Sex Workers In Unaired Pilot, Source Says
In a pilot for 8 Minutes that was never broadcast, a person who worked in production saw "exploitative" and "downright irresponsible" behavior, he told BuzzFeed News.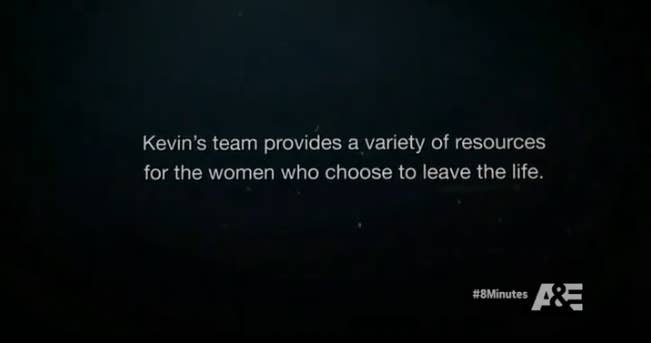 Producers employed by Relativity Media, the production company behind A&E's 8 Minutes, manipulated sex workers and did not prioritize their privacy, a person who worked in an above-the-line position for the production's unaired pilot told BuzzFeed News. The premise of both that pilot and the subsequent A&E series is that sex workers are contacted by pastor and former police officer Kevin Brown, who meets them in a hotel room posing as a client and then offers the women "resources" if they want to get out of sex work. This source, who was only under contract for the pilot, said neither Relativity nor A&E had any intention of directly helping the women, but instead referred them to a local organization in Las Vegas.
"The main takeaway here is there was this disguised notion that they would be given all these resources and help," Mark, whose name has been changed to protect his anonymity, told BuzzFeed News in a phone interview. "Anybody can be pointed to resources … I can tell you, 'If you're hungry, you can go to CVS, there's a bag of chips there that you can afford.'"
The charges of manipulation and indifference to privacy are very similar to allegations made by sex workers who were filmed for episodes of 8 Minutes that did begin airing on A&E this spring. Relativity declined to comment on a detailed list of allegations they reviewed before this story was published.
A&E did not comment on the record about the specific allegations in this story, but a network source did point out that 40 women were filmed in Houston and 17 accepted the services offered. This would be a huge increase in the rescue success rate for Brown, according to a former associate from his pre-Relativity days, who estimated that less than 4% of the women Brown or his associates offered to help accepted their assistance.
Three of the five women who spoke to BuzzFeed News this week say they agreed to be filmed for the now-canceled show because they believed that they would be given, among other things, employment and housing assistance. They allege that they never received the promised assistance; one of them said the "resource" she was given was just the phone number of a counselor.
The interviews with the sex workers, which Mark said usually lasted about an hour, as opposed to the eight minutes suggested by the series, lulled the women "into a false sense of security," he said. Mark said he had not watched the series that began airing in April, but a woman who worked on that production did not deny that the interviews took much longer than eight minutes.
Early in the shoot, the production would start filming the women's interaction with rescue leader Kevin Brown before they were aware that there were cameras; when these unwitting sex workers were surprised by the revelation that Brown is a pastor, most of them would quickly leave the hotel room, Mark said. Producers would be waiting outside the room with contracts. "They would basically ambush the prostitute," he said. The production changed tactics, informing the women beforehand that this was for a show so that they would stay, he said.
Mark's claim that the production settled on informing sex workers they would be filmed from the start appeared, for the most part, to be consistent with the practice for filming in Houston — according to what four of the five women told BuzzFeed News about the episodes shot there. However, one of the women, Mya, indicated that the practice of what Mark called "ambush" wasn't abandoned entirely. She said she did not know upon entering the hotel room that she was being filmed, and that she signed the paperwork because they already had footage of her, so she did not see the point in not signing.
The women filmed for the pilot "were sworn up and down that they wouldn't be exposed, they would be kept anonymous," Mark said.
The producers specifically wanted to avoid blurring the sex workers' faces and altering their voices, Mark said, which surprised him. "It's standard practice in unscripted production to do that, to protect this person," he said. Gina, one of the women who spoke to BuzzFeed News about the series, said that she assumed her face would be blurred in the show. It was not. Mya said that the production offered her more money to leave her face unblurred. "I needed the money, so I did it," she said.
What Mark, Gina, and Mya contend goes against what executive producer Tom Forman tweeted at Miss Yevgeniya in December, stating that the production would be "obscuring identities and pitching voices for all."
In addition, Mark said the sex workers who were filmed for the pilot episode were by and large not media-savvy and did not ask questions about how the production would protect their identities. "None of them had ever worked in media, so none of them were asking those questions," he said.
The production did not prompt them to ask these questions. It did not always seem like the women were aware of the risks, or that they fully understood what was happening, he said.
"In my opinion, that's the definition of exploitation," he said. "You're taking advantage of somebody who you know doesn't really understand everything that's going on."