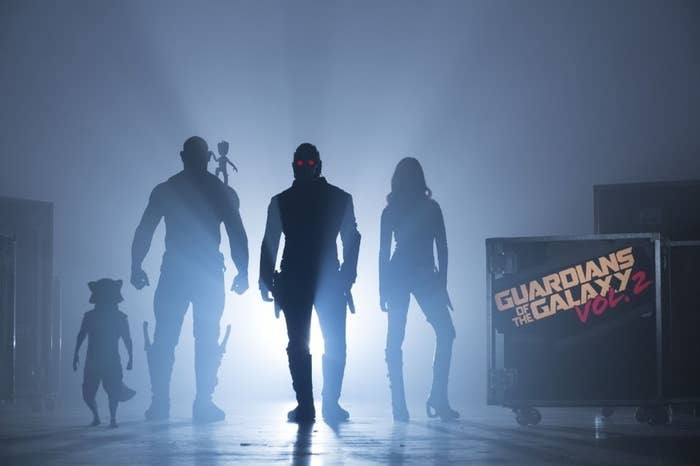 Hollywood is taking a stand against Georgia's anti-LGBT bill.
Disney and its subsidiary Marvel Studios pledged Wednesday to halt production in the state if the bill, which would legalize a "faith-based" refusal of services to LGBT people, becomes law.
Disney is currently shooting Guardians of the Galaxy: Vol. 2 outside Atlanta. Netflix — which has also shot several projects there, including the upcoming Winona Ryder thriller Stranger Things — joined Disney in threatening a boycott Thursday night.
A number of companies have released statements denouncing the bill, but have not said that they would move their productions from the state; AMC's The Walking Dead is among them, as are Time Warner (which owns HBO and Warner Bros.), Lionsgate, Sony, NBCUniversal, Discovery, CBS, MGM, and Open Road Films. The new Baywatch movie, starring Dwayne "The Rock" Johnson and Zac Efron, is currently filming in Savannah. A representative for the studio did not immediately reply to BuzzFeed News' request for a comment regarding their stance on the bill.
Georgia has a generous tax incentive for filming, which has made it one of the most popular locations for production outside California and New York; film and television production are a robust part of the state's economy.
There have been several signs that Hollywood will not have to follow through on its boycott threats. On March 3, the governor of Georgia indicated that he would not sign the bill into law. Significantly, Gov. Nathan Deal has also proactively courted Hollywood's in-state spending. Last May, when he was in L.A. to host a reception for producers and studio executives, he lauded the industry to the Los Angeles Times: "It's good for Georgia and it's good for business," he said.
Still, a spokesperson for the Human Rights Campaign told BuzzFeed News in an email, "Even in light of the governor's comments [on refusing to legalize discrimination] ... we are incredibly concerned and aren't taking anything for granted. We continue to urge fair-minded Georgians and business leaders across the country to speak out and call on the governor to veto the outrageous legislation."
While the bill reached the governor's desk on March 16, the Hollywood outcry was apparently triggered March 24, when the HRC's president, Chad Griffin, called on the industry at its Los Angeles gala to boycott production in the state should Deal sign off on the bill. Between Saturday's gala and Thursday, they gathered 40 signatures of Hollywood bigwigs for an open letter to the governor saying they "plan to take [their] business elsewhere if any legislation sanctioning discrimination is signed into state law."

Neither Netflix nor Disney responded to BuzzFeed News' question as to whether they would refuse to do business in any state that passed anti-LGBT legislation. ABC, which is owned by Disney, is filming a remake of Dirty Dancing in North Carolina, the state that just struck down a Charlotte ordinance that would have allowed transgender people to use the bathrooms that matched their gender identity. Lionsgate, which is producing Dirty Dancing, emailed BuzzFeed News a statement on Friday saying the current production would continue "given our obligation to the hundreds of people in the state employed by the production. However, we will be hard pressed to continue our relationship with North Carolina if this regressive law remains on the books."
In North Carolina, however, the current governor has not been a strong supporter of keeping production there.

Also, in February 2015, Louisiana police booked two men for "crimes against nature" under an anti-sodomy law that, despite being declared unconstitutional in 2003, is still on the books in the state. Louisiana is another popular state for film productions, although no studio or network has boycotted it.
On Twitter, a Georgia senator who supported the bill mocked the Hollywood boycott. He also engaged with people who called him a bigot and an "evil moron," suggesting that people who found anti-LGBT legislation repugnant were the real bigots.

The Georgia governor has until May 3 to reach a decision.

UPDATE
On Monday, Georgia governor Nathan Deal vetoed the religious liberty bill, noting it "doesn't reflect the character of our state or the character of our people."
UPDATE
This article has been updated with a comment from Lionsgate regarding North Carolina, which you can read below in full:
The legislation hastily enacted by the State of North Carolina today is deplorable and discriminatory, and it runs counter to everything we stand for. Our Dirty Dancing 3-hour filmed musical event, which celebrates the principles of inclusiveness, diversity and tolerance, will go forward given our obligation to the hundreds of people in the state employed by the production. However, we will be hard pressed to continue our relationship with North Carolina if this regressive law remains on the books.