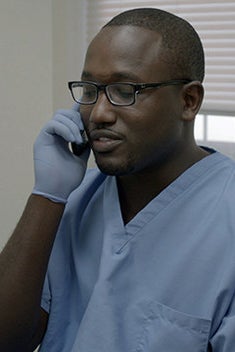 Comedian Hannibal Buress took aim at Bill Cosby's alleged rapes during a show in Philadelphia last Thursday. Buress joked in his set that Cosby positions himself as a "role model" for black Americans, although 13 women have alleged that he raped them. Here's what he said below:
Thirteen? And it's even worse because Bill Cosby has the fucking smuggest old black man public persona that I hate. Pull your pants up, black people. I was on TV in the '80s. I can talk down to you because I had a successful sitcom. Yeah, but you raped women, Bill Cosby. So, brings you down a couple notches. I don't curse on stage. Well, yeah, you're a rapist, so, I'll take you sayin' lots of motherfuckers on Bill Cosby: Himself if you weren't a rapist. ...I want to just at least make it weird for you to watch Cosby Show reruns. ...I've done this bit on stage, and people don't believe. People think I'm making it up. ...That shit is upsetting. If you didn't know about it, trust me. You leave here and google 'Bill Cosby rape.' It's not funny. That shit has more results than Hannibal Buress.
Cosby's publicist did not immediately respond to BuzzFeed News' request for comment, while Buress' representative declined to comment.
Buress talked about the act on the Howard Stern Show, saying he's been doing his Cosby bit for six months and was a bit surprised to see it suddenly get traction. "It's just information that's out there," he said. "I said it, and I gotta stand on it."