A new study showed that, despite public outrage over the underrepresentation of women in Hollywood, the actual number of women in positions of power nonetheless stalled in the 2014–2015 television year. Indeed, the percentages of female creators, producers, executive producers, directors, writers, editors, and directors of photography working in television have not changed all that much since the first annual Boxed In report in 1997–1998.
The study from San Diego State University's Center for the Study of Women in Television and Film also found that shows with at least one female executive producer or creator tended to have more women in other key positions, suggesting that women were more likely than men to hire women.
For shows with at least one female creator, 49% of writers were women. For shows with no female creators, 15% of writers were women.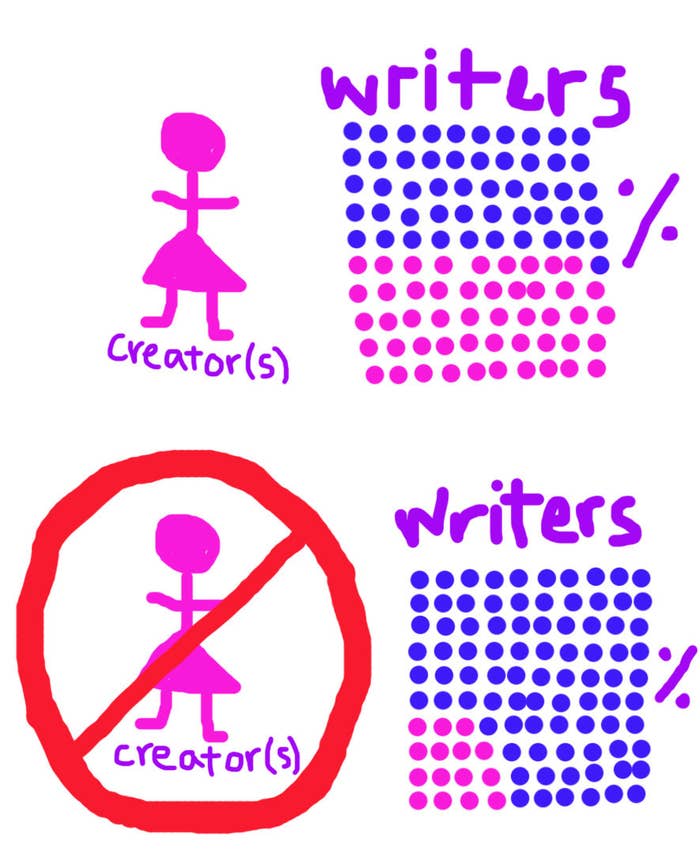 The study also found that on programs with at least one woman creator, women were 18% of directors and 37% of editors. On programs with only male creators, women were 10% of directors and 13% of editors.
"If you can get women in those very important gatekeeping roles — or in film, this would be film directors — then you're going to see more women not only onscreen, but also in important roles behind the scenes as well," Martha Lauzen, Ph.D., told BuzzFeed News on the phone. Lauzen, the executive director of the center, also wrote in an email to BuzzFeed News that the study looked at about 230 programs that appeared on broadcast and cable networks and Netflix in 2014–2015. More than 3,500 behind-the-scenes individuals were considered, as well as more than 3,500 on-screen characters, she wrote.
While the report doesn't look at causality, Lauzen said the findings indicate "that women have a different hiring sensibility than men do. I wouldn't even necessarily say that's conscious."
However, some women in gatekeeping positions do intentionally set out to hire and write more women and people of color — Lauzen cited Mara Brock Akil, who created Being Mary Jane and was an executive producer on Girlfriends, and Shonda Rhimes, who created Thursday.
Despite what Lauzen called a "cacophony of voices" calling for more women behind the scenes — and a lot of media coverage of women who have found success in Hollywood — men still dominate the television landscape.
Looking at broadcast programs, the study found that "70% of the episodes considered had no female creators, 86% had no female directors, 70% had no female writers." These percentages are represented in dots below: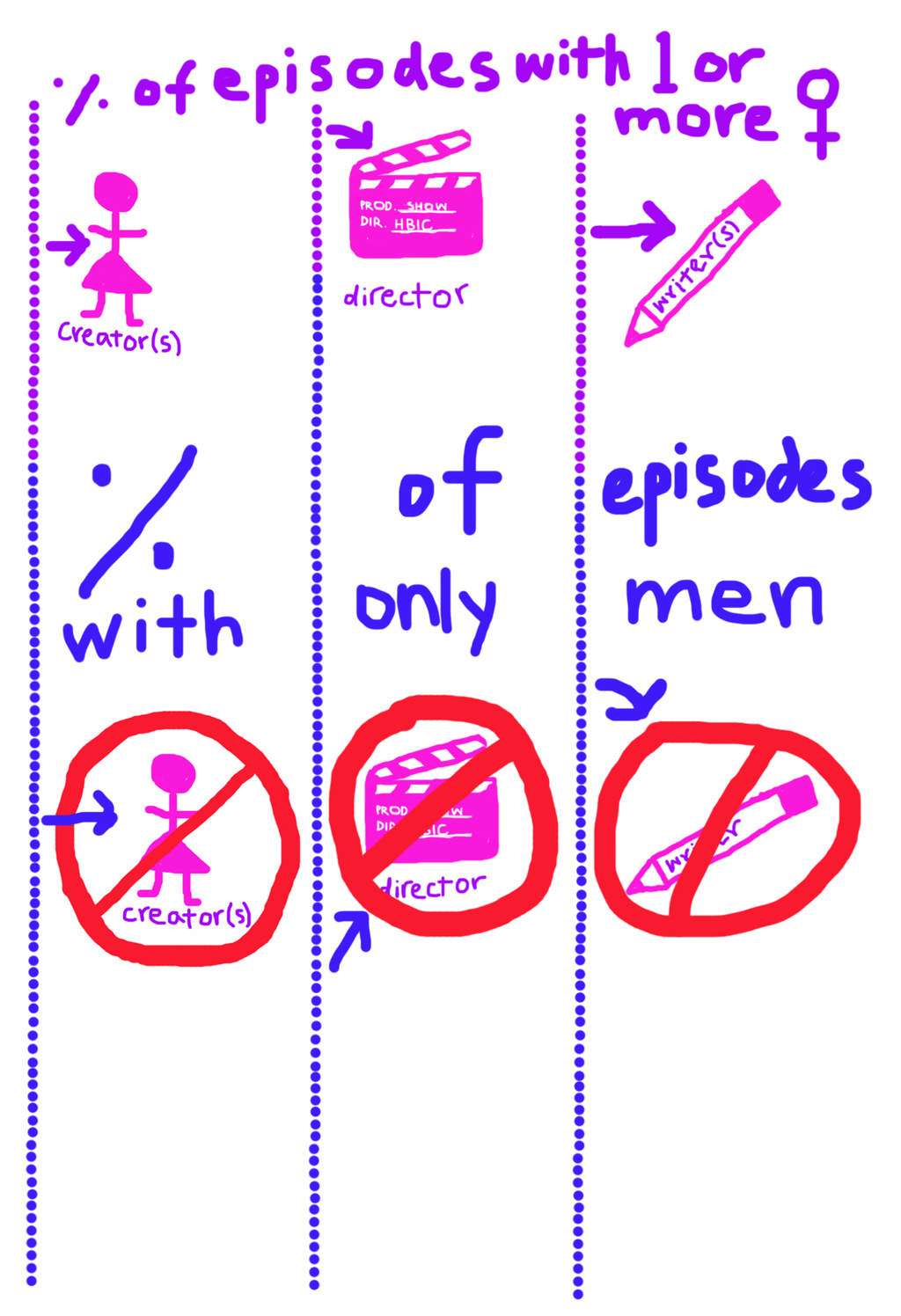 Lauzen thinks the attention outlier women get can contribute to the stagnation of opportunity for others. "We hear lots of well-deserved success stories about Shonda Rhimes and others, and I am delighted that we now have media stories that focus on women showrunners," Lauzen wrote in the email. "But that attention can skew our perceptions of how women as a whole are doing in the business." Lauzen cited Kathryn Bigelow's 2009 Oscar win for Best Director as an example. "I think a lot of people thought the problem of women's underrepresentation as film directors had been 'fixed.'"
Likewise, showering these successful women with attention takes the focus off those who have made no effort to hire more women. "I think we really have to pay attention to who is not speaking up in this conversation," Lauzen said in the interview. "Who are we not hearing from? We're not hearing from the people with the power to change things."
Lauzen continued: "Where are these heads of the networks with substantial programs to change the numbers and to shift these percentages?" She said networks and guilds will sometimes have mentoring programs for people from underrepresented groups, but "a lot of those opportunities really just deal with a handful of individuals. ... You really have to wonder, is this a sincere effort to change things, or is this window dressing?"
Lauzen gave the Directors Guild of America as an example: The guild's president, Paris Barclay, recently said in a statement, "we challenge the networks, studios and executive producers who make all the hiring decisions in episodic television to set diversity hiring goals."
Lauzen scoffed. "My question would be, well what's the DGA gonna do to change this? ... Everybody says it's not our fault, and nothing changes."
She was not optimistic about change coming from the inside — her lack of optimism is bolstered by years of stagnant or barely increasing hiring numbers. She pointed to the ACLU's call for a government inquiry into hiring discrimination as something that might actually lead to change. "There is a profound lack of leadership on the part of, unfortunately, every organization I can think of on this issue," she said.