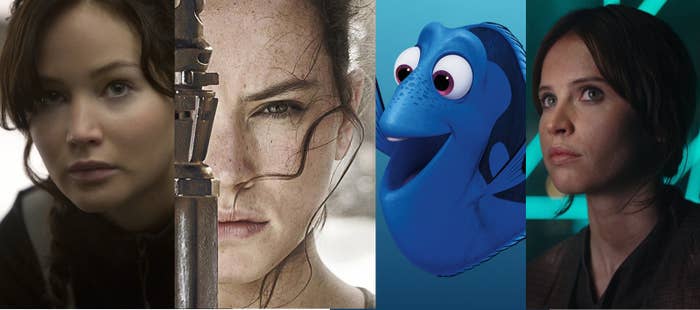 Women have dominated the box office for the last four years in a row. And in 2016, both the first and the second highest-grossing films — Rogue One: A Star Wars Story and Finding Dory — center on female characters.
It's a particularly monumental achievement, given the number of films that feature female protagonists. According to research from San Diego State University's Center for the Study of Women in Television and Film, male characters were, on average, 84% of protagonists in top-grossing movies in 2013, 2014, and 2015. And yet, in each of those years, Katniss Everdeen (Jennifer Lawrence) in both *The Hunger Games: Mockingjay — Part 1 and Catching Fire and Rey (Daisy Ridley) in Star Wars: The Force Awakens carried their films to the top of the domestic box office.
A similar gender imbalance surely exists in 2016, for which there is not yet data, but Dory (Ellen DeGeneres) in Finding Dory and Jyn Erso (Felicity Jones) in Rogue One: A Star Wars Story still triumphed — they both bested Captain America himself.
Notably, however, Katniss, Rey, and Jyn are all white women and Dory is a fish voiced by a white woman. Around 75% of female characters in top-grossing films are white.
Still, these past four years prove people demonstrably go see movies about women! Here's to more (and more diverse!) female protagonists in 2017 and beyond.

(*American Sniper is technically the top grossing domestic release of 2014, but it played in just four theaters in 2014 and opened wide on Jan. 16, 2015.)