"8 Minutes" Trafficking Victim Adviser Says Producers Ignored Her Advice
D'Lita Miller, an on-camera advocate for the series, disavowed some of the show's tactics in an interview with BuzzFeed News. A&E has commented.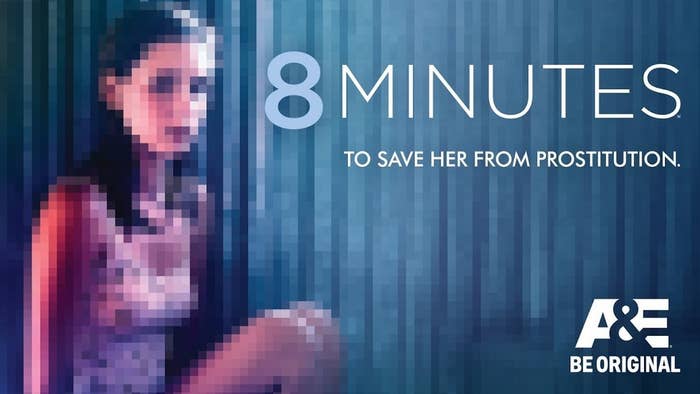 A former sex worker and founder of Families Against Sex Trafficking told BuzzFeed News she had advised against some of the tactics employed in the filming of A&E's 8 Minutes reality show, which centered on the idea of helping women leave sex work. The advocate, D'Lita Miller, spoke with BuzzFeed News about her involvement in the show after she learned that five sex workers filmed for 8 Minutes alleged the production lied to and manipulated them.
Miller, who served as an on-camera advocate for the show, counseling the sex workers from her position as someone who had gotten out of "the life," said she was surprised by the allegations. Another advocate featured on the show wrote on her website that she was grieved to hear about "hiccups in that system."
The now-canceled reality show, which was produced by Relativity Media and began airing on A&E April 2, starred pastor and former police officer Kevin Brown, who would call sex workers posing as a client and then reveal that he wanted to help them leave "the life" if they chose. Five women told BuzzFeed News that the show lied to them about the terms of their participation in the series; three say they never received the assistance they were promised as a condition of their involvement. A network representative said that ongoing legal and social services were paid for by the production itself, and that women who needed safe emergency housing were sent to an organization that provided it. The representative declined to comment on the other allegations in this story.
The women's allegations were corroborated by Cat French, the founder and executive director of an anti-trafficking group that was initially involved with the series. French said Elijah Rising severed ties with 8 Minutes almost immediately. "I had doubts about the integrity of some of the people involved," French said. She described the exit program for the sex workers who were filmed as unclear and "cobbled together," and said that members of the production were making promises to these women that they could not keep. "They promised this girl she'd get her kids back," French said. "The girl shows up at our referral center, and says, 'OK, where are my kids?'"
8 Minutes depicts the women being surprised by the revelation that Brown was not a client, although four of the women filmed for the show have told BuzzFeed News they were informed in advance that this was for TV.
Miller, who pointed out that she herself was a victim of human trafficking, said she that on principle she spoke out against the producers' surprising the women with cameras. "You cannot bring women into a hotel room, allow them to spill all of their business, and then — boom! — tell them, 'Oh by the way, we have cameras in the room,'" she said. An anonymous source who worked on the unaired pilot told BuzzFeed News that, indeed, during the pilot the production mostly abandoned the practice of what he termed ambushing, but for practical, not moral, reasons: The women were more likely to bolt if they were not informed in advance that Brown was not a client and that they would be filmed, he said.
Many of the sex workers featured on the show appeared with their faces unblurred. Miller said she advised the producers that all faces should be blurred in the broadcast: "You know what, if I had it my way, and — I'll say this, I don't care — if I had it my way, all of their faces would have been blurred," Miller said.
"Because, you know, I been out of the life for a long time, and there were decisions that I made 10 years ago that I wouldn't have made now," she continued. She mentioned Gina — who appeared on the show with an unblurred face and requested help getting out of sex work — and posited a situation five years from now, when a hypothetical Gina has a husband and daughter, and she doesn't want them to know that she did sex work in the past.
Miller continued, posing a darker scenario: What if a trafficking victim on the show decided to start a new life, and "six months later she runs into her trafficker?"
Neither A&E nor Relativity responded to a direct inquiry as to whether they had considered these scenarios before broadcasting this TV show. Relativity did not respond at all to a detailed list of allegations they received before this story was published, but had previously declined to comment on the allegations of wrongdoing made by the women and similar allegations made by an anonymous source who worked on the unaired pilot.
Two of the women who spoke to BuzzFeed News said they expected their anonymity to be better protected — Jazzy said she requested that her face be blurred, and it wasn't, while Gina said that face-blurring was not offered to her as an option, and she assumed it would be blurred.
Miller said that she had no control over the production, however, and that she was "just a little peep."
"This is what I knew: I had a few minutes in the room with somebody that may have really needed my help," said Miller. Once the sex workers walked out the hotel door, "That was it."
Lexie Smith, a second on-camera advocate, wrote online, "[We] had to trust the production team to handle those things well."
Miller said that she believed it was not the responsibility of A&E or Relativity to play a role in the lives of the women who asked for help on camera after they finished shooting, although in Episode 3, she told one woman: "Maybe we can help you get a job. Maybe we can help you with your school."
Miller said she did not mean to be misleading; with that "we," she was referring to the team she believed she was on, which included a network of outside resources, she said. "Being a part of 8 Minutes, I trusted the producers. I trusted the show," she continued.
Part of the show's plan was to refer them to Houston-based organizations.
"We were hoping that the show would show the lack of resources for these women," Miller told BuzzFeed News. "I believe that dealing with this population has to be somewhat of a relay race, and you're passing off the baton."
Miller said she has gone public with her story because A&E had not been supporting her and the two other advocates through its silence — broken today — and that in a way, critics of the show were missing the point: 8 Minutes did raise awareness of human trafficking, and gave viewers who were being sexually exploited a sense of hope. She said that she and the other two advocates did not know exactly how the production followed up with the women who appeared on the show, or whether producers lied to them; nor did she know in advance whether their identities would be protected.
Speaking for herself and the other advocates on the show, she said, "Our hearts, our safety, everything was on the line when we did what we did."
Miller said she wanted people to know that "everybody involved wasn't bad."