Trump's DC Hotel Lost $1.1 Million In First Two Months, Democratic Lawmakers Say
Legislators write in a new letter that Trump is now in violation of his lease with the federal government.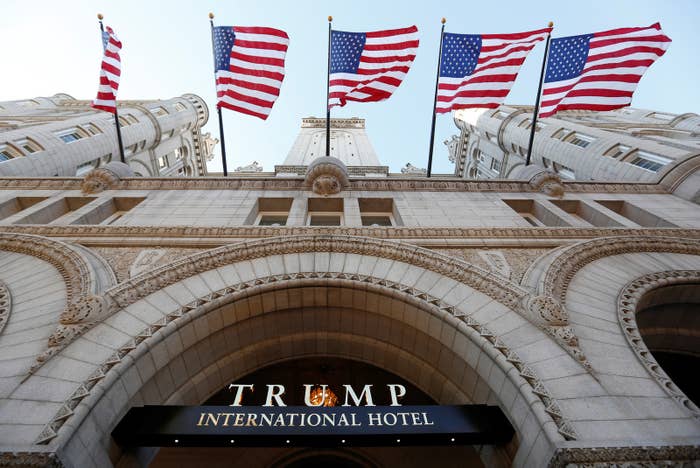 Democratic lawmakers said Monday that President Donald Trump's new hotel in Washington, DC, lost over a million dollars in its first two months of operation.

The lawmakers addressed the issue in a letter to the federal General Services Administration, which leases him the building that houses the Trump International Hotel. Citing a clause in his lease that says that no "elected official…shall be admitted to any share or part of this Lease, or any benefit that may arise therefrom," the letter said the president is in violation of his contract. The letter, which is signed by Rep. Elijah E. Cummings and three other members of Congress, asks for an explanation of "the steps that GSA has taken, or plans to take, to address President Trump's apparent breach of the lease agreement." It adds, "we understand that GSA raised our concerns with the Trump transition team directly."
Hope Hicks, a Trump spokesperson, declined to comment and referred calls to Trump's company, The Trump Organization. The company did not immediately respond to emails.
This is not the first time that the issue of that clause has been raised. A liberal advocacy group sent out a letter after President Trump's inauguration to make the same point about the hotel, which opened in September. But the matter has not previously been linked to an analysis of the hotel's revenues.
In the letter the lawmakers cite hotel financial figures they say they were given by the GSA. According to those figures, Trump's company projected revenues of $6,364,000 in the first two months. Actual revenue was only $4,072,000. The estimated projected income was to be $397,000, the letter says, but instead there was a loss of $1,1160,000.
Trump hotel revenue according to Democratic lawmakers' letter

In a deposition last year, a Trump employee said that the company kept two sets of projections — a more conservative set for internal use, and a "rosier" set to show potential lenders.