Trump's Son In Crosshairs Of Special Counsel Mueller
Prosecutors investigating possible collusion between Russia and the Trump campaign are bearing down on the president's son, attempting to figure out his intent when he attended a meeting in which he was promised dirt on Hillary Clinton as part of Russia's support for Trump's campaign. The question of intent could be crucial in determining if Donald Trump Jr. violated the law.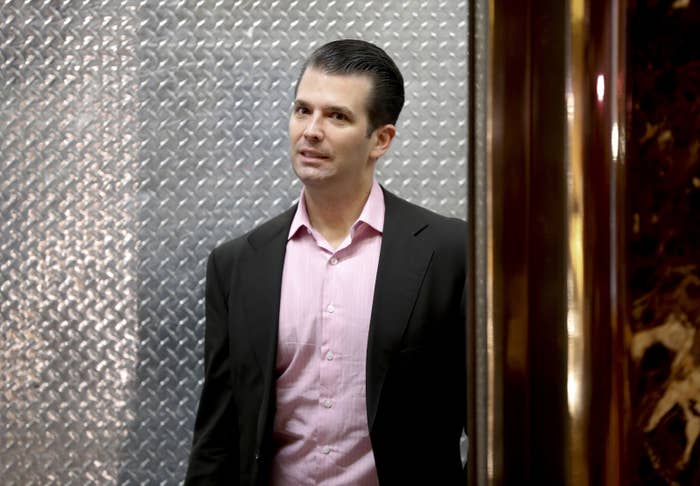 Federal prosecutors working for special counsel Robert Mueller are focusing keenly on the president's son Donald Trump Jr. and are trying to determine his intent when he attended a controversial June 9, 2016, meeting with a Russian lawyer, according to a source familiar with the investigation.
Trump Jr. has acknowledged that he was looking for negative information about Hillary Clinton when he, as well as Jared Kushner and then-campaign manager Paul Manafort, met with the lawyer. But he claimed he did not receive any useful opposition research.
The source familiar with the investigation said that prosecutors have been trying to determine exactly what information was provided and are scrutinizing Trump Jr.'s statements about the meeting.
Requesting or accepting anything of value for a presidential campaign from a foreign national violates federal election law, legal experts told BuzzFeed News.
Alan Futerfas, Trump Jr.'s attorney, did not respond to calls or an email requesting comment.
The special counsel's office declined to comment on the investigation, and grand jury proceedings are secret. White House communications director Hope Hicks referred calls to President Trump's attorneys. White House lawyer Ty Cobb said, "I don't know anything about that in the sense of what their motivations or interest are. I wouldn't comment on it." Kushner's lawyer declined to speak on the record.
The special counsel is authorized to investigate "any links and/or coordination" between the Russian government and the Trump campaign, as well as "any matters" that may arise from the investigation. Mueller's office has said 16 prosecutors are working for the special counsel.
That prosecutorial muscle is reportedly bearing down on a variety of people in Trump's campaign for possible collusion with Russian efforts to sway the election and other issues. Mueller is said to be looking at whether Trump obstructed justice in any way in his conversations with and eventual firing of FBI director James Comey. And Manafort, whose residence was searched last month, is reportedly facing Mueller's scrutiny not just for his role in the June 9 meeting but also for his dealings in Ukraine, where he was a consultant for a pro-Russian Ukrainian political party. Michael Flynn, Trump's former national security adviser, is reportedly under investigation for communications with Russia's ambassador and his representation of a Turkish firm.
Manafort's spokesperson, Jason Maloni, emailed that Manafort, "has consistently cooperated with law enforcement and other serious inquiries." Flynn's lawyer did not respond to a phone message.
Got a tip? You can email tips@buzzfeed.com.

To reach us securely, go to

tips.buzzfeed.com

.
The probe of Trump Jr. would bring the investigation right into the president's family. Prosecutors investigating Trump's son, the source said, are focusing specifically on his mindset when he met with the Russian attorney on June 9, and they want to learn details of the information that was offered to Trump Jr.
According to emails released by Trump Jr., a Trump family associate requested the meeting to share "some official documents and information that would incriminate Hillary." The information had come from Russian officials and was "part of Russia and its government's support for Mr. Trump," the email said.
Trump Jr. responded, "If it's what you say I love it especially later in the summer."
After the meeting was revealed by the New York Times, Trump Jr. posted a statement on Twitter saying that the lawyer "had no information to provide." But in an interview the same day with Fox News host Sean Hannity, Trump Jr. described the information this way: "It was this, you know, hey, some DNC donors may have done something and Russia and they didn't pay taxes — I was, like, what does this have to do with anything?" He dismissed the meeting as "such a nothing."
The Russian lawyer in the meeting, Natalia Veselnitskaya, has said she "never had any damaging or sensitive information about Hillary Clinton" but rather wanted to push against a particular set of US sanctions against Russia, called the Magnitsky Act. Veselnitskaya was accompanied by at least three other people with close ties to Russia.
She could not be reached for comment.
In fact, the information Trump Jr. received in the meeting, according to two sources, was a complicated set of allegations concerning contributions to the Clinton Global Initiative from Ziff Brothers Investments, a well-known investment fund. Bloomberg has previously reported on this aspect of the meeting.
The Ziff Brothers fund was purportedly linked to William Browder, a man who had invested heavily in Russia but later became a vociferous anti-Putin activist and the leader of the campaign to pass the Magnitsky Act.
Browder was convicted in absentia by the Russian government of tax charges, though he has said it was a show trial and a miscarriage of justice. Reached for comment about the June 2016 meeting, he said, "We do not know what was handed over in the meeting. I'm hesitant to affirm something that I do not know."
Asked if he'd been contacted by the special counsel's office, Browder said, "I can't confirm or deny any contact with law enforcement."
A spokesperson for Ziff Brothers Investments declined to comment.
The issue for prosecutors isn't necessarily whether the information that Trump Jr. got was true. Instead, prosecutors want to know what Trump Jr. was thinking when he got it.
While it's unclear which law is at issue, federal law forbids campaign officials from soliciting or accepting "things of value" from foreign nationals. But for the violation to rise to a criminal matter rather than just an administrative one, it has to be a "willful" violation, lawyers explained. So to obtain an indictment against Trump Jr., prosecutors would have to establish that he acted with criminal intent, experts said.

"In order to be prosecuted you would have to be acting willfully," says Rick Hasen, an election law and campaign finance expert at at University of California, Irvine School of Law. Hasen says it's unclear from Trump Jr.'s emails whether a crime had been committed, but he said the emails were enough to merit an investigation.
Three public interest groups in July filed complaints with the FEC and the Justice Department, requesting an investigation into whether election laws were violated at the June 9 meeting. Lawrence Noble, general counsel for the Campaign Legal Center, a nonprofit election law group that joined in the complaint, said that to get a criminal indictment prosecutors would "want to show that Donald Trump Jr. specifically knew that he was talking to a foreign national, and that he was encouraging them to take action that would support the campaign." He said willfulness can be difficult to prove: "That means that you know what you were doing, and you knew it was illegal."
That is why the prosecutors are so interested in what actually happened in the meeting, and what Trump Jr. knew.
Proving intent and knowledge of the law is difficult, said David A. Vicinanzo, who was the chief prosecutor of a federal campaign finance task force looking at illegal foreign contributions in the 1990s. He's now the head of the government investigations practice at the law firm Nixon Peabody in Boston.
"To prove a willful violation, he said, prosecutors would typically "do a deep dive on the background of the person and all the other times they were involved in campaigns, or may have been exposed to the law. If you are someone who has been involved in campaigns, they can show circumstantially that they knew they were doing something wrong."
In Trump Jr.'s case, he said, "by the time June rolled around, you would think that they have a bevy of lawyers long since advising them on what campaign rules are."
Trump Jr. initially said in a statement to the New York Times that the meeting with the Russian lawyer was primarily about adoptions and did not mention anything about how the meeting was set up to provide incriminating information about Clinton. Vicinanzo said prosecutors may find that significant: "It sounds like consciousness of guilt which is a form of circumstantial evidence to prove someone's state of mind."
A lawyer close to the White House disputed that reasoning but acknowledged that "it's not unreasonable for the special counsel to look into this."
Also important to the investigators: the value of the information that was handed over.
The law applies to whatever is donated to a campaign, experts say, whether that is cash, legal services, airline tickets, or even, potentially, opposition research. But the severity of the violation depends on the value of the services.
If someone solicits or accepts between $2,000 to $25,000, the potential prison sentence is a maximum of one year, according to the law. But if a foreign national donates something worth $25,000 or more, then a conviction can carry a penalty of five years in prison.
If the material handed over to Trump Jr., Kushner, and Manafort had a high value, that could give prosecutors leverage.
Determining a precise dollar value is, Hasen said, "a difficult question." He added, "But obviously opposition research has value."
Aram Roston is an investigative reporter for BuzzFeed News and is based in Washington, DC. His secure PGP fingerprint is D861 374F D725 4F61 39C0 08F1 4575 134B 09D9 B28D

Contact Aram Roston at aram.roston@buzzfeed.com.

Got a confidential tip? Submit it here.