At Mar-a-Lago, the Palm Beach resort he runs as a club for paying guests and celebrities, Donald Trump had a telephone console installed in his bedroom that acted like a switchboard, connecting to every phone extension on the estate, according to six former workers. Several of them said he used that console to eavesdrop on calls involving staff.
Trump's spokeswoman Hope Hicks responded to written questions with one sentence: "This is totally and completely untrue."
The managing director of Mar-a-Lago, Bernd Lembcke, did not respond to emails. Reached by phone, he said he referred the email query to Trump's headquarters and said, "I have no knowledge of what you wrote."
At the 126-room Mar-a-Lago mansion, Trump keeps an apartment set aside for himself and his family, and rents the rest out to guests and members.
BuzzFeed News spoke with six former employees familiar with the phone system at the estate.
Four of them — speaking on condition of anonymity because they signed nondisclosure agreements — said that Trump listened in on phone calls at the club during the mid-2000s. They did not know if he eavesdropped more recently.
They said he listened in on calls between club employees or, in some cases, between staff and guests. None of them knew of Trump eavesdropping on guests or members talking on private calls with people who were not employees of Mar-a-Lago. They also said that Trump could eavesdrop only on calls made on the club's landlines and not on calls made from guests' cell phones.
Each of these four sources said they personally saw the telephone console, which some referred to as a switchboard, in Trump's bedroom.
None of the four supports Trump's bid for president. All said they enjoyed their time working at Mar-a-Lago.
Two other sources — the tycoon's former butler and Mar-a-Lago's former security director — said the console in Trump's private apartment merely made it easier for Trump to call other rooms in the estate. They said their former boss either did not or would not listen in on calls. They both support Trump for president.
Trump, the presumptive Republican nominee, is running at a time when Americans are increasingly concerned about surveillance — both by the government and by their employers. Some of his own campaign staff feared that their offices in Trump Tower in New York might be bugged, the New York Times reported last month. Trump has backed the NSA's bulk collection of metadata, telling conservative radio host Hugh Hewitt that "I tend to err on the side of security." Trump added, "I assume when I pick up my telephone people are listening to my conversations anyway, if you want to know the truth."
Florida state law generally makes it a crime to intercept or record phone calls without the consent of everyone in a conversation, but legal experts said that the law might not apply to employees using business phones at work.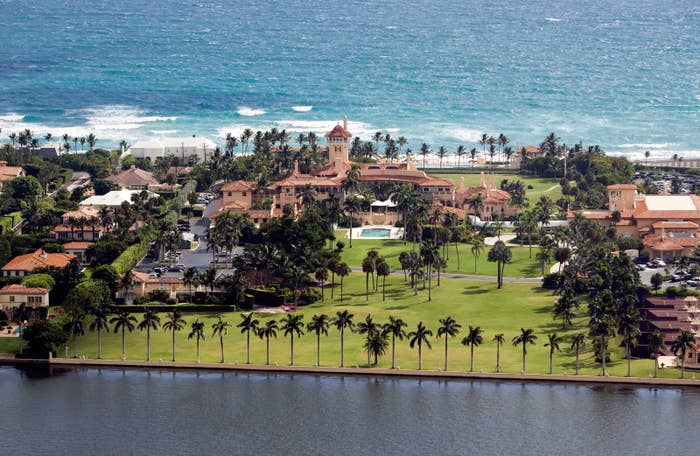 At Mar-a-Lago, "He listened in," said one source with deep knowledge of the working of the phones and Trump's phone use. This person added that workers were told to be aware of it.

For example, this source recalled a time when a staff member was on the phone with a club member. During the phone call, Trump called the staff member on another line to weigh in on the very issue that was being discussed. "There is no other way you could know what that conversation was about unless you were eavesdropping," this source said.
A second source said he had direct knowledge that Trump "could pick up the phone in the bedroom and listen to any conversation that was going on." This person said Trump used it "to eavesdrop." This source said that some staff, who used a separate switchboard, knew when Trump was listening in on calls, because when he did, a light on that switchboard would come on.
A third source said that "it was acknowledged that when he was at the property there was a likelihood of him listening in on your call." This person said it was clear when Trump was listening in, because the phones of some of the resort's executives had a light that showed the extension that Trump was on. When the mogul joined in on a call, this source says, another light on these phones — but not on most other phones in the estate — would come on, indicating that Trump's extension was active and on the call.
A fourth source said that Mar-a-Lago had a common type of company phone network that had a "barge-in" capability. "Barge-in" allows certain users to tap into and discreetly monitor other calls in the network. This source said Trump did occasionally monitor phone calls of employees but declined to give details.
The two former Mar-a-Lago officials who said there was no eavesdropping acknowledge that there was a switchboard in Trump's room. One, who left Mar-a-Lago last year to pursue real estate, is John Velez, the former Mar-a-Lago director of security. "He had a switchboard," Velez said, but "the switchboard is just for him to dial out."
Velez called it "ridiculous" that Trump could listen in on phone calls. Instead, Velez said, Trump used the console just so that he would not have to use a dial pad or call the operator. "Trying to remember extensions to every suite is impossible," he said.
Another supporter who knows about the console is the tycoon's former butler, Anthony Senecal, who briefly drew the spotlight this year when on Facebook he called for President Barack Obama to be hung for treason.
Of the switchboard near Trump's bed, Senecal said, "He's got lines to all the rooms." Senecal, like Velez, maintains that this was for simplicity's sake. "A lot of his friends stayed at Mar-a-Lago and he didn't want to go through the front desk."
Senecal said he did not know whether the phone could be used by Trump to eavesdrop on calls. "As far as listening in I can't believe he would ever do that. I don't know that he ever did that. I can't see him doing that."
Jeremy Singer-Vine contributed reporting to this story.