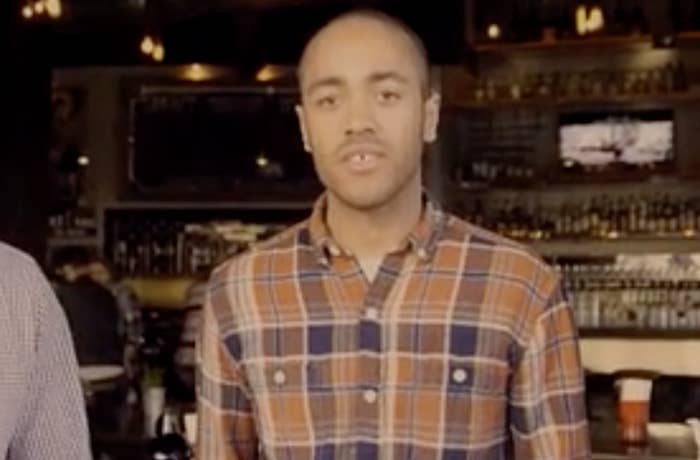 The Customs and Border Protection officer who reportedly tried to pressure a former BuzzFeed News journalist into talking about her sources, and appeared to have collected private information about her and her travels, maintained a website in which he expressed his frustration with his own life and the direction of the government under former president Obama.
The officer, Jeffrey Rambo, also teamed up with an FBI agent in 2014 to try to launch a craft beer business in San Diego, a venture that failed.
On cached pages of his website from 2011 he railed against US military intervention in foreign wars, against "hyphenated-Americans" failing to integrate, and against trying to help a "third world shit hole."
Later he wrote about "sleepless nights spent in anguish wondering how you will rebound."
Last week the Washington Post reported that in 2017 Rambo interviewed former BuzzFeed News reporter Ali Watkins, who was then working for Politico. In a highly unusual investigative tactic, Rambo questioned her about her sources, and confronted her with allegations about an affair with a senior staffer at the Senate Intelligence Committee, according to the Post.
Got a tip? You can email tips@buzzfeed.com. To learn how to reach us securely, go to

tips.buzzfeed.com

.
That Senate aide, James Wolfe, was indicted this month on charges of lying to the FBI about his contacts with the press, and the indictment alleged that Wolfe has been in a longstanding romantic affair with Watkins. Wolfe pleaded not guilty. Watkins, who now works at the New York Times, declined to comment. (While working at BuzzFeed News, she shared bylines with one of the reporters on this story, Aram Roston.)
The reported meeting between Rambo and Watkins, which took place in 2017, is bizarre, because it is the FBI, rather than the CBP, that investigates leaks, and because it is almost unheard of for federal agents to try to talk to journalists in this manner.
Little is known about Rambo's work as a federal officer. Reached by phone and by text, he referred calls to CBP public affairs. The CBP says it has referred the incident to its internal affairs unit, the Office of Professional Responsibility, but it would not answer questions about Rambo. CPB also said it "takes all allegations of employee misconduct seriously."
Two sources who work for CBP and one source familiar with the agency said they have been told that Rambo, 33, who lives and works in California, was temporarily assigned to an FBI task force in Washington when he confronted Watkins. But it is unclear what the task force was.
"There's no way CBP officers would be sanctioned" to do an investigation like this one, one of the sources said, especially because of the sensitivity of dealing with a reporter and a Senate committee.
"This guy," the source said, "seemed like he was freelancing, or moonlighting."
Rambo, according to public records, has tried to go into business in the past. His most recent effort appears to have been in 2014, when he tried to launch a craft brewing company called "Social Jacks" that was publicized in San Diego and touted in a failed Kickstarter campaign.
His partner in the endeavor was Davin Richmond, who told BuzzFeed News that he works for the FBI.
Richmond, also 33, declined to discuss Rambo in a brief phone interview. Nor would he say what he did for the FBI. "I'd love to help you," he said, "but because of my job I can't."
When the two announced their brewery plans, a food website said both men had federal law enforcement jobs but were "avid homebrewers." The San Diego Reader wrote that one of their beers would be "an American pale ale brewed with grapefruit, agave, honey, coriander and sea salt."
Rambo and Richmond plugged their brewery in a fundraising campaign, which garnered a little under $3,000 out of its goal of $40,000. Their page featured a video explaining the project.
A source familiar with the operation, who asked not to be identified, said that in spite of the publicity, the beer business never opened. "Social Jacks didn't happen," the source said.

A decade earlier, in 2004, Rambo had set up his website jefframbo.com. Though it is currently blank, there are cached versions available on the Wayback Machine.
In 2011, Rambo, who says he is a registered Republican, wrote a screed about the Syrian civil war: "Now we are being asked to free Syria. Yeah, I'll be sure to call The Great Messiah known as Obama and ask him to get right on it." He continued, "It's about time that these 'hyphenated-Americans' take pride in the land that they now call home and fix the problems here before they rally and call for our intervening in matters that don't concern us abroad." Elsewhere, he noted that he was pursuing a degree in "Intelligence Studies with a concentration in Terrorism and Special Operations/Low Intensity Conflict."
By 2015, Rambo seemed to have changed the tone of his website, hinting that some major calamity had struck him. He titled this short post "the ultimate failure to success story." And then he wrote: "Have you ever set out to achieve greatness only to find yourself alone in a corner, with nothing to show but the resulting fear of embarrassment, regret, and worst of all… shame? Then the sleepless nights spent in anguish wondering how you will rebound and strive toward greatness once again?"
It is unclear what his setback was. By 2017, he had changed his message yet again. This time the site page that is cached says nothing more than "Dear Failure with Jeff Rambo" in black and red on a blue background.
Got a tip? You can email tips@buzzfeed.com. To learn how to reach us securely, go to tips.buzzfeed.com.