The Sheraton hotel in Sofia, Bulgaria, is a neoclassical colossus built during the Soviet era. The rear end of the building butts up on a 4th-century church and mossy Roman ruins, and it dwarfs the country's adjoining presidential palace. Inside the hotel, a dark-eyed woman in a pantsuit invites guests to the erotic nightclub in the hotel basement. Skip the strip club, and there's a hotel bar with a spacious lounge, where carpeting absorbs sound, and marble pillars reflect the light of the massive crystal chandeliers.
It is here that a short, heavyset, American arms dealer visiting from Fresno, Calif., held his business meetings. Bulgarian weapons dealers said that this man — 53-year-old Ara Dolarian — was likable and garrulous. He was often there on behalf of the U.S. government or its allies, shopping for weapons destined for America's most difficult and dangerous foreign-policy tangles, such as Iraq and Afghanistan.
From 2006 until last year, Dolarian managed to get contracts affiliated with the U.S. government that ranged from less than $20,000 to $14 million.
One $588,000 Dolarian deal last year was for an operation still shrouded in secrecy. American commandos wanted dozens of Kalashnikov rifles, a handful of the massive, Soviet bloc machine guns nicknamed Dushkas to mount on trucks, some rocket-propelled grenade launchers, and hundreds of thousands of rounds of ammunition — a standard package for a foreign quick-reaction force that the U.S. could train and deploy, according to special forces veterans who perused the shopping list for BuzzFeed.
It isn't clear what group the U.S. intended to arm with this contract, parts of which are apparently classified, though the timing fit with secret U.S. training programs for Syrian rebel forces. Intelligence agencies and the military declined to comment.
They also declined to comment on whether they knew certain pertinent facts about Dolarian: When his company landed the subcontract to buy these weapons, he was the subject of a federal criminal grand jury investigation for possibly violating U.S. arms-dealing laws and had been found by a civil court in California to have defrauded investors there.
Dolarian's tale highlights how the U.S. relies on small but important defense-contracting bottom fish to arm some of the world's most violent and unstable military forces.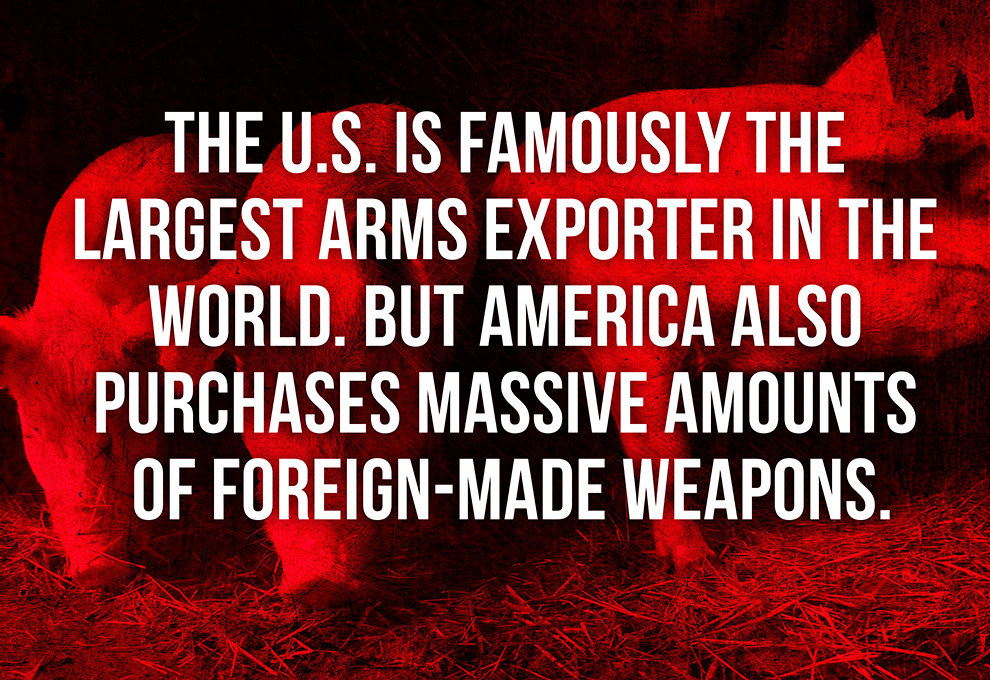 The U.S. is famously the largest arms exporter in the world. Less well-known is that America also purchases massive amounts of foreign-made weapons, most of them manufactured in the former Soviet bloc. In an effort to build up and train friendly security services, the U.S. saturates some the most violent regions of the world with these arms but has little control over who ultimately gets them.
The Pentagon or U.S. intelligence agencies often issue contracts themselves for these weapons. But other times, American tax dollars go through a proxy, such as an Afghan government agency, which issues the contract but which is heavily funded and guided by the U.S. Dolarian was involved in both types of contracts.
While most coverage of the weapons trade tracks the multibillion-dollar deals in fighter jets, strategic missiles, or radar systems, most killing in modern wars is done with cheap rifles, machine guns, mortars, and other small arms.
Over the last decade, the U.S. has sent more than 700,000 weapons — the vast majority foreign-made small arms — to Afghanistan, where President Barack Obama has staked his strategy on training and arming the army and police. Likewise, in Iraq after the 2003 invasion, the U.S. disbanded the security forces only to rebuild and rearm new ones for eight years, sending over a million weapons by some estimates. The majority of these were Russian-designed small arms.
These are the types of arms that Dolarian, a man the state of California banned from selling certain financial securities, was given U.S. tax dollars to purchase.
This line of work has seen its share of scandal. In 2007, the Pentagon awarded a $300 million contract for Warsaw Pact ammunition to a company run by a 21-year-old Miami man, Efraim Diveroli, who had limited experience in the arms trade. The story of Diveroli, later convicted of fraud after his company sent decades-old, flawed ammunition to Afghanistan, is set to be made into Hollywood movie called Arms and the Dudes. Since that fiasco, the government has tried to use well-known, established defense contractors to equip Afghanistan's forces, and procure this type of weaponry. But as the Dolarian tale shows, it doesn't always work out that way.
Details about Dolarian's career as an arms dealer were culled from court records, interviews, and documents. In response to a detailed letter laying out the contents of this article, Dolarian's lawyer, Myron Smith, wrote, "I do not intend to provide a point by point response. Needless to say, I believe some of the information is inaccurate and some is false."
Dolarian himself declined repeated requests for an interview. But in one brief phone conversation he made it clear that he sees the weapons business as nothing special: "The arms trade," he said, "is no different than any commodity."
Indeed, before he dealt in arms, Dolarian dealt in another commodity: pigs.

In the late 1990s and early 2000s, Dolarian was a financier based in Fresno, where he arranged investments for a variety of ventures. In 2001, a livestock business he had invested in started to founder. The company was supposed to supply 450 young pigs a week to a Northern California slaughterhouse catering to the Chinese-American community. But the company, run by a farmer who had agreed to provide the pigs, often failed to fulfill the weekly order. Dolarian's company at the time, Dolarian Business Group, took over the contract, buying and delivering the pigs, according to court records.
"At the start of the contract, the quality of the pigs shipped was good," a California state appellate judge would write years later, "but quality began to decline. Many of the pigs were overweight and blemished. Some arrived dead; others were condemned upon arrival as unfit for human consumption."
In 2001 and 2002 in a separate pig-processing effort, according to court records, Dolarian encouraged a dentist named Dennis Shamlian to invest $190,000 in a company he controlled, Golden State Meat Products. Shamlian's then-73- year-old mother, Roxie Shamlian, pulled $100,000 out of her savings account to invest with Dolarian.
The two didn't get paid back, and by 2004 the case had worked its way through a California state civil court in Fresno, where a superior court judge ruled that Dolarian had committed "fraud and deceit upon his investors and creditors."
Reached for a brief interview in July, Smith, Dolarian's lawyer, said that there was no fraud and that Dolarian did not pocket money in the deal. He said it was just an honest investment that went bad and that borrowers who owed Dolarian money didn't pay it back.
In his letter to BuzzFeed, Smith noted that the pig deals happened more than 10 years ago and said, "I believe that the purpose of using this old information is to cast my clients in a false light and cause the reader of the article to conclude that my clients are 'bad' people."
In 2005, the state of California ordered Dolarian to "desist and refrain" from selling certain "unqualified" financial securities. The state found that "Dolarian and/or Dolarian Business Group" had not informed investors that Dolarian was the chief financial officer of one of the companies investors had loaned money to. The state also found that investors had not been paid what they were promised.
Dolarian's lawyer wrote that the state's order came "two years after Business Group ceased ANY business."
It was in the mid-2000s, when the U.S. occupation of Iraq was bleeding billions, that Dolarian saw how lucrative government contracting could be, according to a former business associate of his who spoke on condition of anonymity. Under President George W. Bush, the Coalition Provisional Authority, which then oversaw Iraq, was issuing huge contracts.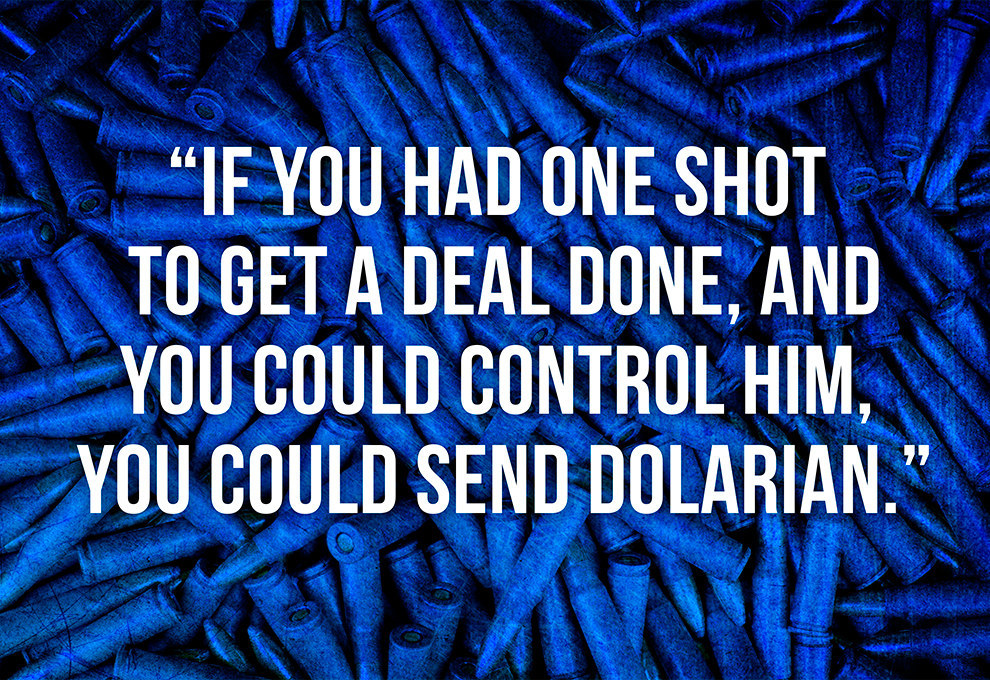 "They were throwing money at anyone," said the former associate of Dolarian, who watched his transformation.
The first arms deal Dolarian's company did directly with the U.S. government came in 2006 with the Air Force, contracting records show. He delivered 30,000 rounds of AK-47 ammunition, plus 100,000 rounds of blank ammunition, presumably for training. The total price was just $18,000.
And then he solicited business around the world. The Dolarian name showed up bidding for a mortar contract in the Philippines, according to The Philippine Star. A 2008 WikiLeaks cable makes a reference to Dolarian pursuing business as part of a trade delegation to South Sudan.
Dolarian quipped recently that he was self-taught in the arms business, joking that there weren't apprenticeships or vocational schools. "I don't believe those types of programs are available in the industry," he said, wryly.
The former associate of his said, "He's a really great talker. If you had one shot to get a deal done, and you could control him, you could send Dolarian. The guy knows how to get it done: when to pause; when not to pause; when to be quiet."
In early 2010, according to the former Dolarian associate, money was tight. But then, one Thursday morning in March, Dolarian got an email. "Good morning," said the email. "[Do] you have PKMs available in Bulgaria?" A PKM is a heavy-duty, Russian-style machine gun.
The email was from a major U.S. private security company called SOC, LLC, looking for Soviet bloc arms it could use in Iraq and Afghanistan to arm its guards. Like the more famous company Blackwater, SOC sent highly trained veteran soldiers to protect State Department officials around the world. It had a piece of a giant State Department contract called Worldwide Personal Protective Services. On top of that, two sources say, SOC had contracts in Afghanistan, where it protected CIA officers on undercover assignments, operating as bodyguards for the spies. SOC declined to comment for this story.
"These goods are now ready for dispatch," Dolarian emailed back, "pending licensing from both the United States and the Bulgaria. (sic)"
That email exchange, legal records show, blossomed into a contract with SOC worth $1,063,328 for guns from Bulgaria, to be shipped to Iraq and Afghanistan. SOC's contracts were with the U.S. government; Dolarian was a subcontractor. Records from a case in U.S. district court in Fresno say he got a deposit of $531,664. The deal included at least a thousand AK-47s and 75 heavy machine guns, and over a million rounds of ammunition. In transactions such as this one, Dolarian, like most weapons dealers, would buy the weapons as inexpensively as possible to maximize his profit.
And these purchases of firepower were laid out on a banal invoice, as if it were the most normal thing in the world for one American company to buy from another American company enough Warsaw Pact weapons to arm an infantry battalion.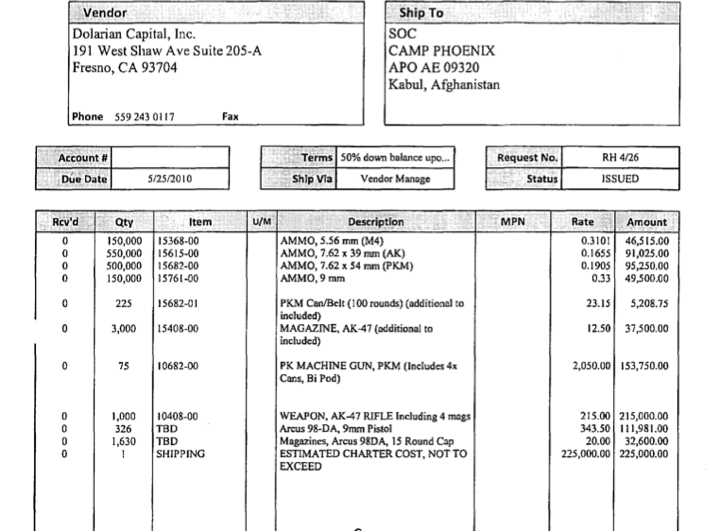 Then things got even better for Dolarian's business, with a far larger deal to ship guns to Afghanistan's government. In August 2010, documents show, Dolarian Capital became a subcontractor to an arms dealing company called Turi Defense Group, to ship $14 million worth of weapons to the Afghanistan National Directorate of Security, the intelligence service that was heavily mentored and funded by the CIA.
Turi's contract was with the NDS, but one source with knowledge of the deal said that the funding, as with much of Afghanistan's budget, came from the U.S. And the U.S. embassy in Bulgaria would end up facilitating the arms purchase. Turi Defense declined to comment, as did the NDS and the CIA.
On this deal, Dolarian's subcontract called for him to procure weapons including rocket-propelled grenades and launchers, ammunition, pistols, heavy machine guns, and sniper rifles, and it put him at the heart of President Obama's Afghanistan strategy: a surge that would build up Afghan security forces to fight the Taliban. He had graduated, in just a decade, from selling pigs to selling guns.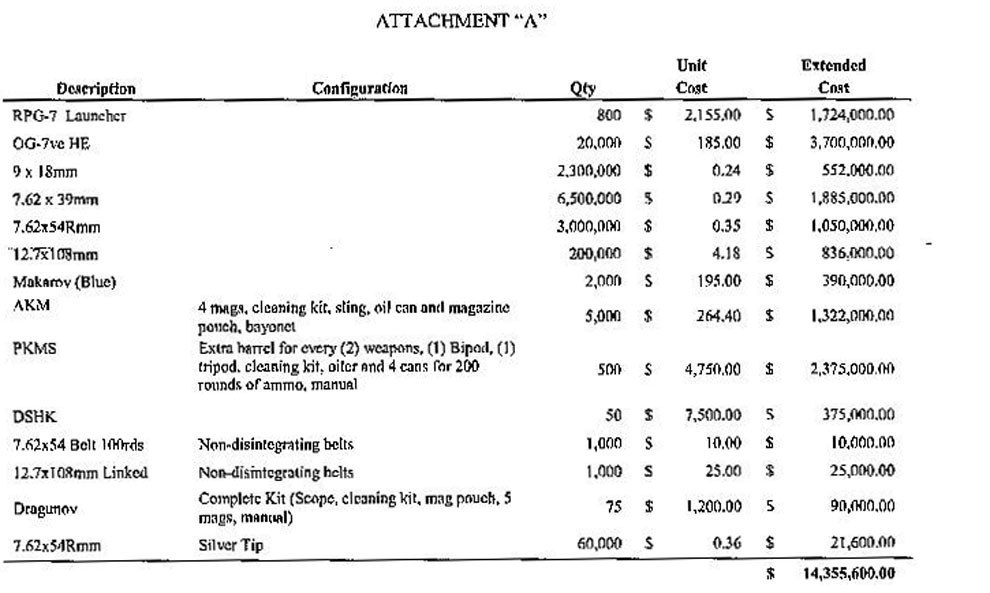 Several months after signing the Afghan deal, Dolarian Capital spent $1.2 million to buy a 3,000-square-foot home for Dolarian and his family, according to corporate records. "It is necessary," according to a resolution of the board, "for the Corporation to provide to the President of Dolarian Capital Inc. a residence that provides a high level of security to the President and his family." Dolarian himself signed the resolution to buy the estate.
Dolarian's lawyer, in his letter to BuzzFeed, objected to an "implication" that "my client improperly took money from the Turi contract and used it personally. Such implication is actionable."
In any event, to start getting the weapons, Dolarian headed out to Bulgaria.

The tour books call the expansive farmland around the ancient, central Bulgarian town of Kazanlak the Valley of Roses. Locals call it, more accurately, the Valley of Guns and Roses. Roses, because for centuries farmers have cultivated the fragrant pink damask rose here, to press it into rose oil. Guns, because this is where the arms manufacturer called Arsenal 2000 is based. It's been an institution here since the days when the Russians helped break the back of the Ottoman Empire in the 1870s.
Spread over 4 square miles, Arsenal's factory grounds are carefully guarded. Inside, the roads are shaded with trees that give it the feeling of a college campus. A 25-foot stone statue of a bearded Friedrich Engels, in the socialist realism style, still towers near the entrance.
Inside a company museum there's a world map studded with pins to show where Arsenal's guns have been sold — every continent except Antarctica, dozens of countries.
And in the marble showroom the goods are all on display for buyers who come from around the world to do deals. There are submachine guns called Shipkas, and huge ZU 23 fully automatic anti-aircraft guns that fire shells as big as dildos. Mortars for infantrymen, and thermobaric explosives that can kill anyone hiding in enclosed spaces, just from the blast waves. There are shoulder-mounted, rocket-propelled grenade launchers, and even grenade launchers with revolving barrels, that look like some kind of space-age commando weapon.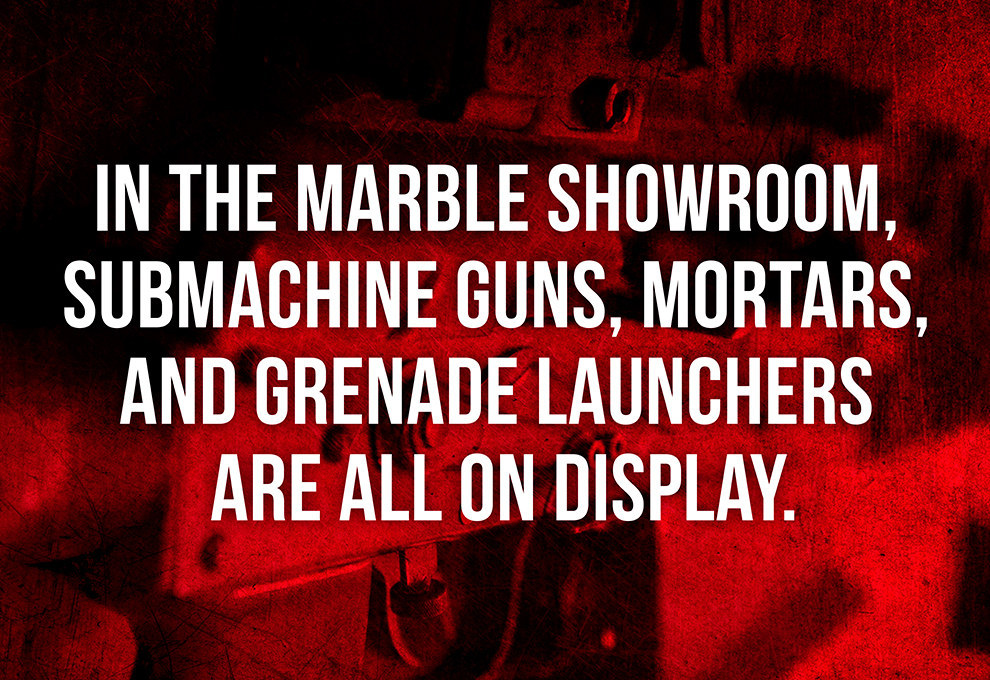 But what Arsenal is best known for is its production of the ubiquitous Kalashnikov rifle, the legendary AK. It has manufactured 2 million of these assault rifles. And they are some of the most rugged, long-lasting, finely machined AKs ever deployed, arms dealers say. Guns & Ammo magazine this January put one of the newer Arsenal models — built for the U.S. civilian market — on the cover, with the words "The Best AK Around?"
"Bulgaria, after Russia, has the best quality of AK 47," said one veteran American arms dealer, "but also the most expensive."
Dolarian was one of Arsenal's recent customers. For the Afghan intelligence service, he ordered 500 PKMs. Hristo Ibouchev, Arsenal's executive director, remembered Dolarian well: "Likable guy. He could pass for a very good businessman."
"He knows how to talk," another Bulgarian arms dealer, sitting in the Sheraton lounge, said admiringly.
Ibouchev, who attended an elite MBA program in New York, Paris, and London, refers to his guns and ammunition as "goods." He said Dolarian made a down payment and was supposed to pay the rest. "As soon as we finished manufacturing, we said, 'Sir, we are ready. Send the rest of your money and you can take your goods!'"
And that's where things went bad, because, Ibouchev said, Dolarian didn't send the rest of the money.

For American arms dealers like Dolarian, Bulgaria has become an unusually good place to buy large quantities of Soviet bloc guns and ammunition. Bulgaria is politically friendly to the U.S. It is part of NATO and is also a member of the European Union. But its GDP per capita is about $7,000, according to the World Bank, about the same as Botswana, meaning the country needs the business.
Arms dealing is practically in the blood here. "During the cold war, Bulgaria's arms industry was the cornerstone of the national economy," wrote Human Rights Watch. In 1998, the New York Times reported that "this Balkan country has become the arms bazaar for rebels and terrorist organizations of every political, ethnic and religious persuasion."
Organized crime is endemic in Bulgaria. A 2012 European Commission report noted that police consider the problem in Bulgaria "unique," and said organized crime gangs "exercise a considerable influence over economic activities in the country." An American official familiar with Bulgaria's weapons industry said he's convinced that some arms dealers in Bulgaria are connected to organized crime.
Today, Bulgaria remains one of the world's breadbaskets for assault rifles, having exported 221,000 over the last eight years, according to the website for the United Nations Register of Conventional Arms. That's an average of 27,000 guns per year, more than any other country listed on the website, except England. (The United States does not provide the U.N. with statistics about its small arms exports and imports.)
In April 2003, Bulgarian troops participated in what President Bush called the "coalition of the willing," joining in the invasion and occupation of Iraq. That October, Bulgaria's government announced that Arsenal, in the Valley of the Roses, had won a contract to supply the new Iraqi army with new assault rifles.
It was the start of a vast race to supply Iraqi forces. Arms dealers on behalf of the U.S. scoured Eastern Europe to buy guns and ammunition for Iraqi and Afghan forces. CJ Chivers, in his 2011 history of the AK-47 rifle, The Gun, wrote: "The U.S. military, since 2001, became one of the largest known purchasers of Kalashnikov assault rifles."
"When the U.S. got involved with these huge purchases," said Ibouchev, whose company benefited, "this was a immense opportunity. Many people became millionaires from that. I know people who did."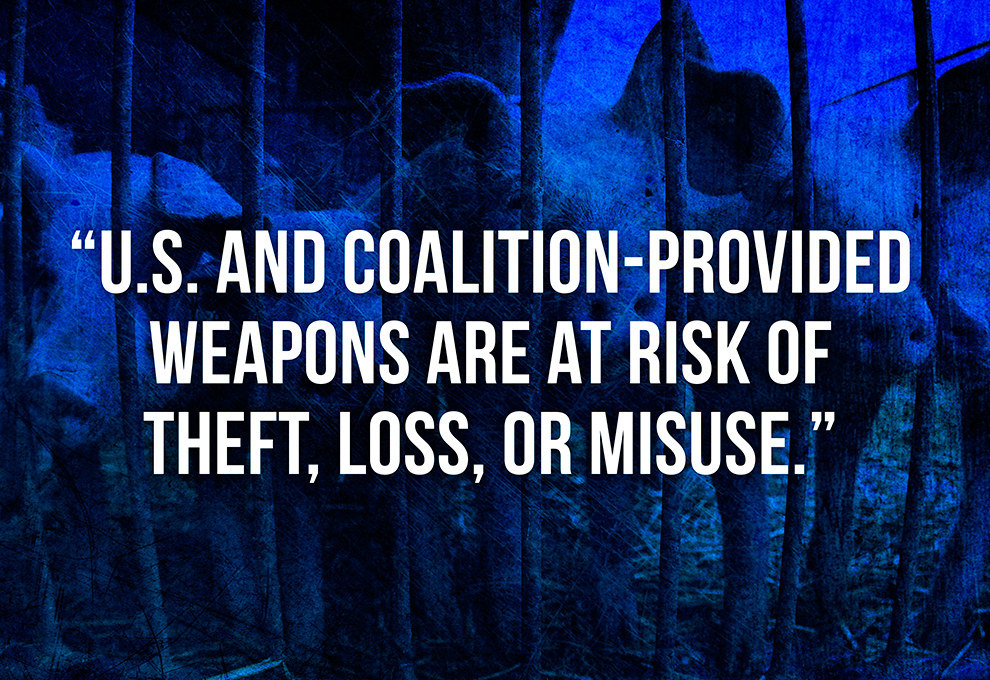 Eastern Europe was key, in part because of the high quality of its guns. "There is a huge amount of Chinese shit everywhere, but nobody wants it," said Andrew Feinstein, author of The Shadow World, a book on the arms trade.
In Iraq, there were constant troubles tracking where the guns went. A 2006 report by the Special Inspector General for Iraq Reconstruction found "questionable" accountability for the 370,000 weapons, mostly AK-47s that the U.S. had provided to Iraqi security forces. The next year, the Government Accountability Office found a "discrepancy" of 190,000 weapons between what U.S. forces had delivered and what was on the books.
When Obama came into office and revved up the war in Afghanistan, business started booming even more for Bulgaria. From 2009 through 2012, Bulgaria shipped $170 million in arms and ammunition to Afghanistan, according to the country's own statistics.
The American official familiar with Bulgaria said the warehouses there were piled with arms and ammo intended for Afghanistan. "There was so much stuff in the warehouses it was incredible to see. Warehouses as big as football fields." Indeed, in the stampede to arm Afghanistan, the U.S. sent 83,000 more AK-47s than the country needed, according to a new report by the Special Inspector General for Afghanistan Reconstruction, known as SIGAR.
As in Iraq, there has been a huge hole in accountability once the arms reached Kabul: The U.S., the SIGAR report says, can't track where weapons go once they are in the hands of the Afghan Army and Police, whose ranks have been plagued by corruption and penetrated by the Taliban. "U.S. and coalition-provided weapons are at risk of theft, loss, or misuse," according to the report. Of the estimated three quarters of a million weapons the U.S. had shipped to the Afghan forces, 204,000 were not appropriately tracked in U.S. databases.
In fact, tallying the overall number of weapons that the U.S. has shipped to Afghanistan and Iraq isn't easy, auditors acknowledge. One reason: Two years ago, Afghanistan asked the U.S. to conceal information about the weapons it was buying. "We request that the United States Government not release any document relating to our procurement activities with the United States," wrote an Afghan defense official to the U.S. Iraq has made a similar request.
During the Afghanistan surge, so many orders flooded into Bulgaria, according to arms dealers and a U.S. official, that the country's export officials couldn't figure out which were legitimate and which weren't. The U.S. military deployed extra officers to Bulgaria to work at the U.S. embassy, just to facilitate arms shipments to Afghanistan.

In the summer of 2011, according to a government memorandum obtained by BuzzFeed, the Defense Attaché Office of the United States Embassy in Sofia vouched for the $14 million Dolarian deal for Afghanistan's NDS. The 5,000 AKs, the 500 PKM machine guns, the pistols, and all the ammunition? That was all for Afghanistan, the U.S. embassy assured the government of Bulgaria.
Dolarian, according to three sources familiar with his operations, delivered to the Afghan security forces only about half of what he was supposed to. He delivered 800 launchers for rocket-propelled grenades, and 20,000 rounds for the weapons; he also delivered 9.5 million rounds for AK-47 rifles and for heavy machine guns, they said.
But according to letters and interviews with arms dealers in Bulgaria, he never delivered to Afghanistan the 5,000 AKs. Or the PKMs he had ordered from Arsenal over in the Valley of the Roses. One source said Dolarian simply canceled that contract. This source and two others who were directly involved said that Dolarian paid only a down payment and not the remainder. He never picked up the weapons, they said, nor were they shipped to Afghanistan.
But deals were falling apart and landing in court. Dolarian sued SOC, the private security company. He blamed the company for his deal with them collapsing, alleging that they'd failed to get proper paperwork, so he couldn't get the guns.
The company quickly countersued, and the cases are ongoing.
In 2011, Dolarian's company sued another American arms dealer. That dealer had contracted to sell Dolarian 5,000 AKs from Romania, but never got the proper authorization, Dolarian claimed.
And then the feds moved in. On April 12, 2012, agents from the Department of Homeland Security swept into his office, and carted off files and his computer server. "It was pretty low-key," as Dolarian would later describe it. "No visible FBI nothing, ICE nothing. My understanding was that they didn't want to raise any concern or alarm."
His lawyers told a California civil court judge in 2012, "Dolarian and its principal are subjects of an ongoing federal grand jury investigation," that "involves possible violations of the federal Arms Export Control Act (AECA) and the International Trafficking in Arms Regulations." (This April, a spokeswoman for the Department of Homeland Security called the case "ongoing" and referred questions to the Justice Department. A spokesman there said that as a matter of policy he could not comment on whether there was a criminal investigation.)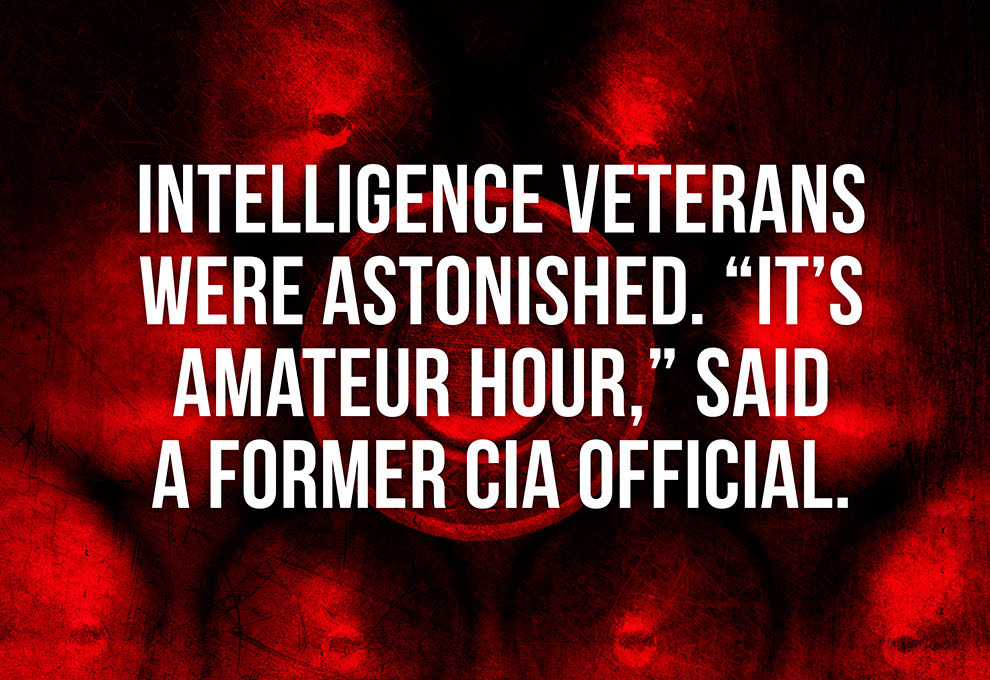 But despite the legal issues, Dolarian got another juicy contract months later — that mysterious arms purchase on behalf of America's commandos.
It was early in 2013, and the crisis in Syria was brewing. President Obama had warned that any chemical weapons use by President Bashar al-Assad's government would cross a "red line."
Three people involved with the Syrian opposition and two former American intelligence officials said that it was during this period that the U.S. began setting up training for a small, carefully vetted unit of Syrian opposition forces. And it was also during this period that the U.S. Special Operations Command put out its request for Russian-style weapons.
The process was a daisy chain of subcontracts. First, SOCOM issued a contract to Dyncorp International Inc., a huge defense contractor that not only performs logistics operations for DOD and the State Department but also operates training missions for the department and intelligence services.
Dyncorp gave a subcontract to buy the weapons to a Canadian firm called Sterling Cross. Sterling Cross, according to intelligence officials, frequently does work for Canada's equivalent of the CIA, the Security Intelligence Service.
The Canadian arms company turned around and in May 2013 signed a deal with an American firm: Dolarian Capital.
The secretive U.S. government arms operation had landed in the hands of a man whose company was the subject of a U.S. criminal investigation for violating arms laws. Take a look at the list of what he was supposed to buy: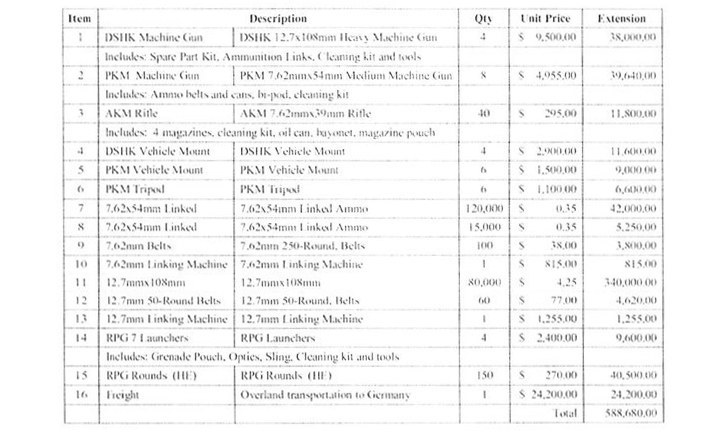 But doing business now wasn't necessarily easy. People such as Ibouchev at Arsenal, which makes the guns he wanted to buy, wouldn't deal. "I don't speak to him," Ibouchev said. "He has been very unprofessional. The type of person we try to avoid."
Dolarian didn't deliver the guns for the U.S. Special Operations Command mission, according to a lawsuit Sterling Cross filed late last year. The Canadian firm alleged that it had paid him $300,000 and that he simply kept the deposit. In a brief interview in April, Dolarian's lawyer blamed Sterling Cross. He said Sterling never gave Dolarian enough information to get the proper paperwork to ship the guns and ammunition.
The end result: A secret arms operation ended up in federal court.
Told about the deal, intelligence veterans were astonished. "If this happened, it's a colossal fuckup," one senior ex-CIA official said. "The minute you bring it to Dyncorp and then a Canadian company and then someone else, it's just a mess."
"It's amateur hour," said another former CIA official.
As for Dolarian, he's still in business, and his website still advertises an extraordinary array of equipment, from T-72 tanks to M4 rifles.
After numerous attempts to reach Dolarian, he answered the phone in June but again declined to be interviewed for this story. "When the time is right for the story to be told," he said before rushing off the phone, "I'll be writing a book. It's my retirement."