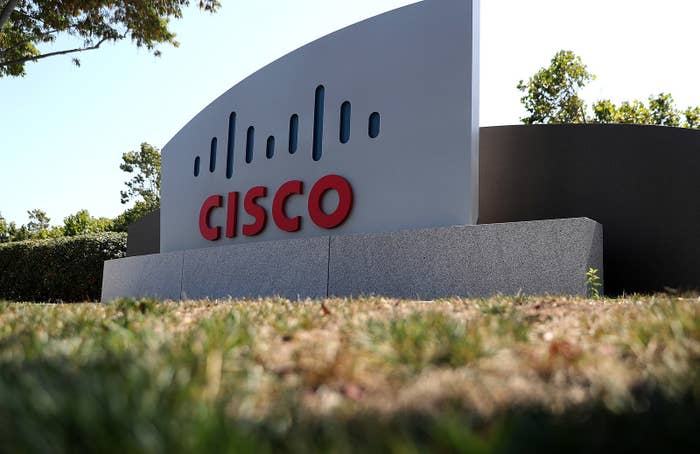 Roughly three years after the federal government began investigating allegations that American technology giant Cisco Systems had paid kickbacks in Russia, the company announced in its quarterly report that federal agencies decided not to bring charges against the company. It is not known what evidence federal investigators gathered or why they opted not to press charges.
As BuzzFeed News reported in 2014, the government was investigating allegations by whistleblowers that middlemen in Cisco's Russian distribution system had for years been engaged in a vast kickback scheme. Inside sources told BuzzFeed News that to win major contracts, the middlemen would send vast sums of kickback money to offshore tax havens allegedly controlled by key officials who ran or helped run major state-owned companies that were buying Cisco's routers, communications equipment, and networks. Cisco, these sources said, would often disguise the payments as rebates and discounts.
Cisco reported in filings with the Securities and Exchange Commission that it was conducting its own investigation into the matter and declined at the time to comment further.
There were other issues involving Cisco's Russia's operations. BuzzFeed News in 2015 reported that after Western sanctions were imposed on Russia's military and security forces for the country's intervention in Ukraine, employees at the company altered sales records and booked deals under a false customer name, according to internal company documents. The intent, according to a confidential source with deep knowledge of Cisco's Moscow operations, was to dodge the sanctions.
Cisco vehemently denied that it ever even attempted to evade the sanctions. The federal investigation focused only on the bribery allegations and not on possible sanctions-busting, according to people with knowledge of the matter.
Just last year, Cisco closed down the Moscow office that sold its products to the Russian government.
On Friday and Monday, the Department of Justice and the SEC declined to comment about the end of the federal bribery investigation. Cisco spokesman Nigel Glennie also declined to comment, emailing that "Our SEC disclosure will be Cisco's only public statement on this one."
Cisco's disclosure said, "At the request of the U.S. Securities and Exchange Commission ("SEC") and the U.S. Department of Justice, we have conducted an investigation into allegations which we and those agencies received regarding possible violations of the U.S. Foreign Corrupt Practices Act…." Cisco added that it cooperated with the SEC and the DOJ. "Based on the investigation results," the company said, "both the SEC and the Department of Justice have recently informed us that they have decided not to bring enforcement actions."
It's unclear why the SEC and Justice Department decided not to pursue charges. Jessica Tillipman, assistant dean at George Washington University Law School and an expert on federal bribery law, says that if companies cooperate, it is not uncommon for the government to decline to pursue enforcement. "There are times it is likely there are violations, but the government decides it's not worth the resources to pursue it," especially if the company cooperated, she said, speaking generally. "It's part of the calculus of prosecutorial discretion."
One former Cisco employee who had been interviewed about Cisco bribery by federal investigators told BuzzFeed News this weekend that he was surprised. He also said that he was confident from his conversations with other Cisco officials who were interviewed by US law enforcement agents that as of July the federal probe was still ongoing.
The news comes as tensions between the US and Russia remain high because of suspicions the Russian government may have had a hand in hacking the Democratic National Committee's computer systems and because of the ongoing crisis in Ukraine. Still, Russia and the US have worked together trying to bring about a ceasefire in the Syrian war.