Federal Agency Doing Business With Trump Is Trying To Avoid A Massive Conflict Of Interest
Trump's deal with the federal government gave him control of a taxpayer-owned landmark for his Washington, DC hotel — but it also creates a conflict of interest that experts say may be impossible to resolve. For the first time, the General Services Administration acknowledged the potential conflict and said it plans to discuss it with the Trump team.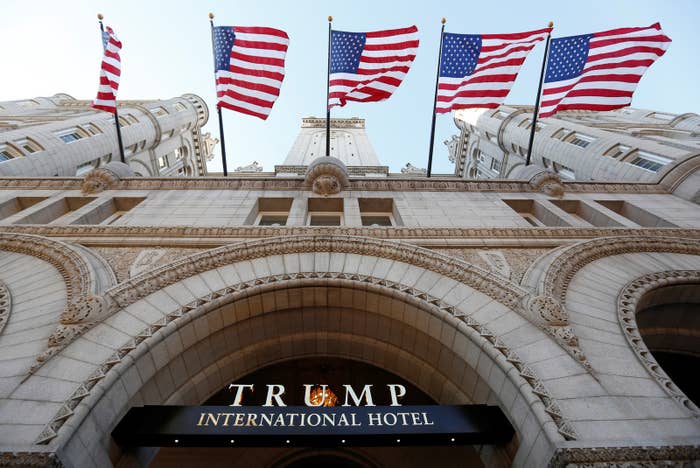 For the first time, federal officials have acknowledged a potential conflict of interest that faces incoming president Donald Trump over his high-profile hotel deal with the United States government. And the federal agency that's involved wants to talk to Trump's transition team about it before he takes the oath of office.
In 2012, the General Services Administration agreed to lease the Old Post Office Building — a landmark building just blocks from the White House — to Trump's organization so that the mogul could turn it into a luxury hotel. In the complicated 109-page lease, Trump is required to pay the GSA $3 million a year plus a portion of his revenue, and he has to abide by a complex set of restrictions regarding what he can do and how he can build.
But once Trump becomes president, he will have authority over the GSA and will be able to fire its administrator at will, raising profound issues of a conflict.
Questioned about that conflict, a GSA spokesperson sent a statement to BuzzFeed News: "Prior to Mr. Trump taking the oath of office, GSA plans to coordinate with the President-elect's transition team to allow a plan to be put in place to identify and address any potential conflict of interest relating to the Old Post Office building."
Trump spokesperson Hope Hicks did not respond to emailed questions about the matter.
It's been extensively reported that Trump often does not pay his bills, and this has been a characteristic business practice for decades. If Trump's company stops paying rent to the US government, shortchanges the taxpayer on revenue sharing, or harms the priceless landmark in any way, it is the GSA that would have to enforce the lease.
"Under the contract the only way the GSA can enforce rights is by litigating against him," said Professor Steven L. Schooner, who teaches federal contracting law at George Washington University Law School. "Is the GSA going to litigate against the president?" Schooner pointed out that the GSA will be at a massive disadvantage in any dealings with the Trump company.
"Imagine the poor GSA employee that has to negotiate that annual sum with the president's daughter or son," he said.
As BuzzFeed News has previously reported, Trump won control of the Old Post Office Building in a highly unusual process. His company made representations to the government about its architect and financial backing to beat out competitors from better known hotel chains, and then reversed itself once it won the right to build the hotel.
He gave his children a share in the property for free. And court records show that he had two sets of revenue projections for the deal.
Peter Smirniotopoulos, an adjunct professor of real estate at George Washington University School of Business, said that the GSA is "clearly not going to take enforcement action against a company founded and set up by the person who is now the president of the United States!"
Kenneth Gross, an ethics attorney at the law firm Skadden, Arps, Slate, Meagher and Flom said it is a bad situation that creates a potential for conflict, but he points out that the President is specifically exempt from conflict-of-interest laws that apply to other government officials.
Trump and three of his children — Ivanka, Eric, and Donald Jr. — own the lease and manage the hotel through a web of holding companies. Trump's children and a lawyer have told news organizations that Trump will put his assets in a blind trust and that the businesses will be managed by his children. Ethics experts contend that such a blind trust would not solve Trump's conflicts: His properties are well known to him, so the trust would not be truly blind, and his children, who would manage the hotel, have interests directly aligned with his.
To truly resolve the conflict, Smirniotopoulos said, they would have to divest. Or, he said, Trump and his children could sell their holdings in the management company that runs the company, and then put their passive ownership interest in a genuinely blind trust managed by an independent trustee.
Schooner, the professor at George Washington University, said the GSA should just breach the contract and break the lease, even if Trump sues the government. But for the president to remain in business with the government in such a glaring way creates a major problem, he argued. "If this is the world we live in now, one where there is no principle or rules, just tell me that," he said, "But if we are going to be a nation of rules, this is a horrible, horrible situation."
Trump faces other potential conflicts of interest.
As BuzzFeed has reported, Trump mortgaged the federal lease to Deutsche Bank, a German bank that is a frequent lender to him. The US government is reportedly seeking to recover $14 billion from the bank to settle old mortgage securities cases.
Meanwhile Trump has himself said that his tax returns are being audited by the Internal Revenue Service. The auditors will now face the fact that the man whose taxes they are reviewing is the most powerful in the world, and can easily replace their boss.