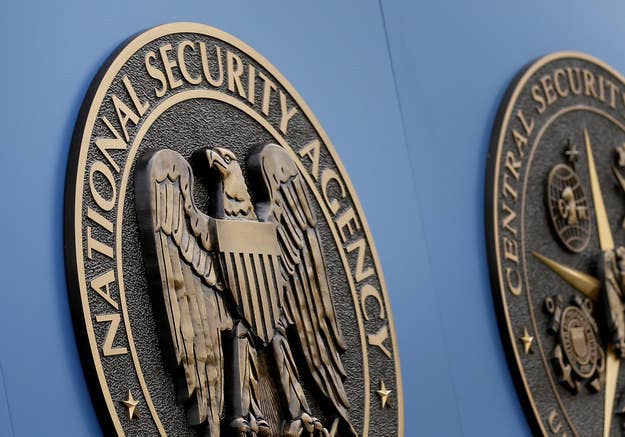 WASHINGTON — One of the nation's top spies is leaving her position at the National Security Agency (NSA), a spokesman confirmed Friday, amid growing disclosures of possible conflicts of interest at the secretive agency.
The shakeup comes just a month after BuzzFeed News began reporting on the financial interests of the official, Teresa Shea, and her husband.
Shea was the director of signals intelligence, or SIGINT, which involves intercepting and decoding electronic communications via phones, email, chat, Skype, and radio. It's widely considered the most important mission of the NSA, and includes some of the most controversial programs disclosed by former contractor Edward Snowden, including the mass domestic surveillance program.
The NSA provided a statement Friday that said Teresa Shea's "transition" from the SIGINT director job was routine and "planned well before recent news articles." The agency indicated she would remain employed, but did not provide specifics.
The Sheas did not respond to a message left at their home telephone number.
In September, BuzzFeed News reported that a SIGINT "contracting and consulting" company was registered at Shea's house, even while she was the SIGINT director at NSA. The resident agent of the company, Telic Networks, was listed as James Shea, her husband.
Mr. Shea is also the vice president of a major SIGINT contractor that appears to do business with the NSA. The company, DRS Signals Solutions, is a subsidiary of DRS Technologies, which itself is a subsidiary of Italian-owned Finmeccanica SPA.
Last week BuzzFeed News also reported Shea herself had incorporated an "office and electronics" business at her house, and that the company owned a six-seat airplane and a condominium in the resort town of Hilton Head, South Carolina.
Over the past month, Teresa and James Shea haven't returned phone calls, and the NSA has declined to comment about any specifics, beyond explaining how the agency tries to address conflict of interest issues in general, and to say that "the agency takes Federal ethics laws quite seriously."
In April, Adm. Michael Rogers took over as director of the NSA, and it was expected he might shuffle staff. One intelligence source said Shea's departure from her job appeared to be due in part to the "optics" of a top NSA official coming under scrutiny by the press for her and her husband's business dealings. The other said the press disclosures may have nothing to do with her leaving.
In a statement Friday, NSA spokesman Michael Halbig said that "NSA considers regular rotations of senior leaders as a catalyst for achieving diverse, fresh perspectives on the nation's critical national security challenges." He added that "We value her leadership as a senior leader and look forward to her continued contribution to the mission to help defend the nation."
Since she would no longer be director of SIGINT, presumably potential conflicts stemming from her husband's role as a SIGINT contractor, with a SIGINT company at their home, would be alleviated.
Shea, as SIGINT director, presided over most of the NSA operations disclosed by Snowden. The most controversial of those is the mass domestic surveillance program, under which the agency collects data on virtually every phone call Americans make, domestically or overseas, from a cell phone or a landline. But other operations included disclosures that calls by the leaders of foreign allies were intercepted, and that a vast amount of electronic communications were collected from American internet companies such as Google and Yahoo.
Last week, the NSA came under increasing pressure because of the business dealings of former director Keith Alexander, who left the agency in March.
Reuters disclosed that Alexander hired another top NSA official to work at his company, even while the scientist continued to work at the NSA. Reuters said the NSA had begun a review of the unusual agreement, under which NSA Chief Technology Officer Patrick Dowd was to work 20 hours a week at Alexander's company, Ironnet Cybersecurity, while still working for the U.S. government.
This week, after the controversy erupted, the company said Dowd would no longer work there.
Aram Roston can be reached at aram.roston@buzzfeed.com and his PGP fingerprint is C21A 2C8F 128D 81D5 766D 227C FC9B C4E1 1546 9FDC
John Stanton contributed reporting to this story.