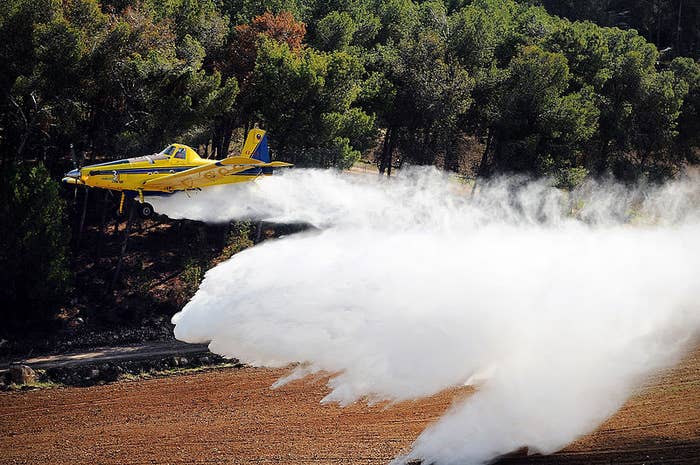 Faced with growing questions about civilian deaths in its secret drone war in Yemen, the Obama administration has plans to equip the small and poorly trained Yemeni military to run its own "targeted killing" program, according to documents and three sources familiar with the effort.
Instead of supplying the Yemenis with high-tech drones, though, the Pentagon would arm the Yemen Air Force with a fleet of 10 rugged, two-seater propeller planes of a type usually used as crop dusters. The specially modified versions for the Yemeni program would be armed with laser-guided missiles and high-tech electronic intelligence equipment. One reason these slow, single-engine planes were chosen is because even poorly trained Yemeni pilots could learn to fly them, according to people familiar with the project.
One significant twist: American pilots may fly the planes along with Yemenis on the missions, keeping Americans involved in the controversial attacks.
Still, both critics and supporters of the drone war agree that the move could help the U.S. put more of a Yemeni face on the controversial targeted killing program.
According to a Central Command memorandum dated Feb. 3 and obtained by BuzzFeed, the "Precision Strike" program for Yemen would "greatly enhance counter terrorism (CT) objectives to support action against Al Qaeda in the Arabian Peninsula." The U.S. government says AQAP is a Yemeni-based group that has tried to launch terrorist attacks against the U.S., including the infamous failed effort by the "underwear bomber," Nigerian Umar Farouk Abdulmutallab, in 2009.
It's not clear when the planes would get sent over. After repeated requests for comment, a Pentagon official told BuzzFeed that "the Department of Defense is reassessing the program at this time."
An official with the government of Yemen says the project is going forward, though it's at its early stages. The point, he said, "is that eventually Yemen will be able to carry out precision strikes without the aid of its allies."
One choice for Yemen's "Precision Strike" plane, according to documents and the sources, is a version of an "Air Tractor" plane called a 802U. It's a hardy airplane, manufactured in Texas. The fuselage resembles a World War II Spitfire fighter plane, though it flies more slowly.
Asked about the Yemen project, Air Tractor Inc.'s president, Jim Hirsch, said, "I'm not at liberty to discuss that program." Although the Air Tractor is widely used as an agriculture plane for crop spraying, the company makes a version it says is for "counterinsurgency operations," and Air Tractor's website bills it as "a true irregular warfare aircraft."
The other plane in the running is a Thrush, which looks similar to the Air Tractor and is also usually used as a crop duster. It is manufactured in Georgia by Thrush Aircraft. Documents indicate that a specially designed version of the plane, outfitted by a North Carolina contractor named IOMAX, was being considered. IOMAX and Thrush officials did not respond to requests for comment.
According to the Centcom document, the planes would be armed by some combination of Hellfire missiles, GBU-12s, GBU-58's, and laser-guided rockets. The document says that four planes would be delivered this year. Another six would be delivered later, according to sources.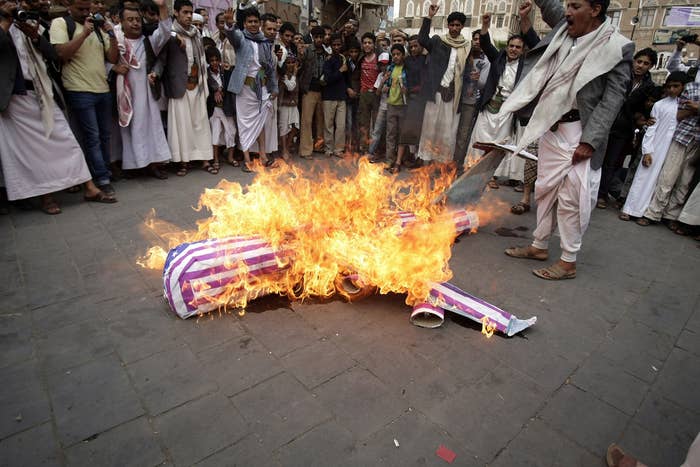 A PowerPoint document obtained by BuzzFeed indicates that the 6th Special Operations Squadron, a unit that trains foreign air forces, would spearhead the mission. The document emphasizes that the 6th SOS has the rare legal authority to actually fly planes owned by a foreign government.
The Yemeni official said that he believed the planes are to be flown by Yemeni Air Force pilots, but two U.S. sources say that American Air Force pilots would fly the missions too. "The intent was one Yemeni and one American pilot," explained a source involved since the beginning. Because the planes are two-seaters, this could be simple. One pilot could "paint" the target with a laser beam designed to guide the missiles, and the other pilot could pull the trigger.
The total cost of the program isn't clear, but a recent report by the Congressional Research Service states that "in December 2013, the Department of Defense notified Congress of its intent to spend $64 million in FY2014 Section 1206 funds on precision strike aircraft, unmanned aerial surveillance, and training for Yemen's national military forces." Section 1206 is a special Defense Department aid program that lets the Pentagon spend money training and equipping other nations for counterinsurgency and stability operations.
An American businessman familiar with the program, though not involved in the contracts, said that it "changes the optics, which is important. As much as you can put a Yemeni face on it, it feels better." He also said the program would give the U.S. some deniability in the killings. "If a Reaper" — a type of drone — "kills someone, you know if it's America that did it," he said. "If an Air Tractor, which looks like a World War II aircraft, kills someone, you might think, 'Well, that might be Yemen.'"
One former Air Force officer familiar with the program explained that while the Yemenis might be given drones for reconnaissance, they would not get armed drones. He said using piloted aircraft to launch missiles has some advantages over using drones. "More and more they don't want to use the drones. It looks bad. But it's still going to be people getting killed whether you do it from a manned platform or an unmanned platform."
Attorney Alka Pradhan of Reprieve, a human rights organization that represents drone victims in Yemen, said equipping Yemenis to do targeted killing "doesn't remove the tough legal questions about the drone program, it just hides them." Part of the criticism in Yemen, she says, is over sovereignty. "If the Yemeni government is doing it, then it becomes that government is potentially infringing on the right of its own people," not the United States.
Drone strikes in both Pakistan and Yemen have been a signature tactic of the Obama administration's counterterrorism policy. The administration says it takes care to limit collateral damage but does not provide figures on drone-strike casualties. According to statistics collected by the Long War Journal, a respected conservative website, 53 civilians have been killed in Yemen in drone strikes since 2012, while 308 members of al-Qaeda have died in the attacks.
Some deaths have been counterproductive: An outspoken critic of al-Qaeda, Salim bin Ahmed Ali Jaber, was killed in 2012 in Yemen. And in a widely publicized strike last December, drone strikes hit a wedding procession in Yemen, killing 12 people, of whom Human Rights Watch says at least some were just civilians.
"Precision Strike" memo: