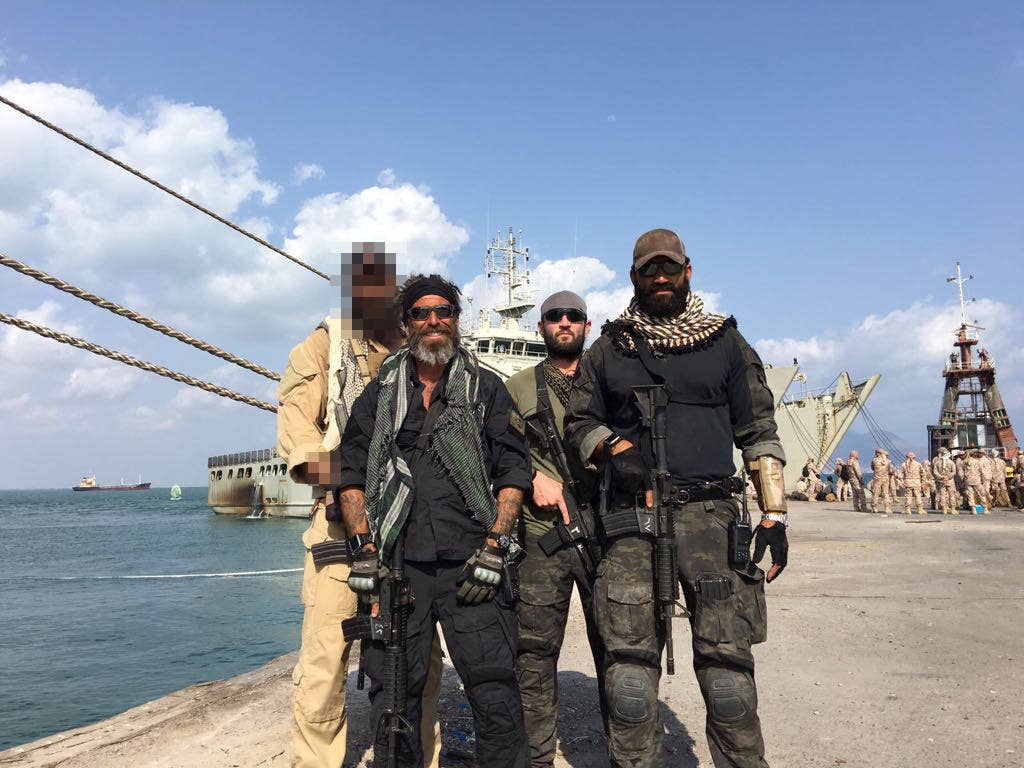 US Navy SEAL reservist Daniel Corbett has been held in prison in Serbia for eight months while under investigation for possession of an illegal handgun.
In July, his criminal lawyer was gunned down in Belgrade in a gangland-style hit that remains unsolved. It is not known if the lawyer's killing is related to Corbett's case.
Corbett, who goes by the nickname "Dirty," had combat deployments in Iraq and Afghanistan, according to three sources familiar with his military record. He first served with SEAL Team 5 from 2004–2007, and for the next three years he was with the legendary SEAL Team 6, also known as Development Group or DEVGRU. That's the unit that later killed Osama bin Laden.
Since 2012, Corbett has been in a Navy Reserve unit called SEAL Team 17, the sources said, and he has a top-secret clearance.
BuzzFeed News has learned that Corbett also worked in war-torn Yemen for several months in 2016. He was hired by a US company, Spear Operations Group, that was funded by the United Arab Emirates to assassinate Islamist political leaders and activist clerics. The existence of that project was disclosed today by BuzzFeed News. It is unclear what work Corbett did for Spear in Yemen.
Abraham Golan, who runs Spear, had traveled to Serbia with Corbett in early 2018, according to Serbian news reports. Golan declined to discuss the purpose of their visit to Serbia or Corbett's legal case there.
The US Navy and the US Embassy also declined to comment. Sources said Corbett had not authorized the embassy to release information about his case. Corbett himself could not be reached, and his current lawyer did not respond to calls seeking comment.
Some people familiar with Corbett's case in Serbia speculate that he may be a pawn in the ongoing diplomatic war for influence in the region between the US and Russia. Serbia is a Balkans crossroads that has tried to straddle both camps, but some agencies of the Serbian government are heavily influenced by the Russian government, said Jelena Milić, director of the Center for Euro-Atlantic Studies in Belgrade. The Russians, she said, might be pushing the Serbs to hold Corbett.
In early February, Serbian authorities announced Corbett's arrest. They said he'd been found with an illegal handgun and that he and several others, who weren't named, were arrested. Some local websites immediately published conspiracy theories that said he was there to destabilize the Serbian regime.
Corbett's first lawyer, Dragoslav "Misa" Ognjanovic, spoke to BuzzFeed News back in April. He insisted the gun Corbett was accused of possessing did not function. At the time, Ognjanovic said he expected Corbett to be released soon.
In June, Serbian prosecutors announced they had indicted Corbett and three Serbian citizens on weapons charges that carried up to 12 years in prison. But on July 24, a court in Belgrade ruled that the indictment could not go forward unless it was rewritten to include more forensic information about the firearm.
Four days later, Ognjanovic, the lawyer, was shot down in front of his apartment building, a killing that made international news.
In spite of the timing, there is no evidence that Ogjanovic's death is linked to his representation of Corbett. Ogjanovic was once a lawyer for Serbia's former nationalist president Slobodan Milošević. He was also the reportedly the lawyer for organized crime figures, including Luka Bojovic, who is currently imprisoned in Spain, reportedly for "criminal association." In the 1990s, Bojovic was reportedly a soldier for Serbian paramilitary leader Željko "Arkan" Ražnatović, who was accused of war crimes during the Bosnian and Kosovo wars. In 2012, police in Madrid said Bojovic and his men killed a fellow criminal and then ate his flesh and threw his bones in a river. Bojovic was reportedly acquitted of that charge.
In July, Corbett was being held in the Belgrade central prison, a large and sprawling five-story concrete building ringed by weeds and a fence topped by barbed wires. A prison guard manning the booth said he had no information about Corbett.
Bojana Jovanović in Belgrade contributed reporting to this story.