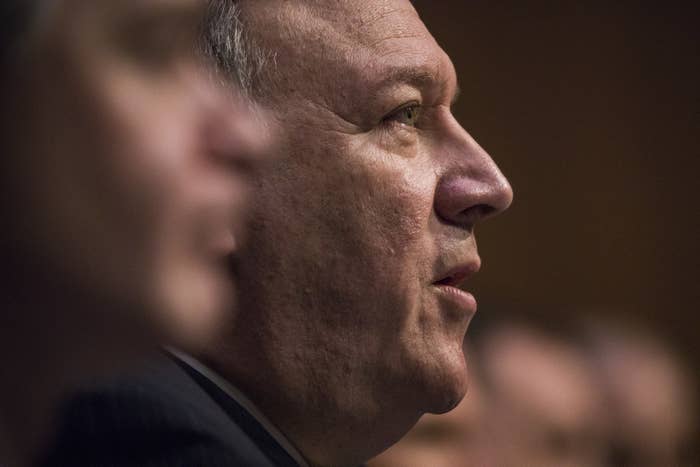 The Central Intelligence Agency has been deploying small teams of commandos to kill selected suspected terrorists, according to two sources familiar with the program.
The program, which has not been previously disclosed, is coordinated by units from the CIA's Special Activities Center, which oversees the agency's paramilitary capability, the sources said.
The CIA denied that it has such a program. "Your story is wrong," said Ryan Trapani, an agency spokesperson.
Director Mike Pompeo, who President Trump has just tapped to become secretary of state, has publicly said the agency will become more "aggressive" and "vicious" but has not mentioned the new effort to kill terrorists.
The two sources said that now CIA commandos are leading squads on missions to kill terrorists on the ground. "It's a small number where it has been kinetic, but it is happening," said one of the sources, a recently retired intelligence official familiar with the program. "Kinetic" is the euphemism often used for violent military action.
Both sources said that when Pompeo became director and first pushed for these lethal ground operations, there was resistance to this type of program from the military and the National Security Council. Later, though, they said, the effort was approved.
"They are getting people on targeting lists," one of the sources said. "Small teams are locating and killing bad guys. That's what we are doing."
In 2009, the Obama administration shut down a similar CIA effort to stand up assassination squads. Under Obama, killing by unmanned drones surged, and the agency continues to use drones to attack suspected terrorists.
The Special Activities Center is now led by a former commando at the agency. BuzzFeed News is withholding his name at the request of the CIA. Until this spring, he was a senior aide to Pompeo, and before that, he served under John Brennan, Pompeo's predecessor. He was, according to a source who knows him, a vocal proponent of more aggressive and audacious operations, and he pushed for the use of the SAC to kill terrorists.
Pompeo, according to the two sources, also pushed for the capabilities and the authorization to launch lethal ground operations.
The SAC chief is an old friend of Louis W. Bremer, a top manager at powerful private equity fund Cerberus Capital Management. The two attended the Air Force Academy at the same time. Cerberus, which has invested heavily in military and intelligence contracting companies, is headed by Stephen Feinberg, a Trump ally who reportedly pushed to use contractors rather than uniformed armed forces in Afghanistan, and to "give the C.I.A. control over operations in Afghanistan," according to a New York Times article last summer. Erik Prince, founder of the private security firm Blackwater and brother of Trump's education secretary Betsy DeVos, has been pushing a similar plan.
Feinberg and Bremer, according to the Atlantic's Rosie Gray, had been to the Trump White House and "have influence at the CIA."
In a photo seen by BuzzFeed News, Bremer poses with the undercover SAC chief.
A spokesperson for Cerberus Capital Management said he would respond on behalf of Bremer and Feinberg but did not do so in time for publication.
Tuesday, Trump tweeted that he plans to nominate current CIA Deputy Director Gina Haspel to replace Pompeo. That move is generating controversy because of Haspel's reported role in torture programs during the Bush era, when CIA detainees were interrogated using waterboarding, threats of violence, and other harsh tactics. During his campaign, Trump promised to bring back "a hell of a lot worse than waterboarding."
One of the sources said it would be difficult for Pompeo's successor, whether it's Haspel or someone else, to stop the kill teams program.
"No one can dispute the number of real, real bad guys, where there's real intelligence, that are taking hits. No one can dispute its been effective."
The idea of using commandos to kill terrorists, rather than using Predator drones, is not new.
Under Obama, of course, the CIA sent SEALs to Pakistan to kill Osama bin Laden. But sources say this tactic was extremely rare, as the Obama administration focused on the use of drones in its counterterror efforts. Under Obama, the military's Joint Special Operations Command did conduct frequent raids in Afghanistan and elsewhere, but the CIA was not active, sources say, in the on-the-ground effort.
Under former president Bush, the CIA had turned to Prince, the Blackwater founder, to develop the capability to conduct assassinations of terrorists. As BuzzFeed News reported, Pompeo installed a CIA official at the White House National Security Council who had once worked on that program.
The Special Activities Center, previously known as the Special Activities Division, houses the CIA's Ground Branch, a group of commandos; the Air Branch, which has intelligence, attack, and transport aircraft; and the Maritime Branch. All three branches have been on a recruitment and hiring and acquisition binge, according to the two sources familiar with the program.
The Ground Branch, shortened to just "Branch" or "GB," inside the agency, is made up of elite fighters, often taken from the ranks of SEALs, Delta Force, and Marine Special Operations Command. They are dubbed Paramilitary Operations Officers, or PMOO, which they pronounce "peemoo." In the past, they were largely seen as support staff, helping case officers on projects, or for training foreign forces. Now they are used in direct actions and are operating on their own.
There are only about 100 or so of these fighters, but under Trump the numbers have been growing.
As BuzzFeed News first reported last year, another unconventional counterterrorism tactic the agency considered under Pompeo was privatizing some covert operations, intelligence gathering, and even a terrorist "rendition" in a Middle Eastern country. This plan, according to a source familiar with the project, has faded since news of the effort broke.
While Trump's administration has seemed to do its best to upend what it can of Obama-era initiatives, Pompeo did not try to reverse the restructuring of the agency by his predecessor Brennan.