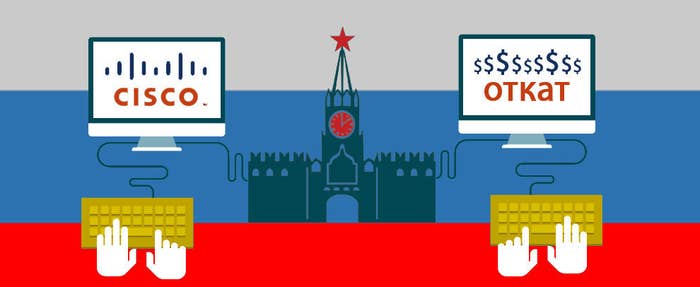 Internet technology giant Cisco Systems has closed down its department in Moscow that sold company equipment to the Russian government, military, and intelligence services, three former Cisco employees told BuzzFeed News.
Cisco, which is headquartered in San Jose, California, is currently under federal bribery investigation by the U.S. Department of Justice and the Securities and Exchange Commission. As BuzzFeed News reported in 2014, whistleblowers alleged a vast kickback scheme involving the company's Russian operations. The firm says it is cooperating with the U.S. government and is internally investigating the bribery charges.
BuzzFeed News in May this year also disclosed allegations about Cisco's sales of equipment to Russian intelligence and military agencies. The report disclosed that Cisco executives in Russia had changed sales records and booked a deal under a false customer name. There are no indications that the U.S. federal government is investigating the allegations of sanctions violations.
Cisco changed the sales records, according to a confidential source, as a way to dodge Western sanctions that prohibit certain technology sales to Russian military organizations by masking sales behind innocuous-sounding straw buyers. Cisco admitted that records were changed but denied it was trying to evade sanctions, and said any sales it made in the past to the Russian military and the feared FSB — the successor to the KGB — were completely legal.
The move to dissolve the Cisco department that handled Russian government sales — which was called the Public Sector Unit — came in September. The sales it handled were distributed to other parts of Cisco's Moscow office, the three sources said, and about eleven employees were laid off or moved to other operations.
Cisco spokesman Nigel Glennie, in an emailed statement, said that "restructuring in Cisco Russia occurred across multiple teams, reflecting recent business results and market conditions. We continue to have a team that supports lawful sales to our Russian public sector customers." He added, "on our last earnings call we did reference a 38% decline in bookings in Russia. This may also offer some insight into the restructuring that occurred across multiple teams."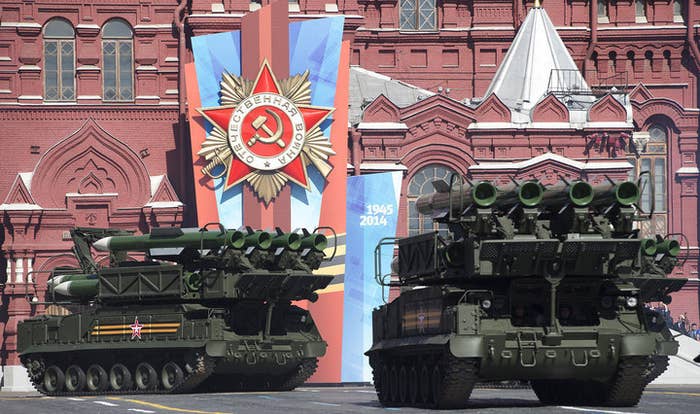 Records obtained by BuzzFeed News indicate that the Public Sector Unit did $35 million in sales in fiscal year 2015, which ended in July.
Meanwhile, the firm has changed the way it imports technology to Russia by trimming the use of intermediary companies, as first reported Tuesday by the newspaper Kommersant.
Previously, Cisco would export its routers, switches, and telecommunications gear from Amsterdam to four major Russian distributors, who would then sell the equipment throughout the country. Now, according to Kommersant and Cisco business partners who spoke to BuzzFeed News, Cisco will export directly into Russia to a new company subsidiary it controls.
A former Cisco employee told BuzzFeed news that this change is not related to the alleged sanctions violations, but in an effort to clamp down on possible bribery. "It's related directly to FCPA concerns," he said, referring to the U.S. Foreign Corrupt Practices Act.
Still, Cisco's sales structure in Russia will remain largely unchanged, according to Stanislav Somenkov, who manages Cisco products at RRC, one of the company's four major distributors. He said Cisco has promised to keep the company's contracts with its four Russian distributors, who will continue selling Cisco products to the partner network. "The structure is remaining," Somenkov said.
Alexander Yanovsky, head of marketing at Marvel, which also is a major Cisco distributor, said his firm was negotiating with Cisco to manage the transition with "as few negative sides as possible."
Cisco's spokesman said in his statement that "the roll out of this approach to additional countries was long-planned and part of a global effort involving 25 other countries."
In Cisco's latest annual report to the SEC in September, it repeated a statement about the FPCA probe, reporting that it is doing its own investigation into the bribery charges. "We take any such allegations very seriously and are fully cooperating with and sharing the results of our investigation with the SEC and the Department of Justice," it wrote. The firm has used this language in its SEC filings since February 2014.
Jessica Tillipman, an assistant dean at George Washington University School of Law, and an expert on the FCPA, said that with the changes in its Russian office, Cisco may be trying to minimize risk of corruption.
"Typically, with the government in these long term investigations," she said, "not only are they investigating what happened but they are putting practices and procedures in place to try to demonstrate that it won't happen again."