Erik Prince — founder of the private military company Blackwater, financial backer of President Donald Trump, brother to the new Education Secretary Betsy DeVos, and frequent Breitbart radio guest of White House power broker Stephen Bannon — has been offering his military expertise to support Chinese government objectives and setting up two Blackwater-style training camps in China, according to sources and his own company statements.
The move could put him at odds with Trump, who has often taken a hard line against China, and could also risk violating US law, which prohibits the export of military services or equipment to China.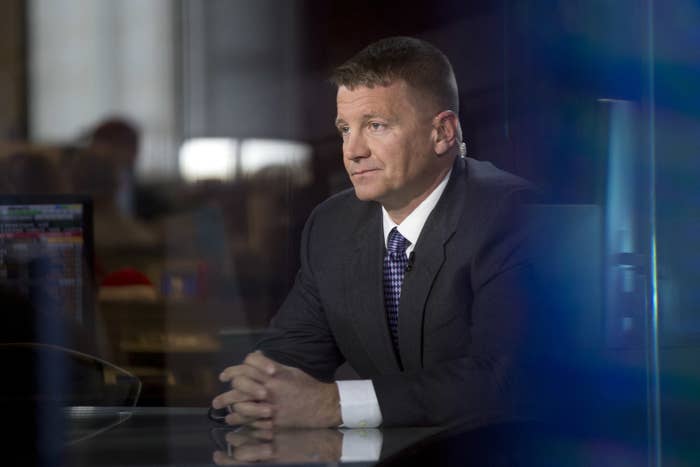 Former associates of the 47-year-old Prince told BuzzFeed News that the controversial businessman envisions using the bases to train and deploy an army of Chinese retired soldiers who can protect Chinese corporate and government strategic interests around the world, without having to involve the Chinese People's Liberation Army.
In December, Frontier Services Group, of which Prince is chairman, issued a press release that outlined plans to open "a forward operating base in China's Yunnan province" and another in the troubled Xinjiang region, home to the mostly Muslim Uighur minority.
"He's been working very, very hard to get China to buy into a new Blackwater," said one former associate. "He's hell bent on reclaiming his position as the world's preeminent private military provider."
In an email to BuzzFeed News, a spokesperson for Frontier Services Group provided a statement and strongly disputed that the company was going to become a new Blackwater, insisting that all of its security services were unarmed and therefore not regulated. "FSG's services do not involve armed personnel or training armed personnel." The training at the Chinese bases would "help non-military personnel provide close protection security, without the use of arms."
"Mr. Prince and Mr. Trump know each other and share mutual respect," the statement added.
White House spokespersons did not respond to emails requesting comment for this story.
Frontier Services Group trades on the Hong Kong Stock Exchange, and its largest shareholder is an investment fund owned and controlled by the People's Republic of China, CITIC. Until last year Frontier claimed to be merely a logistics and transportation company, steering clear of Prince's specialty of providing private military capabilities for operations — though last March The Intercept news organization ran a story saying that Prince, sometimes using his role at Frontier, was pitching security and paramilitary services. In the story, Frontier denied the company was involved.
When Frontier later told its board it was shifting into security services — largely to assist China's international development policy — the development disgusted two American executives at Prince's Hong Kong company.
Gregg Smith, the former CEO of Frontier, said he was ready to quit last March if Erik Prince was not removed from the company. Then, at a board meeting late that month, he said a company official made clear that Frontier would be providing security services in support of Chinese government objectives. "That was the final straw," he told BuzzFeed News.
Retired US Admiral William Fallon, a Frontier board member, was at the same board meeting. He resigned too when he heard that the firm was providing security services. "That wasn't what I signed up for," he said in an interview.
President Donald Trump has talked tough about China. To be sure, he recently reaffirmed that the United States will formally recognize only mainland China and not Taiwan, a crucial point for Beijing. But Trump has installed a sharply anti-China critic as the head of his National Trade Council. Before winning the presidency, Trump called China an "enemy." Trump adviser Stephen Bannon, who interviewed Prince on Breitbart frequently, predicted last year that the US will be at war with China "in the South China Sea in five to 10 years." And even if no hot war breaks out, many experts believe Trump is gearing up for a trade war with the country that manufactures much of the world's goods (including some Trump brand products.)
During the campaign, Prince donated $100,000 to the Trump Victory Committee, which supported both Trump's election bid and the Republican Party. Jeremy Scahill, a journalist who has long covered Prince, recently wrote that the businessman is advising the Trump Administration.
Just four days before the election, Prince gave an interview to Breitbart radio, part of the media empire that Bannon used to run, in which Prince pushed an unfounded theory that the NYPD had been about to announce arrest warrants in the Clinton investigation but was blocked by the Justice Department, and that Hillary Clinton had been to a "sex island" with a convicted pedophile "at least six times." Prince's bizarre claims were prominently displayed on Breitbart's website leading up to the election and were widely distributed on right wing websites.
Now, however, Prince's new business foray could put him at odds with Trump.
Former executives said that Frontier's "forward operating bases" will be training former People's Liberation Army soldiers to work as discreet non-uniformed soldiers for hire.
The former associate, who spoke on condition of anonymity, said Prince "is making Frontier Services a full-on private military company."
As of the summer, this person continued, "the plan was to set up Blackwater-like training facilities specifically to train the Chinese."
Another former ally of Prince said: "The idea is to train former PLA soldiers in the art of being private military contractor. That way the actual Red Army doesn't have to go into these remote areas."
Asked about Frontier's claim that Prince was planning "unarmed" security projects, both sources dismissed it, and emphasized that was not their understanding. It is "ridiculous," said one.
"Are they using sonic weapons," joked the other. "Is it psychic powers?"
Prince is best known as the founder of Blackwater, a private military company — Prince objects to the term "mercenary" — that did phenomenal business during the war on terror. The firm was frequently embroiled in scandal: Four of its employees were killed in Fallujah in 2004, leading to a Marine Corps onslaught on the city; several former employees pleaded guilty to arms violations in a lengthy investigation; and still others were convicted in a wild shooting spree in Baghdad in which 17 civilians were slaughtered.
Typically, Prince has been involved in ventures that he claims are in line with US foreign policy goals. He has reportedly helped the United Arab Emirates set up a military unit of former Colombian soldiers; pushed for an anti-piracy operation in the Puntland region of Somalia; and tried to sell a mercenary operation in Nigeria.

The current China plan appears to be different. China is widely understood to have interests that are adversarial to the US, and the two powers compete for world influence. And US law bans US citizens from exporting defense-related services or equipment to the country.
Frontier's December press release said the Yunnan base would "allow FSG to be able to better serve companies in Myanmar, Thailand, Laos and Cambodia." The Uighur region, which would be home to the company's second base, abuts Afghanistan.
According to the press release "these bases will provide training, communications, risk mitigation, risk assessments, information gathering, medevac and joint operations centers that coordinate security, logistics and aviation."
The press release said the company was "expanding its security offerings" to include "training for personnel," as well as "Personnel Protection" services, which is industry jargon for providing bodyguards. The December press release did not state that the security offerings would be unarmed.
Frontier's expansion into China, its December press release said, was designed to help clients take advantage of China's new development plan, "One Belt One Road," a massive program that many experts believe aims to increase Chinese economic and political sway.
China expert Derek Scissors of the American Enterprise Institute said US regulators would likely take a dim view of security operations in China's Uighur areas. "It's at odds with the American government view that we don't want to help the Chinese oppress the Uighurs in Xinjiang."