Video Of Ayatollah Khamenei Goes Viral After Iran Launches Strikes Inside Syria
"They cannot slap us. We will slap them," the country's supreme leader said in a message posted on Instagram.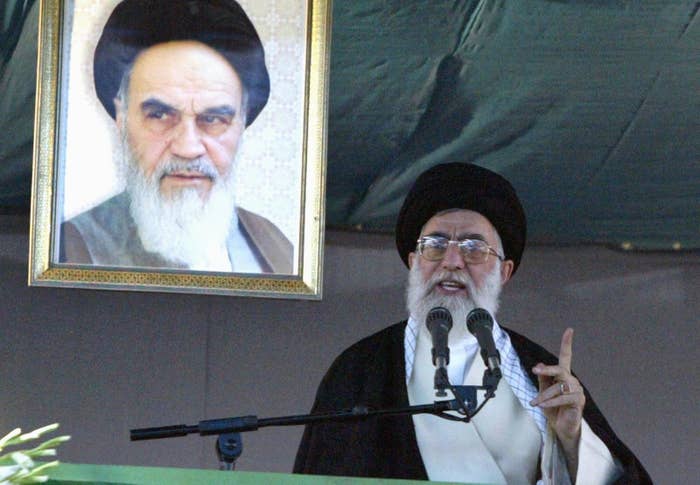 A video message posted by Iranian Supreme Leader Ayatollah Khamenei hours after the country's missile attack on multiple ISIS locations inside Syria — launched in retaliation for the deadly twin attacks in Tehran earlier this month — has received thousands of comments from his supporters.
Khamenei took to Instagram on Sunday, where he uploaded an edited video that begins with the dramatic footage from the attack inside the Iranian parliament and the ornate mausoleum of Ayatollah Ruhollah Khomeini on June 7.
"They cannot slap us. We will slap them," Khamenei says in the video, before it fades into a footage of the missile launch on Sunday night.
Also yesterday, Iranian television showed footage of missiles being launched in the night sky by the Iranian Revolutionary Guards. This is the first time since its 1980s war with Iraq that Iran has launched a major missile strike outside the country.
The video has been viewed more than 170,000 times.

In a statement published by the Iranian Revolutionary Guard on Sunday, it said "many terrorists have died and a lot of their weapons, systems, and equipment have been destroyed."
"This revolutionary action and punishment is absolutely clear. The Islamic Revolution Guards Corps warns the takfiri terrorists and their supporters in the region and outside the region that if they repeat their evil measures against the Iranian nation, the IRGC's revolutionary rage and flames of revenge will hit those responsible for such actions and will send criminals to hell," the statement said.

Iranian leaders have praised the missile attacks, saying they show Tehran is taking a proactive role in fighting terrorism.
"We are carrying out operations from inside Iranian territories, like America and Russia, which, as military powers, occupy a special position," Alaeddin Boroujerdi, an Iranian MP who heads the parliament's National Security and Foreign Policy Committee, said in an interview with state TV.

Iran's use of missiles, which were fired from the western provinces of Kermanshah and Kurdestan over the Iraqi airspace that is patrolled by US-led coalition forces and into Syria, is likely to create havoc in Washington. On the one hand, Iran is making an unprecedented use of its weapons technology while on the other hand, it is targeting ISIS in supposed retaliation for the terror attack inside its own country. Iran's firing of rockets over sovereign borders, instead of relying on military assets it already has inside Syria, also raised questions about its motivations — whether it was trying to send a message about its capabilities and boldness to the US, Israel, and Saudi Arabia as well as to ISIS.

In February, Michael Flynn, who was then US national security adviser and has since resigned, said the Trump administration was "putting Iran on notice" following an Iranian missile test and an attack on a Saudi warship by Iran-backed Houthi rebels in Yemen. The White House has not commented on Iran's missile attacks inside Syria.
"The Islamic Republic of Iran is standing on the front line, with powerful countries, in terms of missile power," Boroujerdi said following the attack. "This happened even as the US Senate passed a bill focused on Iran's missile power."

The head of the elite Quds Force of the country's revolutionary guards also posted on Instagram about the attack.
"Those who have done wrong will find out what they have coming to them," Qasem Soleimani wrote.
The Iranian government said it notified Damascus before it fired rockets into the country, but that it "will not be tied to formalities when defending its security and stability."
While Iran fights ISIS in Iraq, it rarely does so in Syria, where it has been mostly expending its resources on fighting the Syrian rebels. Iran has been aiding the regime of Syrian President Bashar al-Assad and is a key ally to the Syrian forces alongside Russia and the Iranian-backed Hezbollah movement. Soleimani has been pictured on a number of occasions on the front lines in Syria.
The Iranian attack inside Syria came on the same day the US shot down a Syrian fighter jet that was bombing US-backed Kurdish rebels in Raqqa. On Monday, Russia warned the United States that it will treat the US-led coalition planes in Syria, west of the Euphrates, as targets.
Both the Iranian strikes and the US's downing of the Syrian plane, followed by its tensions with Russia, come as various players in the region jostle and scramble for position to take over territory in the post-ISIS era.