This Man Is Trying To Rebuild A Library Burned Down By ISIS
The library at the University of Mosul was burned down by ISIS after it captured the city in 2014. One man is leading efforts to restock it with books.
When ISIS took control of Mosul and declared its caliphate in 2014, militants ransacked the city's university then burned down its library, destroying hundreds of thousands of books and manuscripts.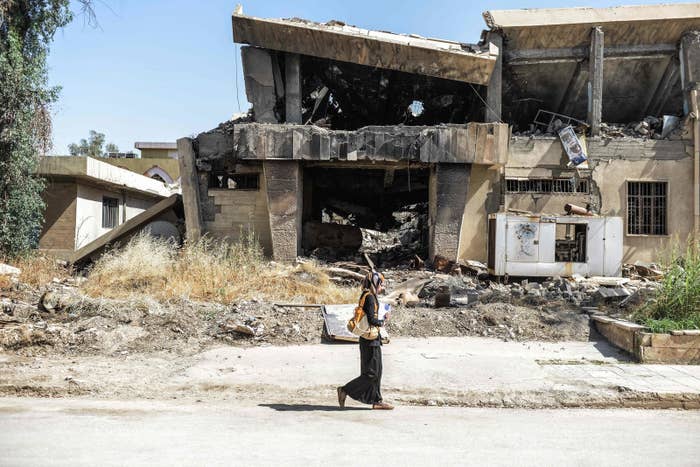 The University of Mosul, which was founded in 1967, was well-regarded in the region — it offered degrees in medicine and engineering, and doctoral research in a number of disciplines, including history and political science.
The central library at the university contained hundreds of thousands of books in Arabic and English, historic maps and periodicals from the Ottoman era, and ancient Islamic manuscripts, including a ninth-century Qur'an.
After taking over the university, ISIS militants used the central library space to gather university professors and force them to rewrite textbooks for the new education system under the caliphate.
And as security forces began recapturing the outskirts of Mosul — Iraqi forces last week captured the old city of Mosul and the country's prime minister, perhaps prematurely, declared the end of the caliphate — one man began the arduous campaign of restoring the library, book by book.

Mosul Eye, an anonymous blogger who has been chronicling life in the city under ISIS for the last three years — he fled Mosul in 2016 but continues to write about it — has been leading the project to rebuild the central library.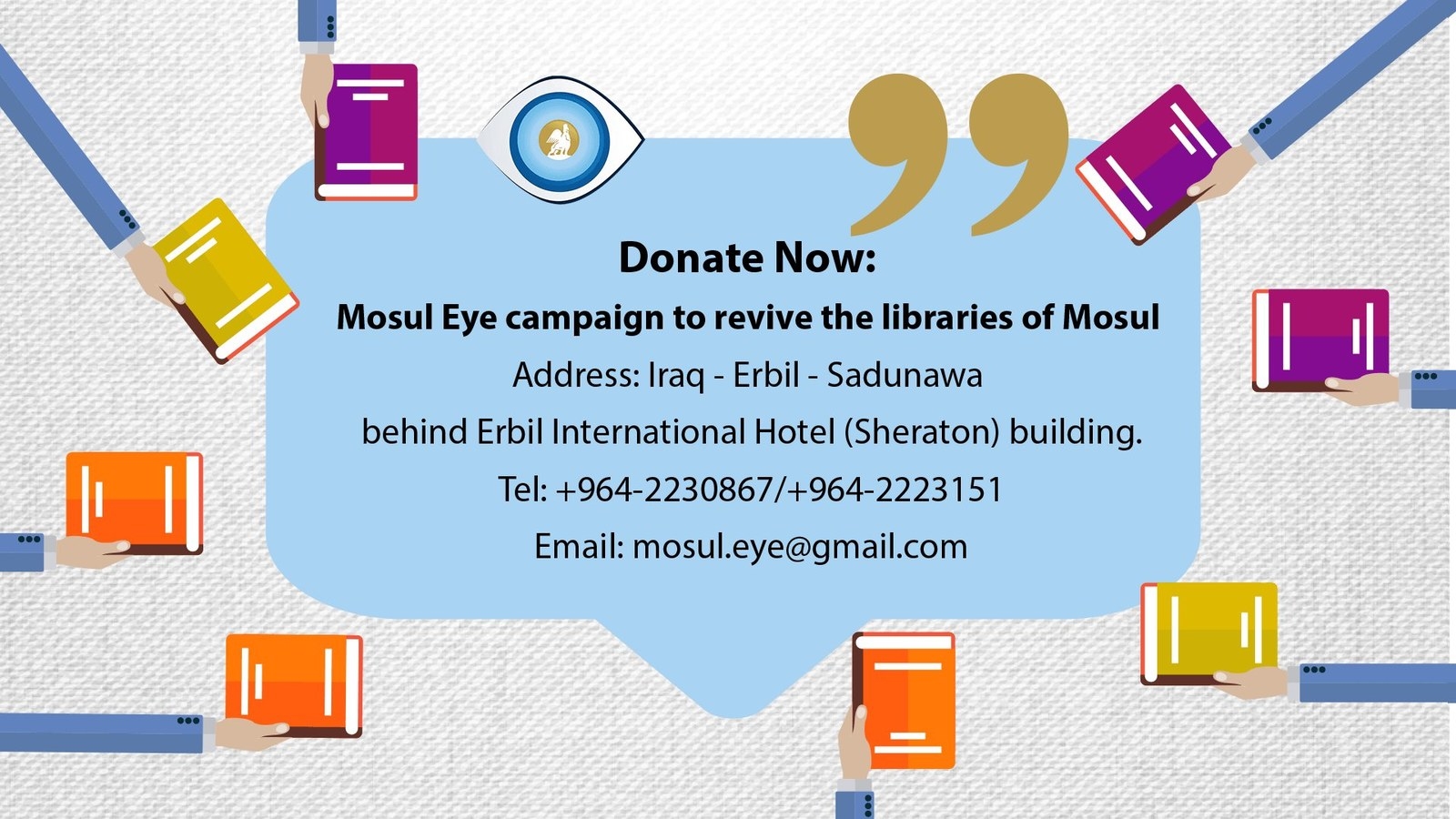 Mosul Eye, who said he graduated from the university and was teaching there when ISIS seized the city, identifies himself as a historian. In a phone interview with BuzzFeed News, he revealed very little about himself — "I can tell you I'm not 40 yet" — and insisted on anonymity to protect himself and his loved ones. But he spoke at length about his hopes for the library and why he is so invested in reviving it.
"Whenever I was in the university, I would spend most of my time at the library," he said. "When I didn't like my professors' lectures, I often went to the library to do research and study books on my own."
As soon as the part of the city where the university was located was liberated in January, Mosul Eye said, a group of local volunteers went to the library to save whatever had not been destroyed.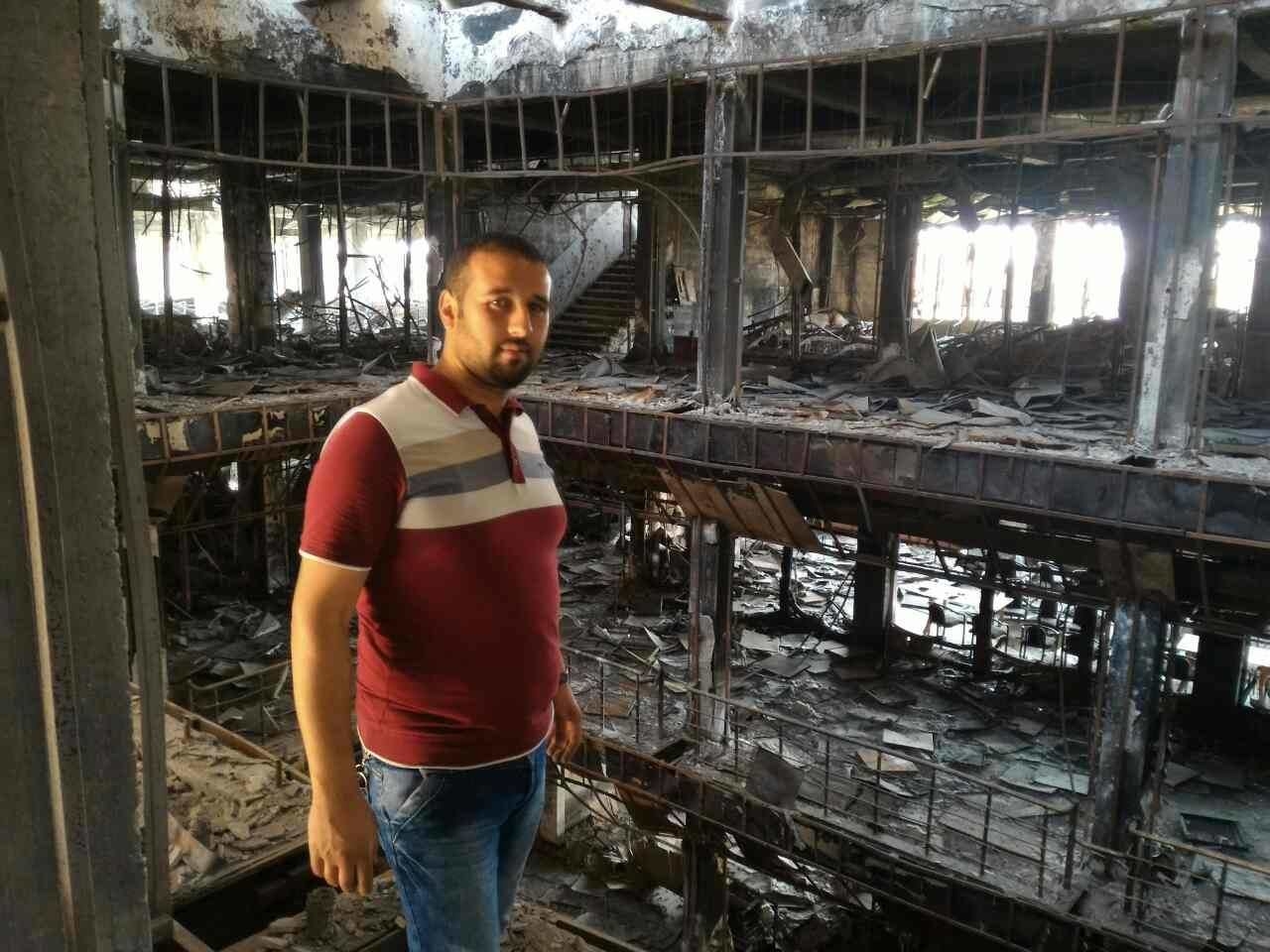 Although most of the books had been destroyed, Mosul Eye said they were able to preserve around 2,000 volumes, many of which were from private collections.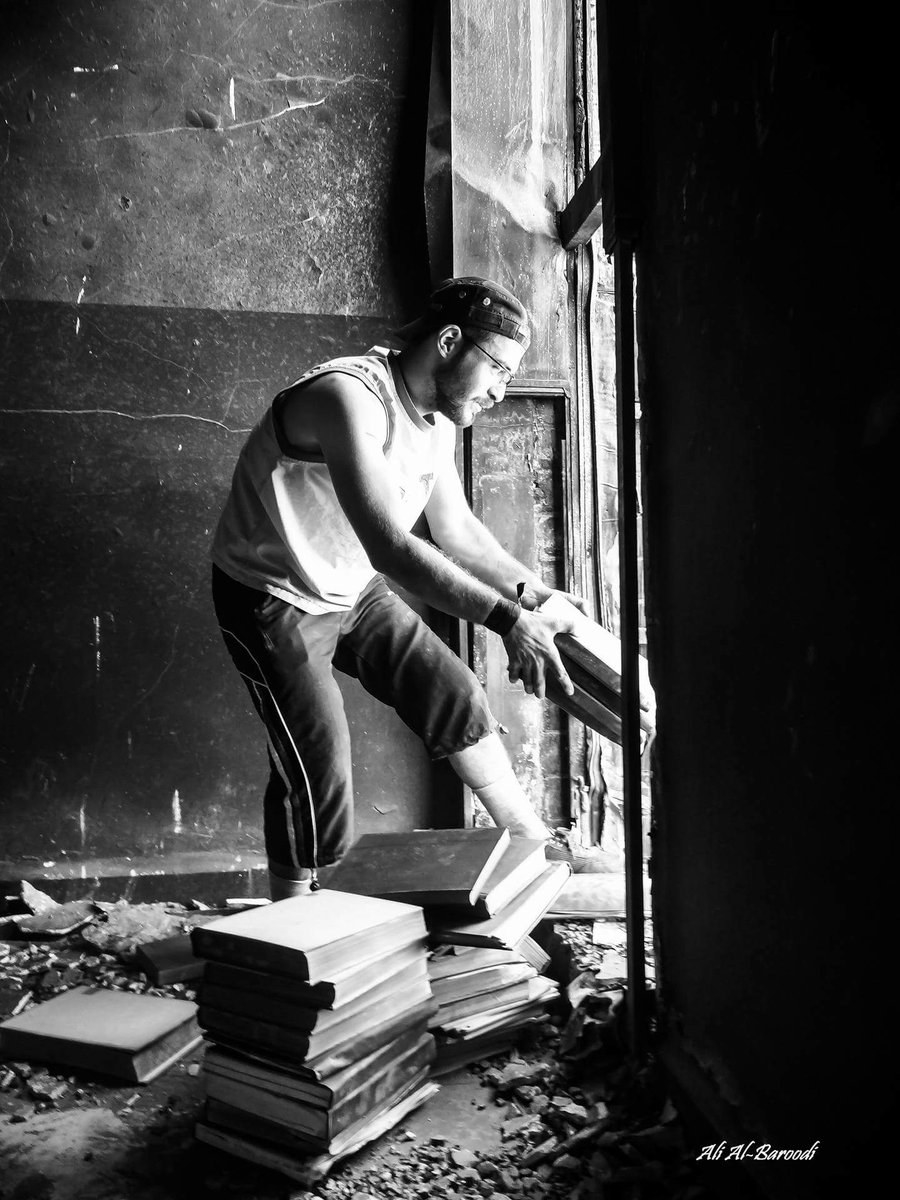 Among the books that survived the flames were a few hundred rare ones.
Next, Mosul Eye launched an international call for book donations using his blog — and "the response has been amazing," he said.
In Baghdad, the country's capital, street markets were organized to sell books, which locals bought and donated towards replenishing the new library.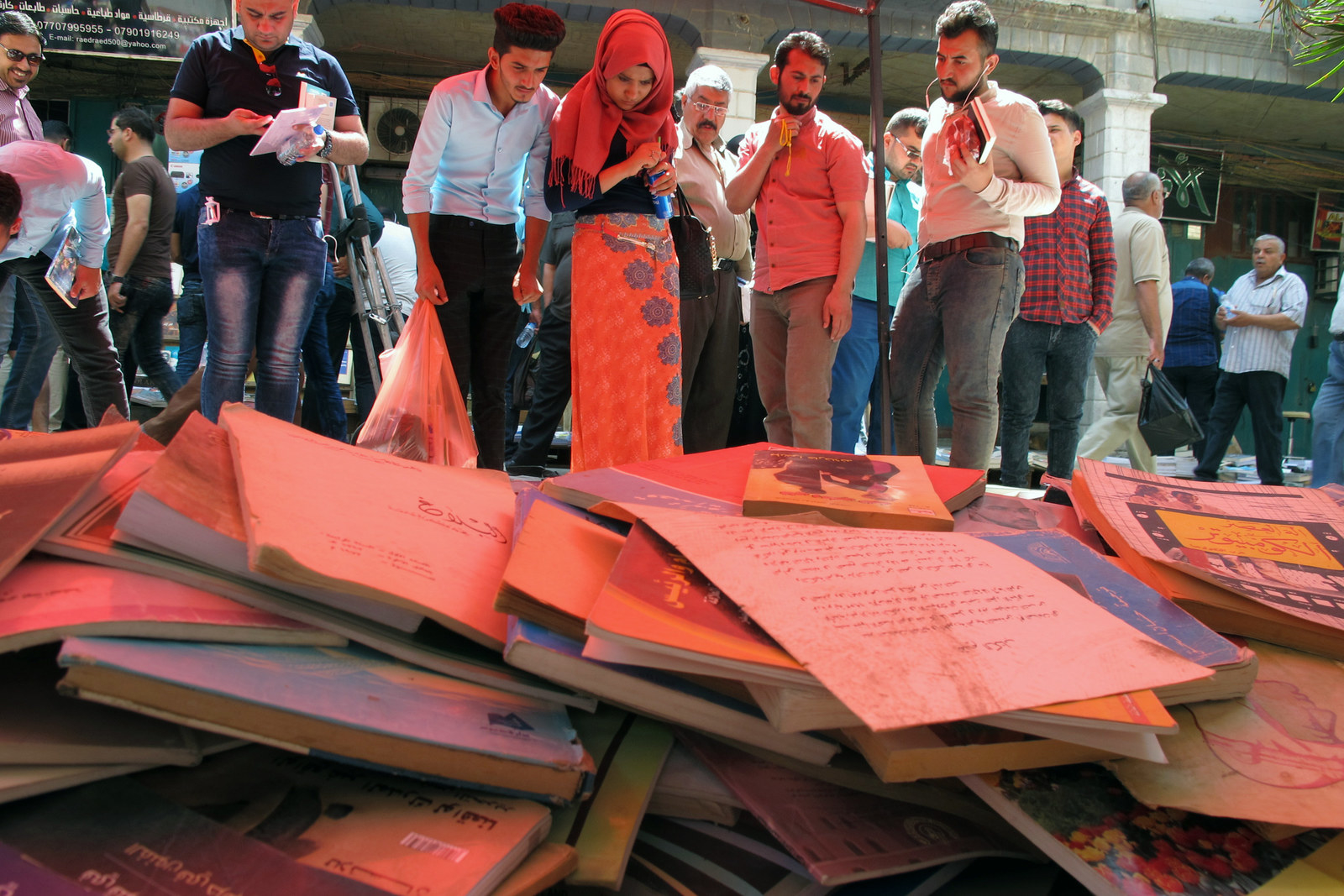 The international response has been equally impressive.
"People have been sending us books from Australia, from Europe, the United States — all on different subjects and in different languages," he told BuzzFeed News.
Mosul Eye said they have collected about 10,000 books so far — the group aims to collect 200,000 books for the reopening of the library. Many of them have been shipped to and collected in the city of Irbil, where a team of volunteers are labeling and sorting them.
In the US, the Iraqi & American Reconciliation Project, a nonprofit based in Minnesota, has been collecting books and donations to cover the shipping costs. In Europe, a small Marseille-based NGO called Entraide et Coopération en Méditerranée — Solidarity and Cooperation in the Mediterranean — has pledged to ship 20 tonnes of books in a container.
But the team has yet to figure out the logistics of shipping hundreds of thousands of books to a war-torn city. "We are working with authorities in Mosul to arrange transportation for the books, and to provide us with a space once the books get there," he said.

In May, Mosul Eye organized a cultural festival in front of the central library — and as an admission fee, every guest had to come with a book to donate. "Please be generous to be remembered for as long as your book's existence," he wrote in his invitation.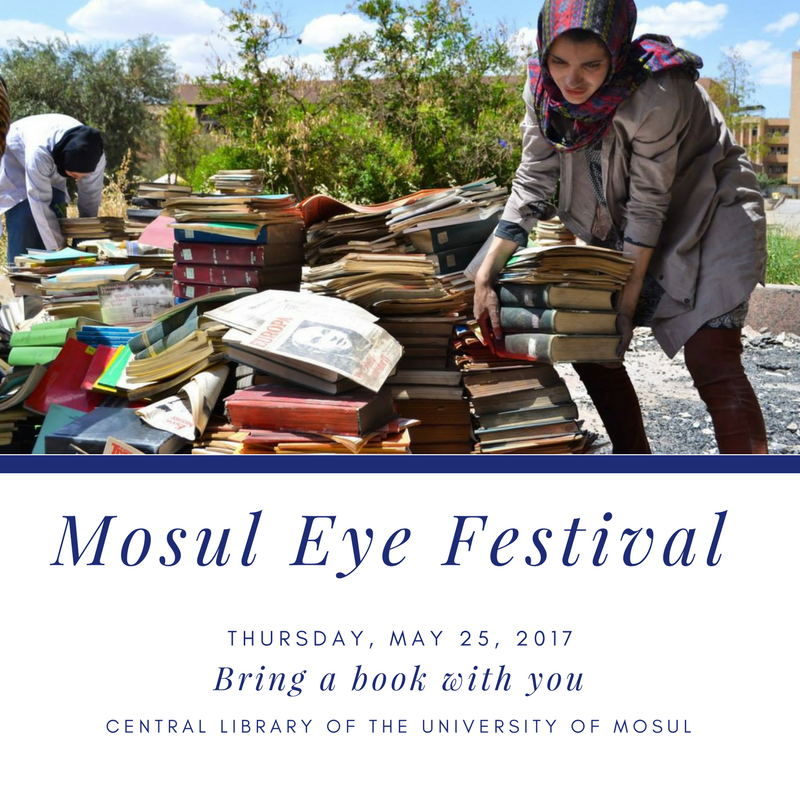 During the festival, four young local musicians performed on the steps of the library. In the background, photographs of life and people in Mosul, taken by students at the university, hung on a clothing line.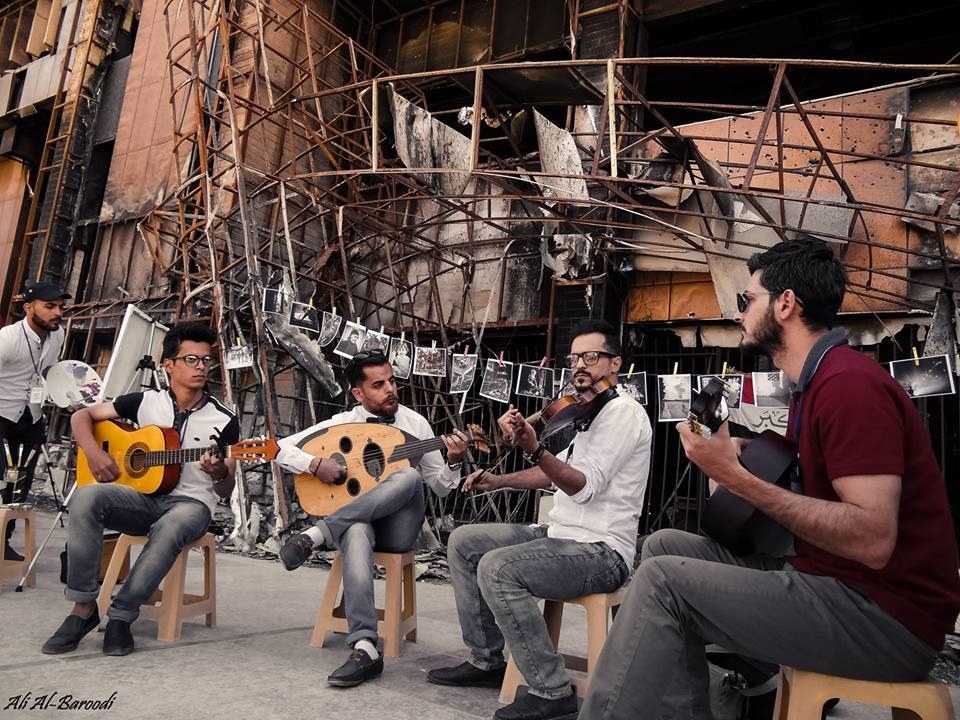 "We don't know each other, but all of us came together because we believe in Mosul," the blogger said. By the end of the day, several hundred books had been collected.
Mosul Eye said even though they are taking any books in any discipline and language, they are still looking for more on medicine, science and humanities. In recent weeks, he said he's received pledges from major universities and libraries in the US and UK, boosting his enthusiasm.
"If we can get a space ready by end of this year, the library can reopen in the beginning of 2018," he said.
Since ISIS ravaged his hometown, Mosul Eye said he's spent a lot of his time reading — T.S. Eliot's "The Waste Land" and John Milton's "Paradise Lost" are among his favorites.
Even though Mosul Eye knows the library will never be the same again, he said he hopes it will once again be a "beacon for knowledge and arts" where young, curious minds in Mosul can come to learn about the city and the world's history.

"We need to reconnect Mosul again with the rest of the world," he said. "We will need the world to take the same amount of interest it has after ISIS took over the city. Don't abandon us now."
Anup Kaphle is a deputy world editor for BuzzFeed News and is based in London. His secure PGP fingerprint is AA69 A7F0 91A0 8CF9 F06A 8343 05EE 4615 8CD5 33D8.

Contact Anup Kaphle at anup.kaphle@buzzfeed.com.

Got a confidential tip? Submit it here.