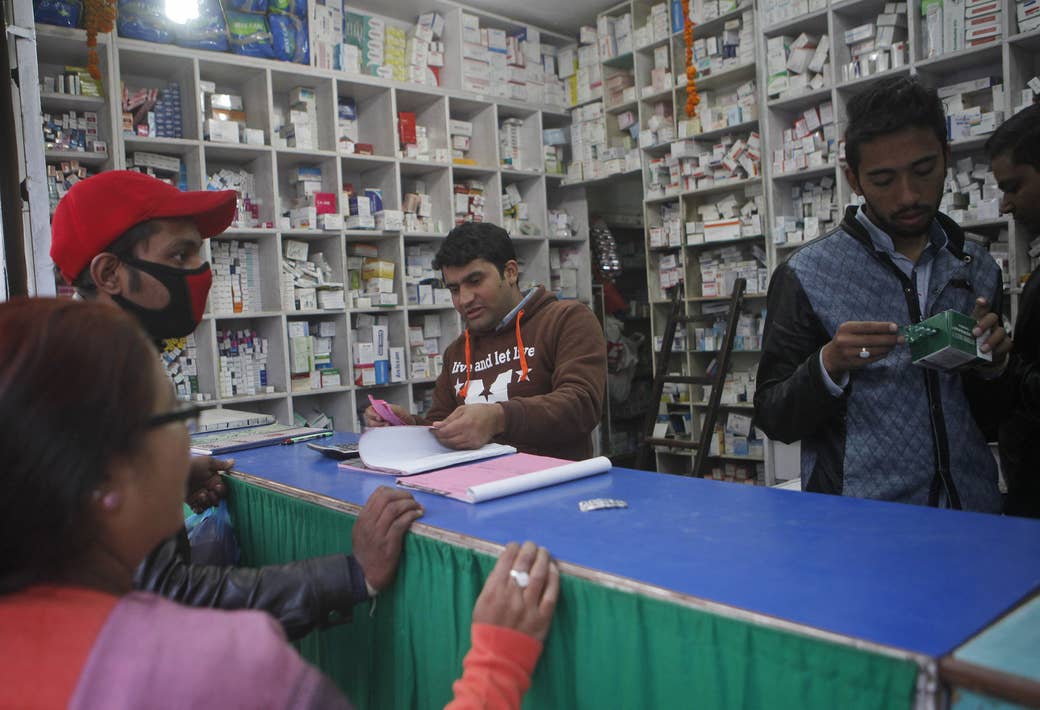 Every couple of months, Tej Bahadur Tamrakar would walk approximately four hours from his remote home in the far-western district of Dadeldhura to the hospital to collect medicine for his ailing father. But two months ago, supplies stopped coming through Nepal's border with India, and since then stocks of important medicine have begun to dwindle. Last week, Tamrakar had to make an additional six-hour trek to Dhangadi, a city on the Indian border in southern Nepal.
But before he even got the medicine, he got the news that his father died.
"The medicine shortage has created dire problems for patients with chronic diseases," Dr. Anil Kumar Yadav, one of the doctors in the regional hospital in Dadeldhura, told BuzzFeed News. "We were using the stocks from last year but have run out of them, including medicines we distribute for free to patients who can't afford to buy them."
For nearly two months, supplies of everyday goods into the country have been disrupted by protests in Nepal's southern plains, home to the ethnic group locally known as Madhesi. Madhesis had been protesting long before Nepal announced its new constitution in September, saying it discriminated against marginalized groups like them. Nonstop protests have led to a fuel crisis, in part triggered by neighboring India's restriction of supplies, even at border checkpoints that aren't affected by protests. India denies imposing a blockade, but according to Nepali customs officials, trucks have been deliberately stopped from entering the country with goods.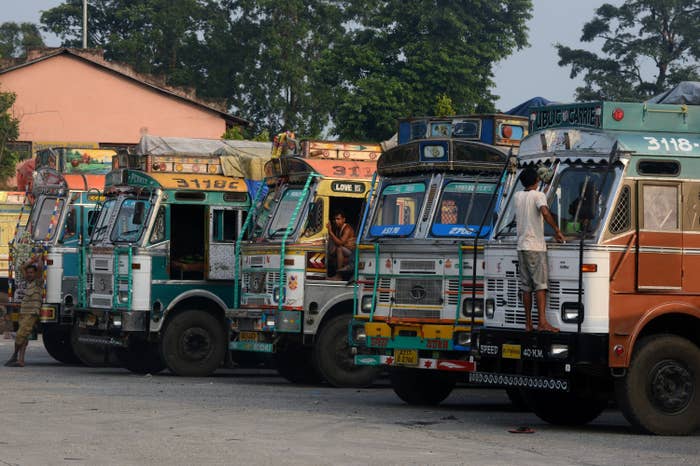 Medical professionals say the blockade has led to a shortage of operational goods, including surgical sutures and antibiotics. More than 400 vehicles carrying medicine and raw materials have been halted at border checkpoints throughout the country, according to Republica, one of the national dailies. Doctors at leading hospitals told BuzzFeed News they are using older stocks of medicine, most of which will run out soon. The Red Cross has said it is running out of blood bags.
Earlier this week, the Indian embassy in Kathmandu said it had asked Nepali health officials to provide a list of trucks carrying medicinal supplies so it can help reroute them to other checkpoints. However, Nepal's health minister said India made no such initiative until they were prodded by Nepali officials.
"There are 2 billion rupees worth of medicine and surgical supplies sitting at the Raxaul border," said Mrigendra Meher Shrestha, who heads the Nepal Chemists and Druggists Association based in Kathmandu. "Hospitals have had to reschedule surgeries because they have not been able to get medicines and instruments."
Doctors at Shahid Gangalal Heart Centre, one of the leading hospitals in the country, have said they've had to postpone some bypass surgeries because the hospital no longer has the special thread used to sew up the heart.
Although there have been discussions about airlifting medicine into the country's only international airport — local reports said $80,000 worth of medicine were flown into Kathmandu from New Delhi on Friday — medical professionals worry that simply putting a bandage on the wound is not going to heal the problems created by the blockade.
"Temporary supports by someone or airlifts are not a permanent solution," said Anjali Kumar Jha, the president of Nepal Medical Council. "The situation could be worse after three to four weeks if the agitating parties don't take this issue seriously."
But Madhesi Morcha, the group that is leading the protests in Nepal's southern plains, says it has no plans to stop until the government meets its demands, which include calls for affirmative action, ensuring political representation, and the redrawing of federal boundaries. The Madhesis claim that the existing boundaries had been gerrymandered in a way that would deprive them of resources and weaken them politically.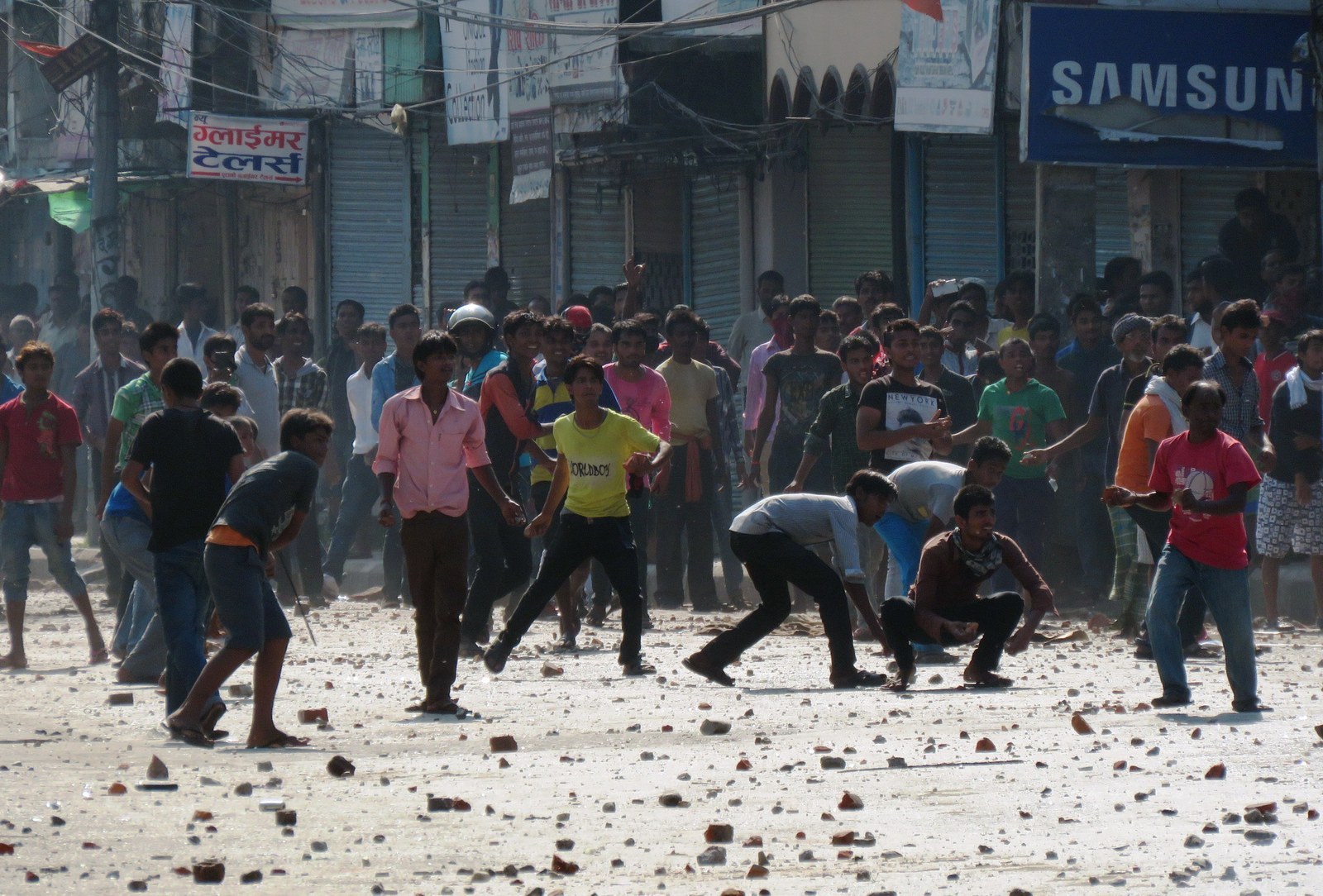 In a statement released on Thursday, the group said it would allow the rerouting of trucks carrying medicinal supplies but would intensify the protests by continuing to shut down markets and factories and to block major highways and border crossings.
The same night, cadres from the group set fire to a truck carrying medicine.
The price of daily commodities in Nepal has spiked after the blockade, amid reports the crisis has led to a rampant black market and overpricing of fuel supplies by dealers. According to reports, some of the government employees are even taking bribes to distribute fuel.
Despite mounting pressure and criticism for failing to solve the ongoing crisis, Nepal's new government has done little to address core problems, and has maintained its line that the constitution doesn't discriminate against any group.
Since the protests by Madhesis first began, mass demonstrations have turned violent. Children and women have been shot by Nepali police officers, while on two separate occasions, officers have been hacked to death by angry mobs. Human Rights Watch has asked the government to investigate the deaths, as well as the arbitrary use of force and extrajudicial killings by the police.
In his first national address last week after taking office in October, Nepal's Prime Minister K. P. Sharma Oli said that the new constitution is not discriminatory to any Nepalis, including the Madhesi.
"It has addressed the aspirations of all people," he said. "As the Constitution is a dynamic document, it can be amended several times. I would like to urge Madhesi parties to end the ongoing agitation."
Pradeep Bashyal reported from Kathmandu.