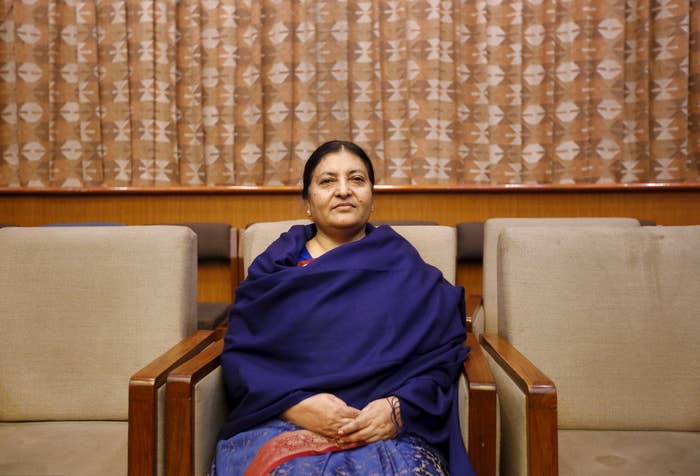 Nepal made history on Wednesday, electing a woman as head of state for the first time.
Bidhya Devi Bhandari, of the Communist Party of Nepal-United Marxist Leninist (CPN-UML), received 327 votes of the total 541 ballots cast in Nepal's parliament.
Nepal's presidency — introduced after the country abolished centuries-old monarchy in 2008 — is seen mostly as a ceremonial post. But Bhandari and her party, which leads the new government, have a major responsibility to lift Nepal out of a political crisis as it struggles to recover from the giant earthquake earlier this year.

Although 54-year-old Bhandari was involved in politics at a young age, she has said that being a wife was her primary role after she married. But her husband, who is to this day considered one of the most charismatic politicians the country has had, was killed in a mysterious car accident in 1993, suddenly forcing her to the forefront of mainstream Nepali politics.
A year later, she won a mid-term election, defeating a former prime minister from the rival Nepali Congress party. Bhandari went on to hold several positions as a minister, most recently in 2009 as the country's defense minister, while also rising to the ranks of the vice chair within her own party.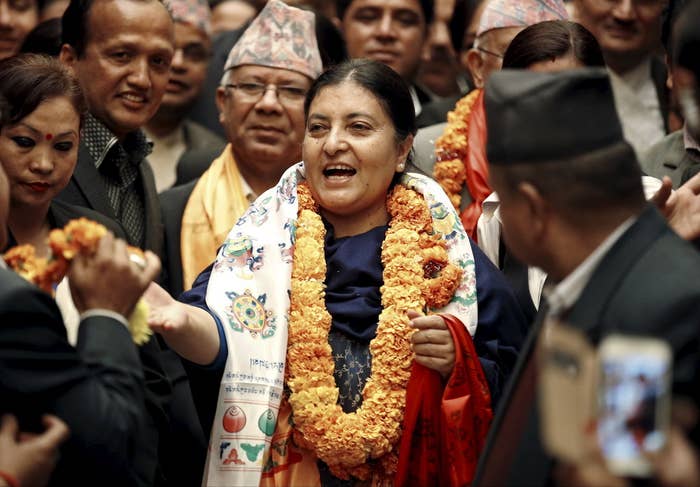 Bhandari held the Defense Ministry at a time when the country was marred by political deadlock, as Maoists leaders demanded that their former rebel fighters be integrated into the national army. Bhandari was defiant in her support for the army, which at the time was vehemently against inducting Maoist fighters into the institution.
The election of Bhandari as the new president was expected, as she is a close confidante of the newly elected Prime Minister K. P. Sharma Oli. Her candidacy was backed by at least eight political parties, some of which have formed a coalition in the new government.
Although Bhandari is one of the leading women politicians in the country, she raised some eyebrows after remarks she made at a program to discuss the new constitution were published in a local newspaper. The report said she criticized feminists and women's rights advocates who are demanding more rights as being influenced by Western values.
"Whether we agree with it or not, in Eastern culture and tradition, a woman is entirely devoted to a man," she said according to the report. "This may be a discriminatory system, but our society has always functioned this way."
Nepal's new constitution — although it provides quotas for women to serve on constitutional bodies — makes it difficult for a single mother to pass her citizenship to her child. According to the constitution, a child of a Nepali woman and a foreign man cannot get a citizenship by descent unless the man first takes Nepali citizenship; but children can become Nepali automatically if the father is Nepali, regardless of the mother's nationality. The constitution also makes the path to citizenship longer and more cumbersome for people marrying Nepali women compared to foreign nationals who marry Nepali men.
Bhandari has been criticized for defending her party on such citizenship provisions.
The new constitution, which was controversial even before it was adopted last month, is considered discriminatory by a large segment of Nepal's population who live in the southern plains bordered by India. The interim constitution adopted in 2006 set a goal of 58% of the parliament to be elected via proportional representation, with the aim of bringing in voices from lower-caste and indigenous groups. The new constitution, however, has set that number at 45%.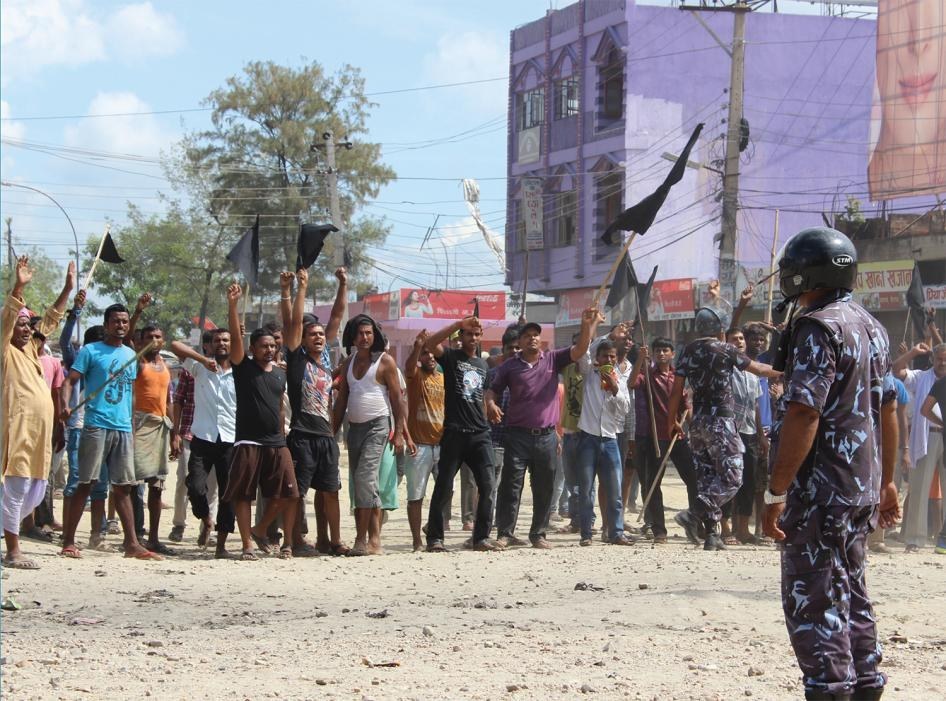 For over a month now, supplies of everyday goods into the country have been disrupted by protests near border towns. Demonstrations have turned violent as protesters, children and police officers have been killed in the last month. Human Rights Watch has asked the government to conduct an investigation into the deaths, including arbitrary use of force and extrajudicial killings by country's police.
Nonstop protests have led to a fuel crisis in the country, in part triggered by neighboring India's restriction of supplies even at border checkpoints that aren't affected by protests. India denies imposing a blockade, but customs officials say trucks have been deliberately stopped from entering the country with goods.