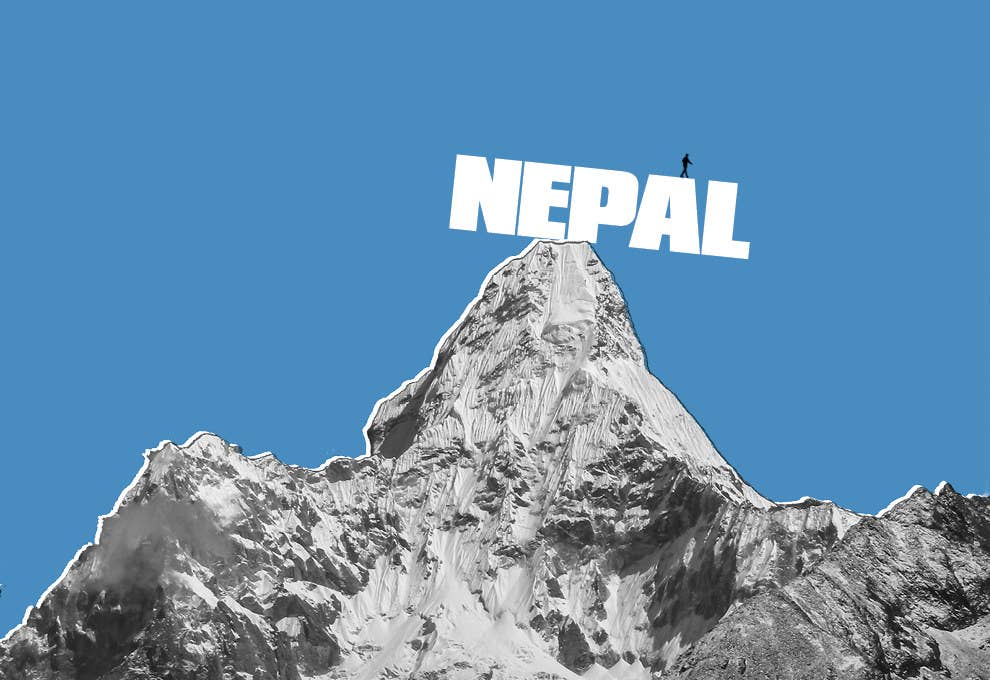 When I met the prime minister of Nepal five years ago, he was sitting on a white leather sofa in a top-floor suite at the Grand Hyatt Hotel in Manhattan. Baburam Bhattarai, a soft-spoken, mustachioed man, was the fourth prime minister in four years and, at heart, a stern ideologue, who frequently quoted Mao Zedong, Karl Marx, and Sun Tzu during our interview.

After we were done, he expressed his surprise that a Nepali journalist had come to interview him in New York. "Why don't you come back home? The world ought to know about the good things happening in Nepal and we need young, energetic people like you." The man was the architect of Nepal's decade-long Maoist insurgency between 1996 and 2006, in which thousands of people — including journalists — were targeted, killed, and disappeared by both the rebels and the state. "I want to, but if I did the kind of reporting I am allowed to do in America, I would have my hands and legs broken," I told him.
Nepal, a tiny country of 28 million people nestled in the Himalayas, is best known for being home to Mount Everest. But for a country its size, Nepal's problems pile as high as its mountains. The last three decades have seen the emergence of a multiparty democracy and the end of the monarchy that ruled Nepal for two centuries. But it has not been painless. Numerous attempts to establish democratic rule have seen bloodshed since the early '90s, and the massacre of the royal family made headlines around the world in 2001. Last year, a devastating earthquake killed nearly 9,000 people and left a million homeless. But throughout this period Nepalis have been left with the feeling that they are watching a particularly gruesome version of Groundhog Day, with the same politicians winning elections and coming back to run — and ruin — the country again and again.
A yam between two boulders — as the old saying has it — Nepal is effectively a playground for the two regional superpowers, India and China. Historically it has leaned toward India, and Nepal's leaders regularly go to New Delhi to express their grievances and ask for blessings. But a few months after the earthquake last year, India blocked the borders and halted supplies into the country, alienating many Nepalis — and pushing its leaders into Beijing's arms.
Politically, a lot has happened since I met Bhattarai back in 2011: Nepal has had three more prime ministers in five years; the Maoist party split into half a dozen factions — and have reunited under a new name; and the country's leaders have passed a historic, if highly controversial, constitution. K.P. Sharma Oli, a Marxist-Leninist, was elected last September, but there are already rumors that the government could collapse any day.
Despite the weakness of his coalition government, Oli likes to play the big man, establishing himself as a staunch nationalist, strongly opposed to India's meddling. He has appointed six deputy prime ministers, and Nepalis mock him for running an Oligarchy. He is given to lengthy public addresses — all of which are faithfully broadcast on TV — in which he makes promises that few believe he can keep. Last month, he said he would bring trains that have "pointed noses" to Nepal, referring to a high-speed network that he said would connect Kathmandu and Beijing. Then he said Nepal — which is both landlocked and one of the poorest countries in the world — would float its own ship in the oceans. A few days later, he claimed the country would produce oil within two years.
Now 64, Oli spent more than a decade in prison for his underground activism in the late '60s and early '70s. During a period of direct rule by the then king, Oli led a bloody class struggle in eastern Nepal, which saw eight local landowners beheaded.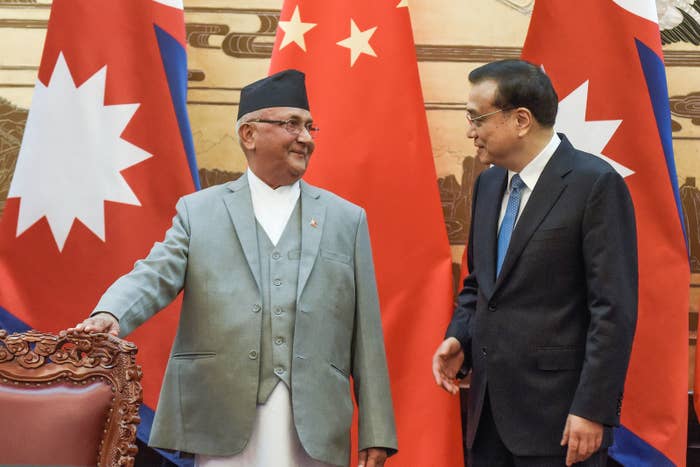 Like the supporters of Donald Trump who believe he will make America great again, and Hindu nationalists who have felt emboldened by Narendra Modi in India, Oli's acolytes hail him as a hero who has dared to dream big and challenge India's bullying. On social media, his supporters waste no time in pouncing at critics who mock him. "At least our prime minister has ambitions," one of his supporters told me on Facebook, "unlike you who is defaming your motherland and 'farming for dollars' in a foreign country."
But grand promises are nothing new in Nepal. When I was growing up in the '90s in Pokhara, a picturesque valley in the west, I remember our leaders promising to transform Nepal into "Singapur," the local pronunciation for Singapore. For many years, the running joke was that they had turned it into Jhingapur (city of flies) instead.
Today, those pointy-nose trains are the least of Nepal's worries. Over a year after the earthquake, the government has little to show for its reconstruction program. While victims shivered inside their makeshift shacks this past winter, Oli appealed to Nepalis to donate money so the government could rebuild the tallest monument in the country, which had been swallowed by the quake. For Oli, the tower was a sign of the nation's strength and unity, more important than roofs over the heads of the people who lost their homes.
This nationalism is also worsening ethnic tensions in the country. Nepal's new constitution, which was passed last year, has faced criticism for being discriminatory toward women and Madhesis, an ethnic group who live in the region bordering India. Violent confrontations between the state and Madhesi protesters — who have been spurred on by their own leaders — have left nearly 50 people dead, including police officers.
As if that weren't enough, there's also a small faction, led by one of the six deputy prime ministers, that wants Nepal to be a Hindu kingdom once again. "O King, please return and shoot everyone," one royal supporter wrote on Twitter after a new wave of protests began last month. Amid all this, impassioned nationalists regularly post memes to remind the world that Buddha was born in Nepal. But considering the state of the toxic public discourse, it would be hard to blame Buddha for moving to India to meditate, and rest in peace.
Last month, the government revoked the visa of a Canadian citizen for "spreading discord through provocative tweets." Robert Penner, who was working legally in Kathmandu, regularly engaged in debates over Nepali politics, including over a Human Rights Watch report that said the state used excessive force on protesters. Some admired him for asking the tough questions Nepalis weren't willing to; others called him a troll, and said a foreigner had no right to opine on their politics.
Many Nepalis are wary that public discussion of its internal problems makes the country look bad. But they still want tourists to visit, especially as the country continues to recover after the earthquake.
"They are doing unnecessary things here that make us look bad," a senior government official told me when I inquired about Penner's deportation. But yet another classic Nepali trope played out. Before ending the conversation, he asked me about my surname, wanting to know if I was from a well-connected family — we quickly established I wasn't.
"Look, what a coincidence that I am a Nepali and you are also a Nepali," he went on. "Can you write this in a way so it does not make us look bad?"