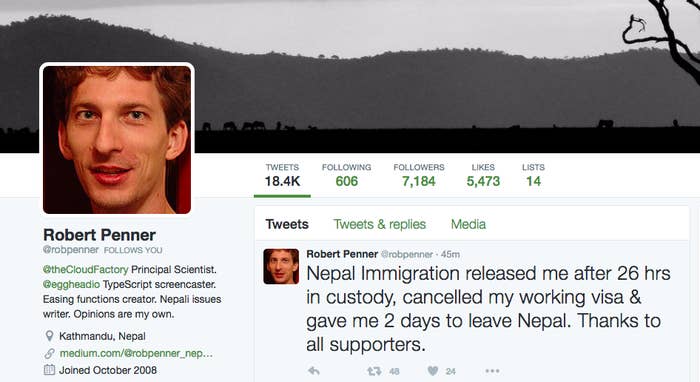 Nepal has revoked the visa of a Canadian citizen who was working in Kathmandu and asked him to leave the country, a day after he was detained for "spreading discord through provocative tweets," according to Nepali immigration officials.

Robert Penner, 37, who has lived in Nepal for four years, was arrested on Monday by police officers with instructions from the Department of Immigration. Penner worked as the "principal scientist" for CloudFactory, an online technology company based in the city of Lalitpur, just outside Kathmandu. He was working legally under a work visa.
"This is the first case of this kind of arbitrary detention and decision to deport a foreign national for engaging in a conversation about Nepal's politics," Dipendra Jha, a lawyer at the Supreme Court in Kathmandu who is representing Penner, told BuzzFeed News.

Immigration officials said that Penner had also violated immigration rules by working for CloudFactory, while he had obtained a visa to work for Sprout Technology. However, Penner never changed companies — Sprout Technology is the Nepal subsidiary of CloudFactory, the international company.

Penner had been active on Twitter and Facebook over the last year, writing about Nepal's new constitution and the Indian blockade that followed it. Nepal's constitution, which was passed in September 2015, has been controversial since the Madhesis, an ethnic group in the southern plains, started protests demanding equal rights. Many Nepalis say the constitution also discriminated against women. In October, Human Rights Watch released a report that was critical of the government's handling of the protests — but was condemned by some Nepalis as biased.
Penner, who can speak and write in Nepali, regularly responded to and engaged with critics, often in a stream of tweets or detailed posts that upset some Nepalis. Many disliked Penner's comments on Nepal's politics and called his approach combative, while others admired him for doing what many Nepalis did not.
In April, a handful of anonymous Twitter accounts sent a message to HelloSarkar ("Hello Government"), a Twitter handle set up by Nepal's government to receive complaints and grievances, asking that it investigate Penner for violating immigration rules and "doing politics" in Nepal. The government responded by starting an investigation against Penner that is believed to have ultimately resulted in his arrest on Monday.

Nepal's law restricts foreign nationals from taking part in politics and has provisions to deport anyone the government thinks threatens national security or creates public disorder. In an interview with BuzzFeed News, Kedar Neupane, the director general of the Department of Immigration, said officials deemed Penner's participation on social platforms threatening and that the law gave them authority to deport him.
"We have been analyzing his tweets for several weeks and we decided that they violated the immigration laws of the country," Neupane said. "We felt that his tweets were intended to rile people in support of the Madhesi protests and against the constitution."
Neupane said Penner was not being deported but that the government is seeking a "voluntary departure" within two days. Jha, Penner's lawyer, said the Canadian's team would appeal the decision on Wednesday.
"If freedom of expression has disrupted the country's harmony, there needs to be evidence of violence or disturbance," Jha said. "There is no evidence Penner's tweets did either."