Hundreds of Russians gathered outside a court in Moscow on Wednesday awaiting its decision on Kirill Serebrennikov, a prominent and outspoken theater director detained over accusations of fraud.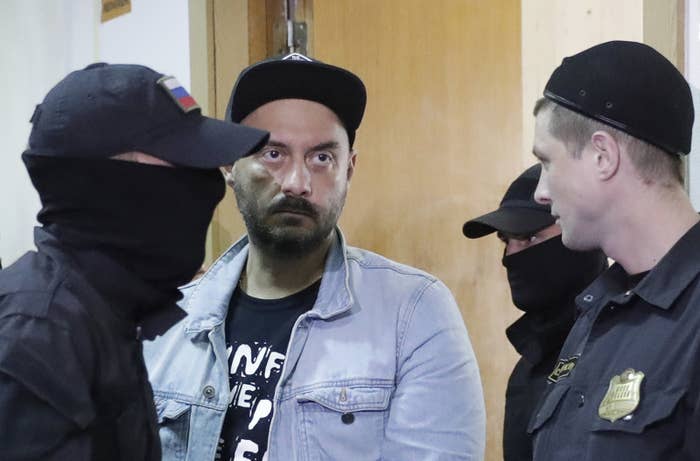 Serebrennikov was arrested by Russian investigators overnight on Tuesday at a hotel in St. Petersburg, and charged with embezzling 68 million rubles (about $1.1 million) of government funds. The money was awarded for a theater project to advance contemporary dance, music, and theatre popular. Serebrennikov has denied the accusations and pleaded not guilty in court.
Serebrennikov is the director of the state-funded Gogol Center, one of the most prominent and progressive theaters in Russia. He is known for his bold, controversial productions — he's worked on opera, ballet, and theater, as well as movies — and a strong anti-censorship stance.
Russian investigators had first arrested Serebrennikov in May, when they raided his flat and took him away for questioning on a fraud case. Authorities also searched the Gogol Center then, arresting two other theater directors and an accountant, all of whom have denied involvement, according to the BBC.

Serebrennikov's arrest has shaken the arts world in Russia, where many supporters say the charges against him are politically motivated, and fear that the government is sending a message. "We are living in a completely irrational situation" said Lyudmila Ulitskaya, an internationally acclaimed novelist, outside the court on Wednesday.
On Wednesday, Serebrennikov was presented in a Moscow court, which announced that he'd be put under house arrest under Oct. 19.
Hundreds of supporters gathered outside the court before his hearing.
Supporters included prominent artists like Vladimir Mirzoev, an award-winning director who has also been an outspoken critic of President Vladimir Putin.
Many supporters crammed into the courtroom.
Following his arrest, Boris Akunin, one of Russian's best-selling novelists, said the decision to detain someone like Serebrennikov had showed "Russia has moved to a new stage of existence with new rules."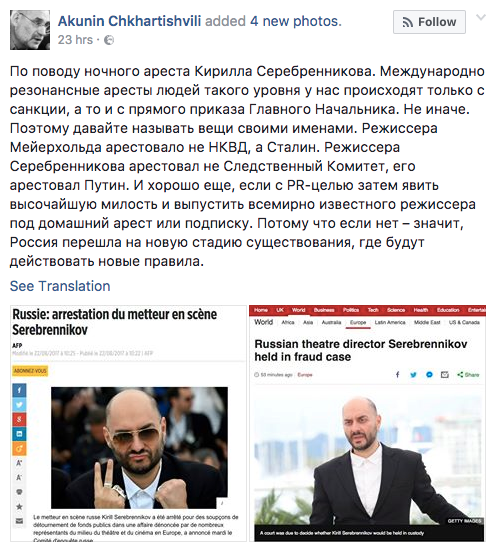 "Arrests of prominent international artists only happens in our country when there is a a direct order from the chief leader," Akunin wrote. "Director Serebrennikov was arrested not by the Investigative Committee, he was arrested by Putin."
Nearly 14,000 people have signed an online petition to the country's investigative committee, calling for the case against Serebrennikov to be dropped.

"Artists should have the right to freely express their opinions. It is guaranteed by the Constitution of our country," the petition says. "Organs of law and order should not turn into a truncheon to intimidate those who disagree with the policy of the authorities."