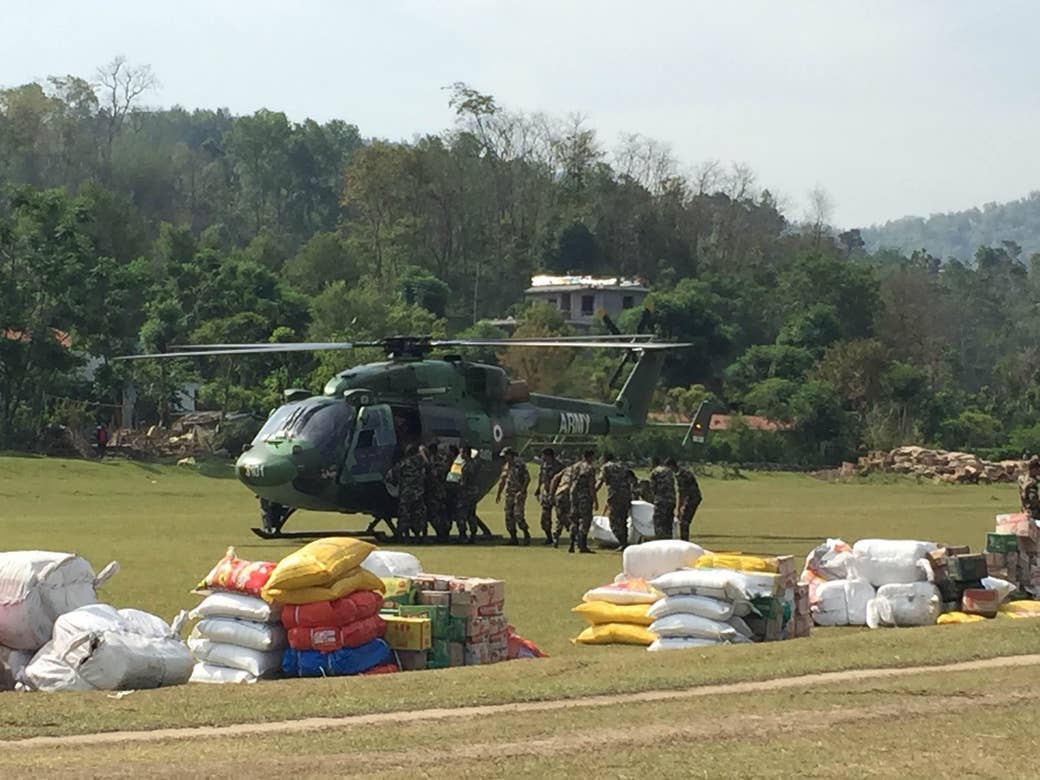 PALUNGTAR, Nepal — About 50 fresh recruits stood in the sun at a tiny makeshift military base in western Gorkha district, the epicenter of the earthquake that struck Nepal two weeks ago, some of them drenched in sweat, some leaning against sacks of blankets and rice waiting to be airlifted to the most remote villages in the district.

The Palungtar base has more than 2,000 tons of supplies — blankets sent via trucks from India, sacks of rice, beaten rice, instant noodles, iodized salt, vegetable oil, tarpaulins, and military tents — but only an invisible fraction of that is being flown to needy villages every day.
The reason? There simply aren't enough helicopters.
Much of Nepal is remote, which already makes relief coordination and the supplying of goods by road a daunting challenge. After the earthquake, which killed over 7,900 people and displaced an estimated half a million, unpaved roads connecting the most remote villages in districts like Gorkha suffered the worst fate, as huge chunks of hills came rumbling down, hampering any ambition of relief supply by trucks.
The road that links one of the major highways from the capital to Baluwa, a small village of about 1,500 homes about 10 hours from Kathmandu, and then to Laprak, near the epicenter of the earthquake, is one of many that were destroyed by the earthquake. It takes at least four days of walking from these villages to reach the nearest highway. About 25 villages lie along the road, all razed to the ground from the earthquake, most of them receiving very little aid to none at all.
The one person in the region who can help clear the road linking to Laprak, where people are in dire need of help, is Jagat Pandey, an excavation operator, who has spent three days sitting in the sun, without any idea when a helicopter would be available to pick him up. On the fourth day, he started walking.
"Some say the helicopter is faulty, so it can't fly, but we don't know how long we should wait for," Pandey told BuzzFeed News.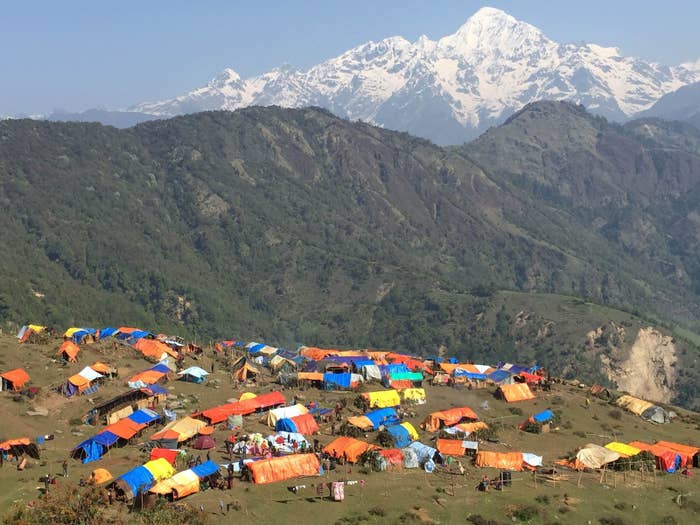 There are 33 helicopters currently flying relief supplies to various remote districts, according to Nepalese Ministry of Home Affairs. But many villages have yet to hear the helicopter's blades whirring, a sound that has become synonymous with hope in remote villages.
China has sent three additional Mi-17s to Kathmandu, and they are flying relief materials to villages in Sindhupalchok, Rasuwa, and Gorkha, which are among the hardest-hit districts from the earthquake in Nepal.

Four V-22 Ospreys arrived from the United States earlier this week and were initially much lauded. They have now received a lukewarm response after one of them blew off the roof of a house and the other only carried about 660 pounds of aid. An Osprey is said to be capable of carrying 20,000 pounds of internal cargo at twice the speed of a helicopter.
There are also three British Chinook helicopters currently stuck in New Delhi, waiting for the Nepali government to allow them to land in Kathmandu. Nepal's only international airport is already congested with helicopters and military planes from India, China, and the U.S., and officials say the Chinook would have a hard time operating in the mountainous terrain.
The Nepalese army's only Mi-17 helicopter, capable of carrying at least three tons in one flight, was reported to have suffered from technical issues during a rescue mission in northern Rasuwa district, a region famous for its scenic trekking routes. That leaves Nepal with no option but to mostly rely on India for ferrying aid to far-flung villages.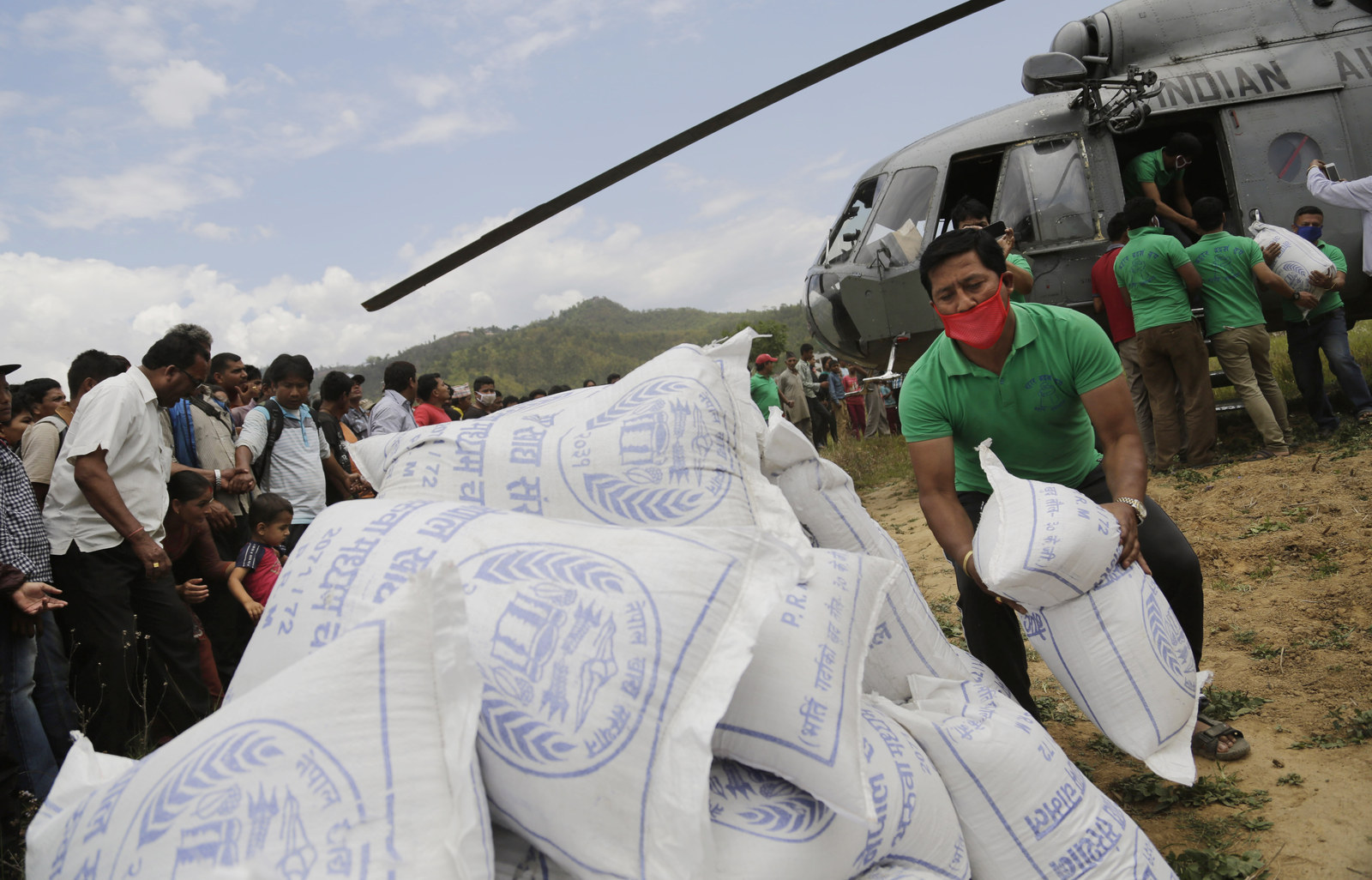 India was the first country that rushed to the rescue hours after the earthquake and has deployed its army and air force, which is flying 13 helicopters — more than any other country, including Nepal itself — from Kathmandu and Pokhara to remote western districts.
But it has also run into controversies this week after local news reports cited government officials who complained that India's forces were monopolizing the aid distribution process.
"They are flying wherever they want without any coordination," said Uddhav Timilsina, the chief district officer for Gorkha. "We desperately needed to drop supplies in the village of Gumda, and they ended up dropping it at Baluwa, saying they can't fly there."
Nepali officials say Indian pilots are unwilling to fly to remote villages in higher altitudes that Nepali pilots can easily reach. Although Nepal and India enjoy a harmonious relationship and share open borders and cultural ties, many Nepalis see India as a "big brother" interfering with its politics and policies. Most recently, Nepalis started a hashtag campaign complaining over Indian media's jingoistic coverage of the earthquake.
But Indian officials say their choppers are flying wherever they are asked to and deny reports on lack of coordination.
"Every Indian helicopter flies with a Nepal army liaison officer," Col. Manraj Mann, defense attaché at the Indian embassy in Kathmandu, told BuzzFeed News. "The one incident where a load was dropped in a nearby village was because the Mi-17 couldn't land on the helipad in that village."
"If we could operate all the helicopters to their full capacity, we wouldn't have any problems"
On Wednesday, only four of 17 planned helicopter flights left for Palungtar, a bustling village that has been set up as a relief distribution base for Gorkha district. "The private helicopters we hired are carrying more aid and bringing more injured than the Indian army helicopters," said Laxmi Prasad Dhakal, spokesperson for the Ministry of Home Affairs, which is coordinating post-earthquake disaster relief.
Nepali officials have also said some helicopters have haphazardly dropped relief supplies in the wrong villages. On Thursday, villagers from Laprak said they had to walk for five hours downhill to Barpak, and then walk back another five hours with loads of supplies on their backs.
"The Indian army and air force helicopters are totally under Nepal army and functioning under the direction of the Nepal army," said Col. Mann. "There is a misconception among local officials that Indian Air Force is flying wherever they want and that's not true."
Despite nearly three dozen helicopters flying all over the country for relief efforts, thousands of tons of materials remain undistributed in key districts that have suffered most from the earthquake.
"If we could operate all the helicopters to their full capacity, we wouldn't have any problems," said Dhakal at the Ministry of Home Affairs. When asked why any helicopters aren't flying at full capacity, he said "You must have read it in local news reports" without any further clarification.
At the helicopter landing zone in Palungtar, nearby villagers run toward the field upon hearing echoes of thunderous rotors in the hills, only to be left disappointed and find a motorcycle speeding on the unpaved road.
Only one helicopter landed here all day, and took about 600 kilos of supplies.
"Will any helicopter fly to Gumda today?" a villager asked the army officer in Palungtar.
"Who knows," he responded.