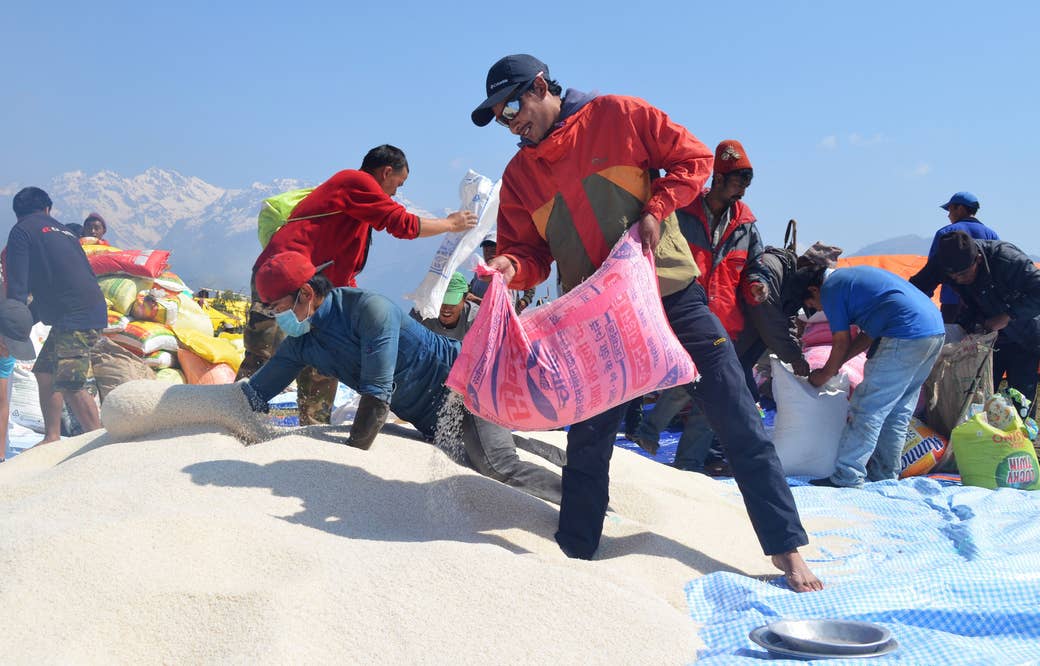 KATHMANDU — By his third day waiting for a helicopter, Namgyal Sherpa got restless. He had left Kathmandu last week with seven friends and 3,000 kilos of food — rice, lentils, instant noodles, salt, and oil — and hoped to deliver it to the village of Laprak, which is near the epicenter of the earthquake that killed more than 8,100 people.
"There wasn't enough relief aid going to the village," Namgyal, 31, told BuzzFeed News. "So we wanted to send supplies to Laprak not only because it was home to many of our boys, but also because it wasn't getting attention like other places."
Namgyal's trekking company, Thamserku, employed trekking guides, many of them young men who came from Laprak and surrounding villages. They included a 29-year-old operations manager for a trekking company, three 30-year-old trekking guides, a 28-year-old tourist bus driver, and a 30-year-old Brit who is vacationing in Nepal.
The country is still on edge. Another big earthquake struck on Tuesday, killing at least 42 people.
Like Namgyal and his friends, hundreds of young men and women are running relief coordination centers across the country, taking in food, tents, and medical supplies donated by other groups and then organizing trucks and jeeps to reach the hardest-hit districts. Hundreds more are focusing on making sure those affected have shelter beyond tents and tarpaulins.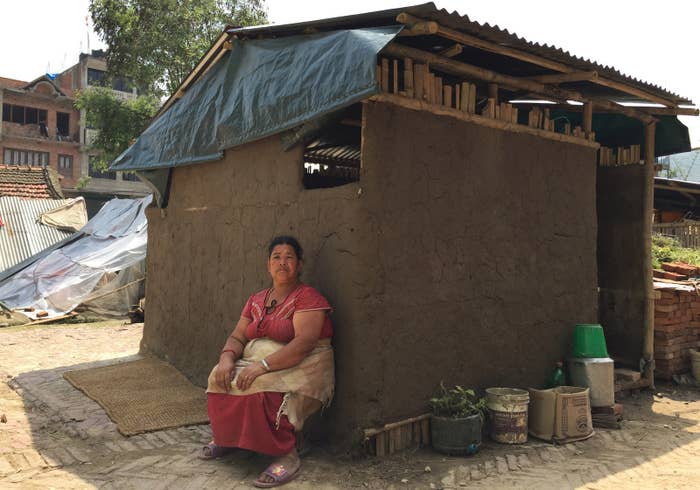 About 45 minutes outside of Kathmandu, the medieval village of Bungamati lies in ruins. Nearly 70 students and recent graduates from Kathmandu University work round the clock to build bamboo structures with corrugated steel roofs.
Each structure takes about three days to build and costs as little as $250, providing immediate shelter from rain and wind to families who have lost their homes.
"This is a historic settlement, so we can't let it turn itself into a slum," said Sujan Chitrakar, an assistant professor at the university, who is now leading the rebuilding project in Bungamati. Chitrakar says every piece of material has come from individual benefactors and they haven't seen anything from the government.
"What? We have a government?" he said. Everyone in the group burst into laughter.
Back in Kathmandu, another group of young professionals meets at a café across from the dilapidated walls of the former palace destroyed in the earthquake, to discuss their plans for earthquake-resistant green houses, a project they hope will benefit those most in need of a roof.
"Monsoon will be a catastrophe if we don't act quickly," said Aditi Shrestha, 32, a World Bank professional who has been devoting her non-office hours entirely to the project. "Permanent homes are going to take time to build, so we wanted to come up with solutions as soon as possible." It has been raining heavily in Kathmandu for the last three days and monsoon season is fast approaching.
Shrestha and her friends are partnering with The Himalayan Climate Initiative and plan to construct these homes with locally available materials.
The proposed shelters will be simple steel frames welded together with corrugated iron sheets for roofs. Wires will be placed around the structure, a way of keeping things from falling inside and crushing its residents should another earthquake occur.
"If you give people a tent, there is danger of that becoming a permanent solution," said Dawa Steven Sherpa, a mountaineering professional who is part of the group. "I think the homes we plan to build will instill confidence in people."
Each unit of such a shelter is estimated to cost about $1,600, but the group expects the cost to go down when built in thousands. The process of setting up the framework is expected to take up to four days.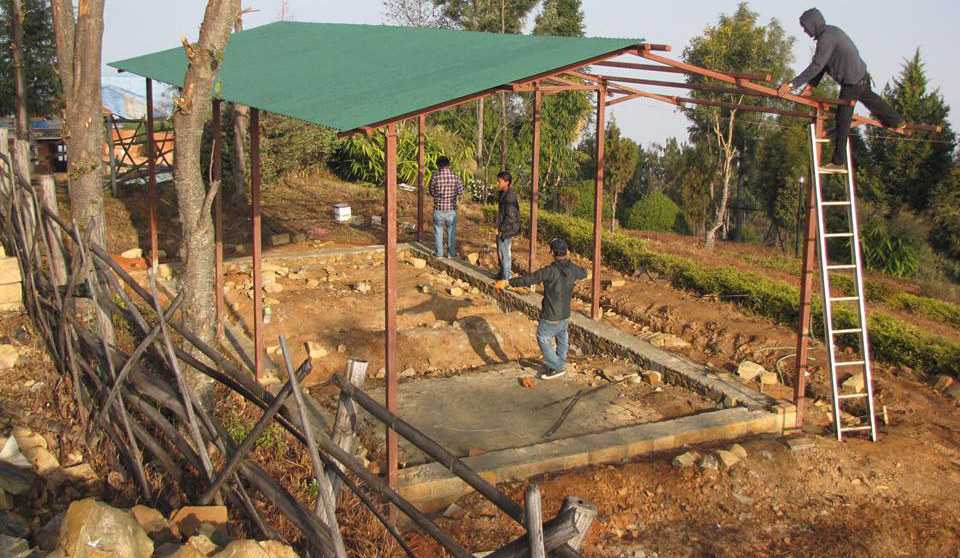 The first prototypes of the homes will be ready this week, according to the group, and they are simultaneously consulting with government agencies to start ramping up production.
Fifteen days after the earthquake, more than half a million people remain displaced, with many sleeping out in the open. Nepali government officials say they are still looking into different models to build new homes.
Thousands of people affected by the earthquake in the capital have received tents and are living in public parks. But thousands in remote villages that are among the poorest in the nation are getting tarpaulins.
Villagers in Gorkha district, the epicenter of the quake, are using branches of trees to build frameworks for shelter and using tarpaulins to cover the structure. In Laprak, at least eight family members lived under one tarp, along with their goats and a cow.
None of these efforts is a permanent solution to the woes of thousands who have lost their homes. Plans to build immediate shelters are designed to help villagers in some of the hardest-hit regions before the dreaded monsoon, less than six weeks away, descends on the country.