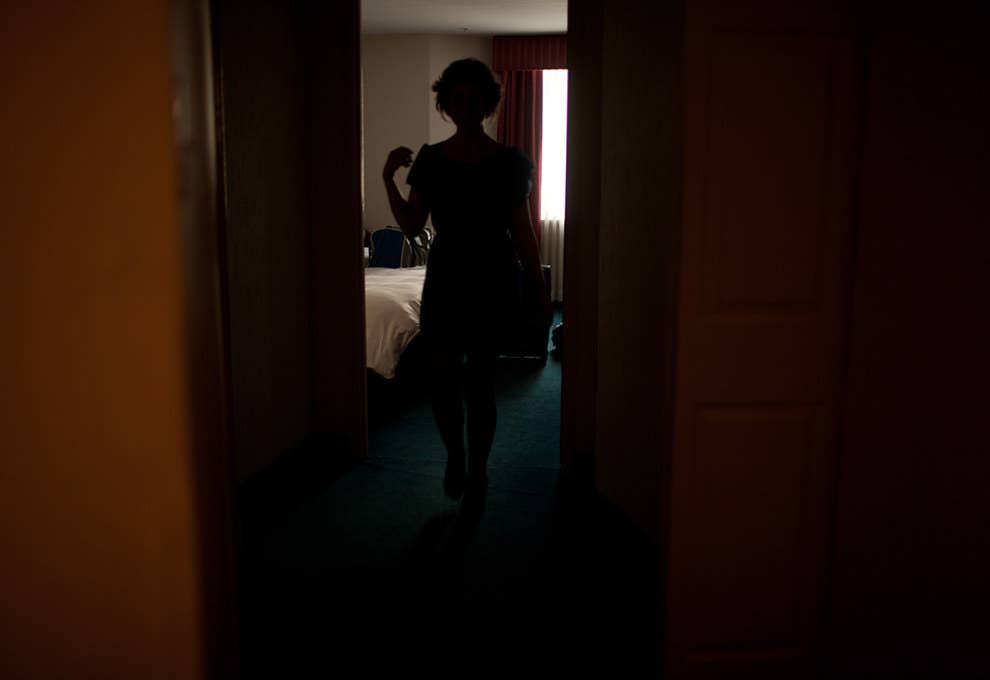 When I was 10, my dad left my mother after 17 years of marriage. When and if he showed up for weekend visitations, it was in a brand-new silver and blue Nissan 280ZX. According to Consumer Reports, the ZX was one of the most common midlife crisis cars, after a Corvette or Porsche. It was the most sold-out Japanese car in the luxury-horny Reagan '80s. The ZX had a sports machine appeal and a point-and-squirt intent. It represented the things Dad craved most: smooth suspension; leather seats; surround sound; a large, comfier cave; and a hotter, younger, fancier wife.
Once, Dad drove us fast to the Rib Room at a Victorian Inn in our small town, where he took me to lunch. I sat silently nibbling my French dip sandwich dunked in oily brown juice, and as he glanced at his gold watch, I noticed his slimmer waistline, his crisp white polo shirt with the folded collar. I listened to him boast about his new tennis racket, his Christmases in Hawaii and his tan. Then he dropped me off at school before the bell rang. He never asked me about my volleyball games, Shakespeare classes, cheerleading camp, or friends. As I watched my dad disappear in his new silvery lifestyle, the sting of being discarded hit me in the gut.
It's no wonder then that I seek to be the favorite dancer of legions of older men at Showgirls, a red-hued, Egyptian-themed topless bar in the Coachella Valley where I occasionally dance. To them, I am unknowable and hardly available while I grasp for more than my fair share of sexual power. I like to be their weakness, irreplaceable, enigmatic. Special. It's unsurprising to me that the men I dance for are trying to stave off time by wanting to be desired by someone younger. And though their faded gold watches mercilessly count down the time they've paid to be with me, the stories they tell linger long after their song ends.
One assumption is that men hire young girls named after sugary treats and designer perfume to dance topless in Lucite heels and sparkle-butt bikinis to escape from emotional entanglements — that this arrangement works because it excludes last names and long-term investments like college tuition. But I wonder if the impulse to touch a new spray-tanned hip rather than stare at a screen is more a drive to be held in that slippery place of naked need, if only for a few songs, rather than to fully disappear or simply get off. Because the men I see give themselves permission to be emotionally naked— which feels like a fleeting kind of love for both of us.
Inside Showgirls, I walked past the framed poster of Basic Instinct-era Sharon Stone bending over near the entrance to ask Kev, a regular customer in his mid-forties, what makes him comfortable enough to come by several times a week.
Until Siri can undress and hug on command, strippers have job security in an increasingly lonely culture.
"It's an anti–strip club. It feels like family," he said as he downed a shot of Jack. He nodded toward the redheaded dancer he regularly sees, a local woman with ample curves and long freckled arms. Her cousin and sister both dance at Showgirls. Her aunt, a bartender for a couple years, would get drunk and remove her fishnet top on stage and perform a stripper dance for her special customers at the bar. Biologically, many of my co-workers are actual sisters who share DNA, but to believe that a girl paid by the three-minute song was akin to his family? To believe Candy or Mercedes would massage Kev's feet when he was on his deathbed or show up for Thanksgiving seemed ludicrous. But, until Siri can undress and hug on command, strippers have job security in an increasingly lonely culture. Because being groped by strangers is better than not being groped at all.
Is what we offer love? It is when our clients don't know the difference. And, in this emotional economy, I'm not sure I know the difference either. I don't come to Showgirls just for the money, though it might have started that way. I come to be held and hotly desired, comforted and supported. I come to be needed too.
Kurt Vonnegut said, "Who we pretend to be, we are."
Perhaps as dancers, we are a promiscuous brand of family, performing the tasks of safety, belonging, and love. We play counselor, nurse, life coach, lover, girlfriend, masseuse, sex kitten, and muse. Financially invested in the whims of our clients, we read their needs as quickly as a pop-up ad, and hold them fast as the world holds us fast. As dancers, we care as much as is necessary to secure our position as "chosen one" each night. And, while the job is wrought with intense competition, we do share a sororal sense of intimacy in the dressing room while we compare glittery eyeshadow and swap hairspray and tampons. Some girls even double-pump breast milk for their newborns while lining their lips. So, no, Showgirls is not an anti–strip club, just an ordinary titty bar — the only game in town for miles that's not a massage parlor or gay bar.
I am beginning to believe that men go to strip clubs in order to become completely undone because in their daily operations, they don't give themselves permission to simply unravel. When I asked several customers what they look for in a stripper, their answers varied from bulbous to skinny, big-butted to plain, craggy to prissy, tall, muscular, brunette, redhead, blonde and freckled, black, or Asian. But it was obvious that all the men I spoke to come to the club seeking attention and connection — not escape. And their bond with the dancer was dependent on her warmth and friendliness. She has to have easy affection and an ability to listen (like an attentive daughter) while also being sensual and forward (like a mistress). The girlfriend experience is more familial than erotic, injected with more sincere loyalty than exemplary customer service. Some even cry while pinned to a red velveteen chair in front of a glistening girl paid by the song. If home is a safe place where one is free, Showgirls is home for many.
Customers may know the rules and limitations of the exotic environment of strip clubs before they pay the door fee — the fleeting nature of it and capriciousness of their own affection and ours — but they forgo the rules, lickety-split. Sometimes we do too. Not only the physical rules, like tweaking a nipple or grabbing my arm too tightly to ask if my tattoos hurt, but emotional rules, like the pressure of listening to their heartbreaking stories and feeling powerless to help since I'm not a divorce attorney or a parole officer.
During my shift, a customer, Trigger, told me about his daughter upon returning from Chicago where he had just been visiting her. He bowed his head to drink and avoided eye contact while he showed me pictures of his 5-year old.
"She asked permission to stay the night," he said. "I could hear her mom in the background tell her, 'If you stay the night with your daddy then you can't have your birthday party at Chuck E Cheese's.'"
A few beers later, he pranced across the room and whistled like a furious carnie, throwing his dollars on my stage during my set. He wrote his number on a matchbook in blue pen and threw that too. I hovered in the DJ booth until he was out of the parking lot before I left the club because my need for safety will always trump their need for my comfort.
I thought about how he could easily follow my car out of the parking lot and into the desolate desert night.
Yet, I still have the matchbook. And I remember Trigger's bushy mustache, his balding head and the way he cried into his happy-hour beer. I think about his daughter and our conversation about fighting for custody, one of many battles he needed to talk through with me that night. I remember being drained; feeling as though I was babysitting a potentially violent kid; scanning for the exit; and almost touching 911 with my fingers when Trigger hovered a bit too long, began to stagger, and pushed me into the lap dance area. I thought about how he could easily follow my car out of the parking lot and into the desolate desert night.
Giving happy endings at the jack shack where I had worked before Showgirls was more physically demanding and legally more risky, but it was less emotionally exhausting.
The Tantric Temple was a tasteful condo on a quiet hillside sandwiched between a 7-Eleven and a popular Mexican restaurant in Los Angeles. Inside, the enormous windows gushed blonde light onto butterscotch-colored wood floors. Stairs led to a full kitchen where coffee was ground and brown rice simmered between massage clients. Expensive pillows in lipstick shades of magenta and coral softened the steely edges of the square walls. Laptop computers and phones plugged into crowded outlets turning the floor into an obstacle course of snaky white wires. My co-workers and I were careful not to trip while we jumped up to turn off the teapot or to answer the door for our clients.
Like a retail job, sessions there often began at 10 a.m. and ended by 7 p.m. But on holidays they'd stretch out into longer late nights, since I could not leave until all of the towels were clean and folded and the shower scrubbed and bleached. Stacks of money were placed in signed, dated envelopes and locked up for the house mom, who took about half of my earnings.
Downstairs, I lit vanilla candles and turned on the heat; kept the track lighting low and the coconut oil within reach. I burned incense, rang a yoga gong that vibrated throughout the condo. I arranged pink quartz crystals on a white cloth altar. I swept the stray pubic hair and dust into a blue plastic dustbin and dumped it into the trash can quickly before my client arrived. I rinsed my greasy hands in frothy lavender soap. My snack bag contained cheese, almonds, and yogurt — nothing that stunk. I kept my computer close in order to respond to emails and always had a book to read. I would make sure my T-shirt dress was soft and cotton and my perfume light — nothing too distracting. Again, nothing that lingered past the paid hour or stuck to the gut or hinted at death, divorce papers, or custody battles.
Men's shoes lined up outside our doors told co-workers that the room was occupied (and sometimes who occupied it): Stylish street sneakers were younger guys, suede tassel loafers and black leather dress shoes were usually older and moneyed suits. Nicknames gave the men privacy and comfort, perhaps a sense of belonging. Clients were given passwords that described them, but didn't expose them, like Sunglasses Rich or Butterfly Bob.
Whenever Butterfly Bob walked up the wood steps outside of the Temple, I bit my lip and chewed my nails in anxious anticipation. His special nickname was given to him long ago, after his first appointment, and remained there long after I was gone.
"Your shoes go here," I said.
I was always antsy before appointments, nervous about being paid to cross my own physical boundaries.
As a long-time client, he knew the routine, but I told him anyway, and he smiled warmly, then flipped off of his brown suede Birkenstocks and placed them where he stood. I was always antsy before appointments, nervous about being paid to cross my own physical boundaries. Scared of a raid, of being arrested again for prostitution or worse. Of getting turned on during a session by a married man twice my age with a sweaty face and crooked glasses, which happens. Unlike the strip clubs, where gyrating on an armchair can feel akin to a vibrator, the Temple was more physically invasive. A muscular, naked body beneath me could titillate and distract me. But even if I did come, I continued with my slow movements in a methodical massage, attending to their bodies. My needs were kept private and personal for me — my clients oblivious to them.
I led Butterfly Bob to my dark room of burgundy curtains and Nag Champa smoke, where trendy hippie wordless music played on Pandora. I shut the sliding door behind him and peeled off my flimsy American Apparel dress so he would know it was time for him to get undressed too. He removed his shirt quickly and unzipped his gray shorts. He handed me crisp bills, which I placed in a dresser drawer. I reached and pulled him into a long hug, letting out a dramatic sigh that ended in a breathy giggle. He wrapped a white towel around his hips and walked into the bathroom for his first shower. I'd prepared the bathroom exactly the way he liked: unopened soaps and antibacterial gel. Razors. Shaving cream. Listerine. Antibacterial baby wipes and a clean blue hand towel. He'd paid for the tantric session, which meant a lot of eye gazing and exhaling together over a 90-minute period. Maybe some rose quartz rubbing. I'd warm them in my palms and tickle his spine with the pink stones then place them in his left hand. Butterfly Bob needed to be seen, touched and held and adored. While he needed time to be soft and slow, it never was. I watched the clock because I needed the 90 minutes to rush by, but they never did.
Two memories of those many sessions remain: staring into his watery gray eyes as we inhaled and exhaled in sync, sitting on top of the forest-green sheet draped over a massage table in my candlelit room with my legs pretzeled inside of his, my palms resting on his thick silver-haired thighs. And the egg yolk smell of his breath as he cried facedown into that same stained sheet after the 90 minutes was up, a smell that lingered after we breathed and breathed, after the coconut oil was rubbed into his shoulders and balls and after I jerked him off, his pudgy back slick, collapsing forward. Lingering after I unfolded his gray pleated shorts, the same color as the closed sliding door, the thin membrane that separated his cries from the moans down the hall. His longing merged with mine in a feeling I know by heart: the sweet little loss stuck to my oily hands as I watch a man I'm supposed to adore disappear into his other life of buttered toast and seat warmers. After he slid his feet into his weathered Birkenstocks and hurried down the narrow stairs and into the incandescent Los Angeles afternoon, I swept up the last curly gray hair and rinsed off. And after our transaction was complete, I became some version of free.
Antonia Crane a writer, instructor and Moth Story Slam Winner in Los Angeles. She is the author of the memoir "Spent" (Barnacle Books, 2014). She has written for The New York Times, The Believer, The Toast, Playboy, Cosmopolitan, Salon.com, The Rumpus, Electric Literature, DAME, The Los Angeles Review, Quartz: The Atlantic Media, PrimeMind, BuzzFeed and many other places. Her fiction has appeared in the acclaimed noir anthology, The New Black, edited by Richard Thomas. Her screenplay "The Lusty" (co-written by director, writer Silas Howard), based on the true story of the exotic dancer's labor union, is a recipient of the San Francisco Film Society/Kenneth Rainin Foundation Grant in screenwriting, 2015. She is at work on an essay collection and memoir.