If you're wondering why this show is called "Heben's Husband," it's because they are kind of sort of married!* Just look at this happy couple!!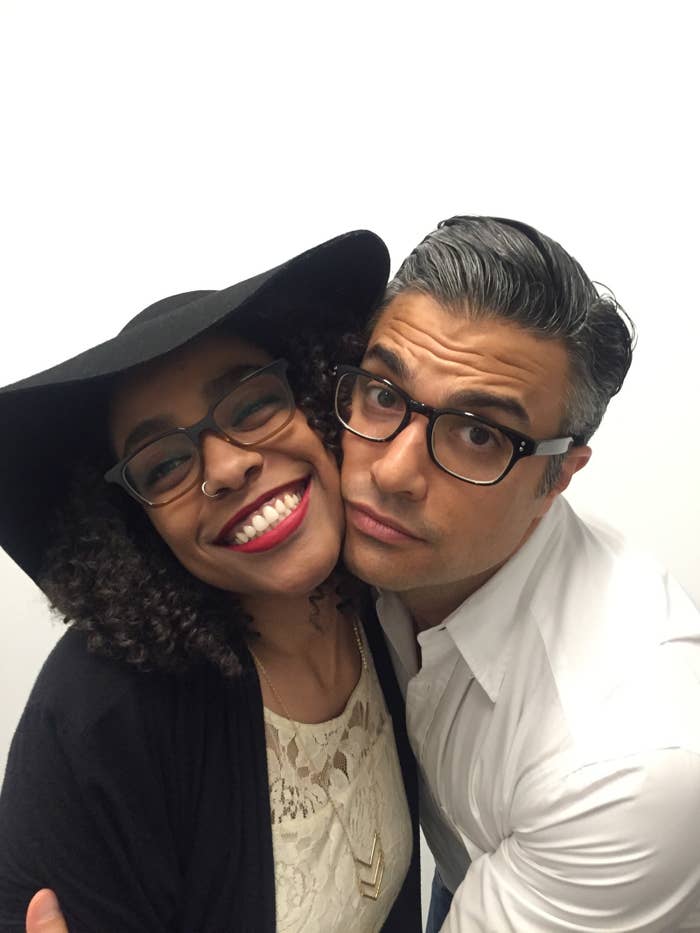 The story of their love is one for the ages.
If you listen to the show, you know that Heben is a huge fan of Jane the Virgin, which stars Jaime Camil as Rogelio de la Vega. A year ago Heben wrote about her love of Jaime an article about Jaime that enumerates all of his wonderful qualities.
And so he surprised her one day at the BuzzFeed offices and the rest is history. Beautiful!
Here are some fun facts about Jaime during our interview:
1. He used to work in biohazard waste management.
2. He became super duper famous in Mexico after becoming the protagonist in the Mexican version of Ugly Betty.
3. He loves Broadway and is currently playing Billy Flynn in Chicago.
4. He does NOT let his kids act up at the dinner table!
5. He had an incredible music career that we can thank for amazing footage of him crooning and dancing sexily.
Also in this episode, our producer Antonia Cereijido takes us on a journey through the history of Latin Pop artist crossovers. We talk about Miami Sound Machine's "Conga"...
Ricky Martin's unforgettable "Livin' La Vida Loca"...
And Tracy discusses Sharkia's vagina slice dance move in her video for "She Wolf."
The usual business
Subscribe to the podcast on iTunes, Acast or your podcatcher of choice! While you're there, why don't you leave us a little review?
Subscribe to our weekly newsletter here! In your inbox every Friday.
Follow Jaime at on Twitter.
Follow Antonia on Twitter.
Find Another Round merch at the BuzzFeed Shop.
Like us on Facebook.
Follow us on Twitter.
Questions? Comments? Need some advice? Email us at AnotherRound@BuzzFeed.com.
This episode features music from Donwill (follow him on Twitter) and Jean Grae.