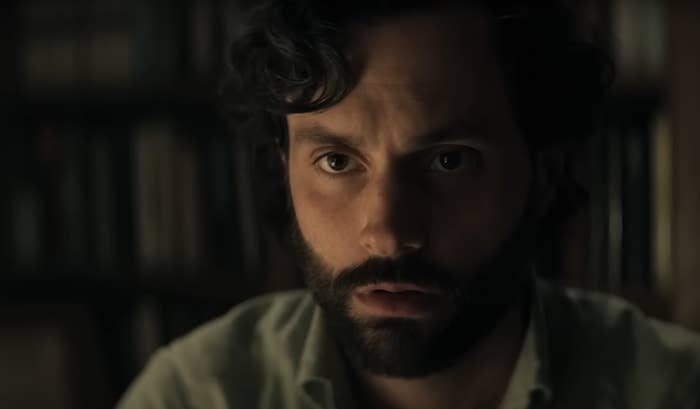 The following contains spoilers for Episodes 1–5 of You Season 4.
Love is in the air — and likely on Joe's mind — in the second half of You's currently airing Season 4.
On Feb. 9, the hit Netflix series released Part 1 of the season, which finds Joe Goldberg (Penn Badgley) in London. Part 2, which consists of the season's final five episodes, is dropping on March 9, and it seems Joe's past love is coming back around.
In a new trailer released Tuesday morning, Joe is reunited with fan-favorite character Love Quinn (Victoria Pedretti). For those who remember the Season 3 finale, Joe killed Love and faked his own death in California.
"Hi Joe," Love says in the trailer, while sitting inside Joe's iconic clear cage and holding a book.
As Joe experiences hallucinations of people from his past, it's likely Love is a figment of his imagination. Then again, in a show as chaotic as You, maybe there's a chance Love actually survived.
Love quickly became a fan-favorite character when she was introduced in the second season. She got even more popular in the finale when it was revealed she's just as murderous as Joe.
What impact her character will have in Season 4 remains unclear. This season follows a newly single Joe going to London to find Marienne (Tati Gabrielle), the latest woman he's obsessed with. After finally finding her, he decides to let her live when she becomes completely terrified by all his wrongdoings. Joe then tries to live a peaceful life as a professor at a London university before a new stalker forces him to cover up his crimes.
Episode 5, which was the end of Part 1, finishes on a cliffhanger as Joe finally learns who the Eat the Rich Killer is. After nearly being killed by Roald (Ben Wiggins) in the woods, Joe is then knocked out by British politician Rhys Montrose (Ed Speleers) and taken to a basement. Rhys later reveals he is Joe's anonymous stalker and wants Joe to help him with schemes. At the end of the episode, Rhys announces his candidacy for the mayor of London, while Joe resolves to put a stop to his crimes.
Tuesday's trailer also details Rhys infatuation with fellow Joe.
"Isn't it obvious? I want a friend. Someone who shares my interests, someone I can finally tell all my secrets to. I care about you, Joe," Rhys says.
It looks like the rest of the season will continue following Joe's attempt to be a better man while falling in love with Kate Galvin (Charlotte Ritchie), this season's main love interest — if you don't count Rhys.
So Love is alive, and what does Rhys plan to do with his mayoral candidacy? Oh, and can Joe actually change? Only time will tell.