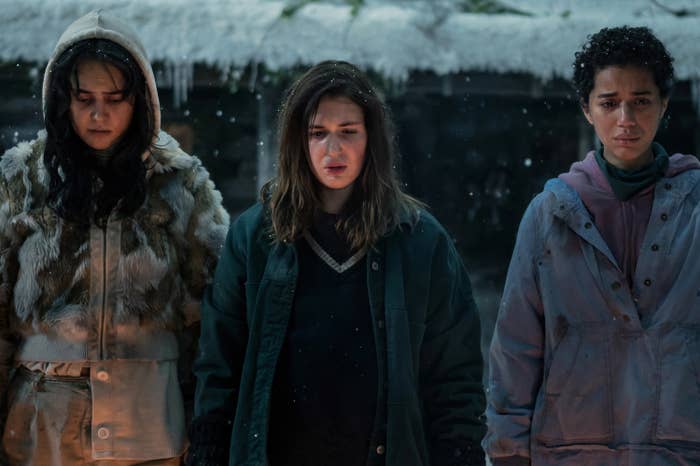 The cast and crew behind Yellowjackets don't recommend eating while watching this week's episode.
At the end of Episode 2 of the currently airing second-season episode, the soccer team stuck in the Canadian wilderness did what viewers have been waiting for and dreading all series: They resorted to cannibalism.
The episode, in part, chronicles what to do with Jackie (Ella Purnell)'s body. She froze to death last season, and Shauna (Sophie Nélisse) struggled to part with her best friend's corpse. Taissa (Jasmin Savoy Brown) eventually convinces the crew to ritually burn the body of their friend, and they do so before heading to sleep. However, they're awoken by an oddly irresistible smell.
When just the right amount of snow falls at the right moment (a little too perfectly timed in these potentially haunted woods), Jackie's corpse is effectively entombed and eventually perfectly smoked, crisp, and appetizing for the starving characters. Overtaken by the smell, Shauna indulges in the forbidden meal, and her teammates quickly join her — with the exception of coach Ben (Steven Krueger). Repulsed by cannibalism (as he should be!), Ben shuts the cabin door as the screen fades to black.
As grotesque as it was to watch, the experience filming the deviantly memorable scene was even more repulsive. Turns out it's not appetizing to eat fake human meat that's actually composed of rice paper and jackfruit. Well, in this case, Jackiefruit.
"We were pulling out the rice paper, and it was all soggy," Nélisse told BuzzFeed News. "We were like, 'This is the grossest thing ever.' It just tasted disgusting."
Nélisse, who is usually a fan of rice paper, said the food wasn't bad when she and the cast tried it before filming. However, her appetite changed once they were all assigned a different part of Jackie's fake body to pick at.
Courtney Eaton, who plays young Lottie, found the "rubbery" smell formed by a combination of the "slimy" jackfruit, rice paper, and the prosthetic body off-putting.
"They should have sprayed some hamburger smell or something," she said.
Though Eaton "gagged a couple of times," she said one cast member couldn't keep the food down. "Samantha [Hanratty] threw up," she said of her cast member, who plays young Misty Quigley.
The cannibalism scene was interspersed with another lush and distinctly non-winter medieval fantasy feast where the characters indulged in a formal buffet. Fake moss, pine cones, and antler bones filled the dining table to emphasize the show's haunted forest fantasy setting.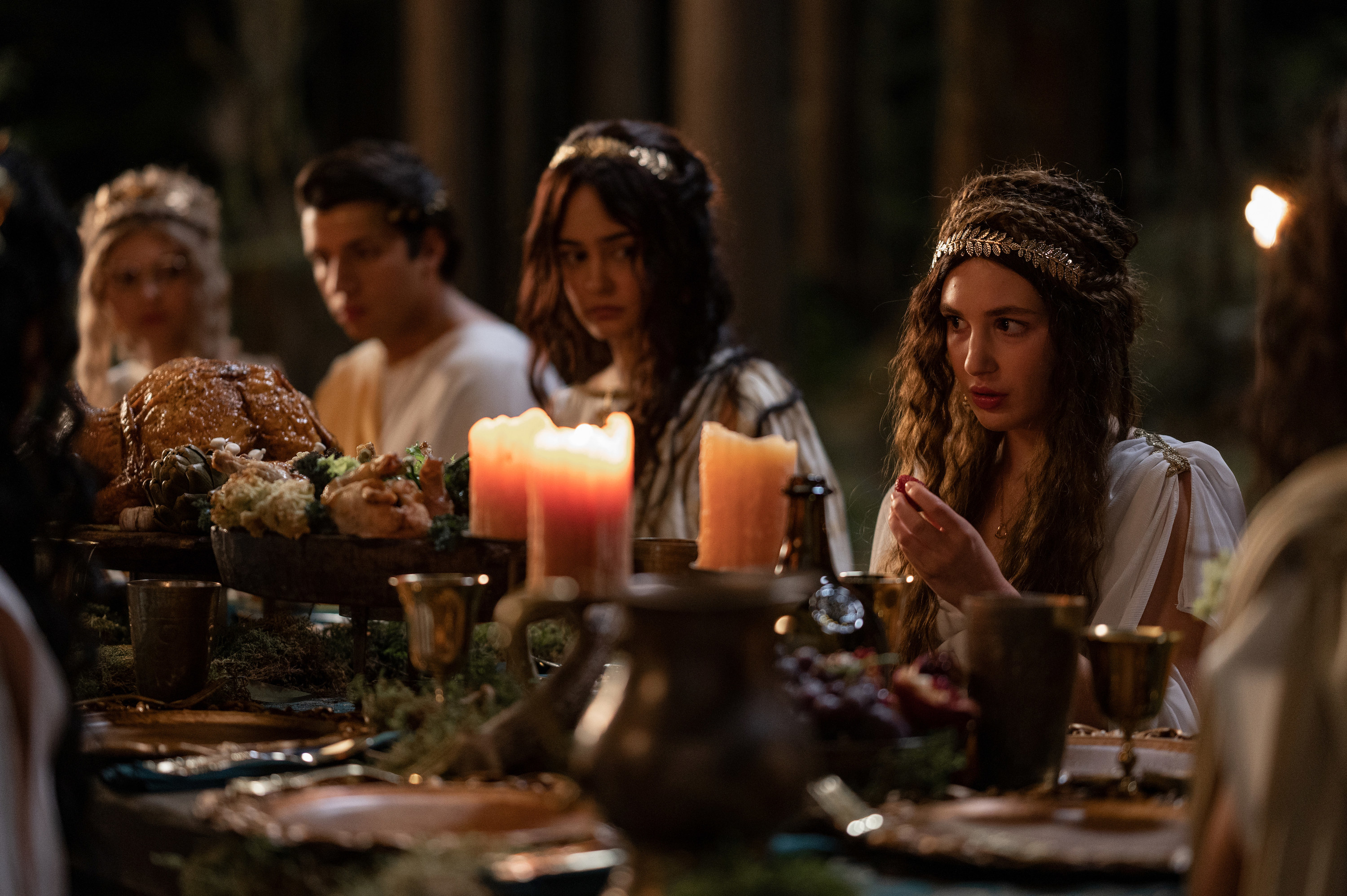 According to Margot Ready, the show's production designer, the dream feast was inspired by documentaries on the former king of England Henry VIII, who reportedly held lavish, meat-heavy dinners where aggressive, indulgent eating was de rigueur.
"There was a slightly feral aspect to that way of eating that worked well to kind of create this luscious feast, but you're still kind of tearing apart what you're eating," Ready said.
Still, the dream dinner — an opportunity for the cast to ditch their dirty, bloody clothes for soft, ornate outfits — wasn't any easier to film than the cannibalistic feast.
"We were stuffing our faces and people were spitting food out, and that would accidentally go in your mouth," Nélisse said.
Eaton added, "I think we were pretty over food by the end of that."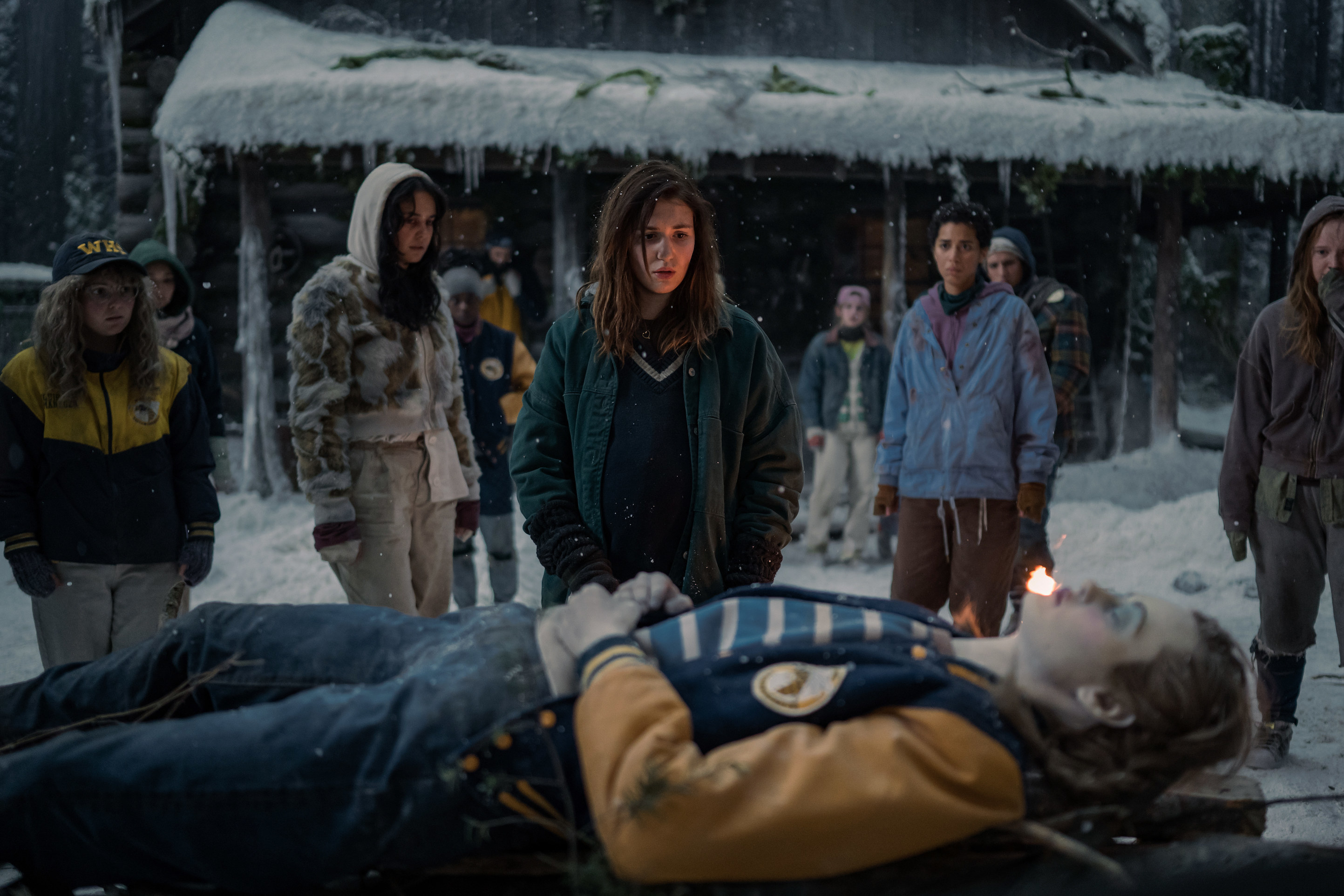 When it came to creating Jackie's body, the crew had the extra challenge of making it clear that her body was frozen before being desirably roasted. "It's literally scripted that Jackie is perfectly cooked," Ready said.
With Yellowjackets finally indulging in full-fledged cannibalism, it's unclear where the stranded soccer team goes from here. It's not like they were faring well before they dipped a toe into eating their own.
There's also the question of what role — if any — the group's Antler Queen and eerie spiritual leader Lottie may have played in the cannibalism, but Eaton doesn't think her character had anything to do with it. They were just hungry.
"Once you kind of have this idea in your head for something that's kind of forbidden and there's no societal rules and you have the opportunity to do it, and you're at this point of starving, I think you're gonna end up reverting to some animalistic things," she said.
Based on how it's going for their adult selves decades later, the animalistic tendencies never quite stopped.