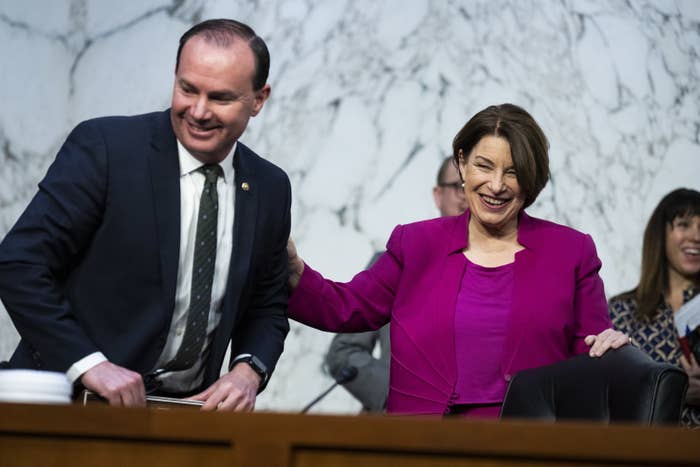 Senate hearing or Taylor Swift fan meeting? You tell me.
Multiple Senate Judiciary Committee members went out of their way to quote Taylor Swift lyrics during a nearly three-hour hearing on Tuesday to examine whether Live Nation Entertainment, the parent company of Ticketmaster, was at fault for the ticket debacle surrounding Swift's upcoming Eras Tour.
In November, Ticketmaster canceled its general sale for Swift's summer tour due to "insufficient" ticket inventory. This came after many Swifties were unable to purchase tickets following intense demand and Ticketmaster's website crashing during the initial "verified fan" presale. Ticketmaster said about 3.5 million people registered for the fan presale.
In response, Minnesota Sen. Amy Klobuchar announced that the Senate would hold a bipartisan hearing about the incident. The Department of Justice also said it's investigating the issue.
At the senate hearing, Live Nation President Joe Berchtold told the committee that the ticketing issues were caused by bots that crowded out fans and attacked the servers, but lawmakers couldn't just "shake it off."
Multiple senators referenced lyrics to iconic songs by Swift when speaking to a panel of experts that included Berchtold. Many senators appeared to have some "bad blood" with Ticketmaster's dominating presence in the ticketing market.
Seriously, the lyrical references were common and this heavy-handed. Here's every Swift song and lyric referenced in the committee hearing.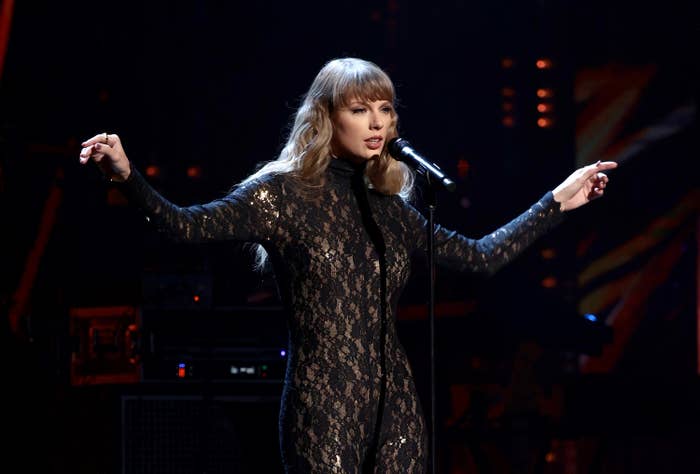 "All Too Well"
In her opening statement, Klobuchar said that Live Nation currently dominates the ticketing market, owns many of the major concert venues, and tends to lock venues they don't own into multiyear exclusive agreements.
"I believe in capitalism, and to have a strong capitalist system, you have to have competition," Klobuchar said. "You can't have too much consolidation — something that unfortunately for this country, as an ode to Taylor Swift, I will say, we know all too well."
"All Too Well" is, of course, one of Swift's signature songs (and the title of her 2022 short film) that may or may not have been written about Jake Gyllenhaal.
"You Belong With Me," "Blank Space," and "Karma"
Utah Sen. Mike Lee appeared to enjoy dropping Swift lyrics because he mentioned multiple – like using a lyric from Swift's Fearless track "You Belong With Me" when speaking about Klobuchar, who is the chair of the committee. Lee is the ranking member.
"To be honest I had hoped, as of a few months ago, to get the gavel back, but once again she's cheer captain and I'm on the bleachers," Lee said. "Nice of Taylor Swift to have written a song about this very situation."
"She's the cheer captain, and I'm on the bleachers" are lyrics from "You Belong With Me."
When discussing efforts to minimize ticket scalpers, Lee also criticized the idea of placing restrictions on ticket purchasers' ability to resell tickets. "A lot of people seem to think that's somehow a solution. I think it's a nightmare dressed like a daydream," Lee said, referencing the 1989 track "Blank Space."
Lee then said he had to throw out one more quote for his daughter and shared a lyric to "Karma" from Midnights.
"Karma's a relaxing thought. Aren't you envious that for you it's not?" Lee said.
"This Is Why We Can't Have Nice Things"
It wasn't just senators. Sal Nuzzo, of the James Madison Institute think tank, told lawmakers at the hearing that the issue of fair ticketing competition goes beyond the Eras Tour crash.
"A few million Taylor Swift fans would respond: 'This is why we can't have nice things,'" Nuzzo said, mentioning the title of a song on Reputation.
Taylor Swift has not publicly addressed the senate hearing.