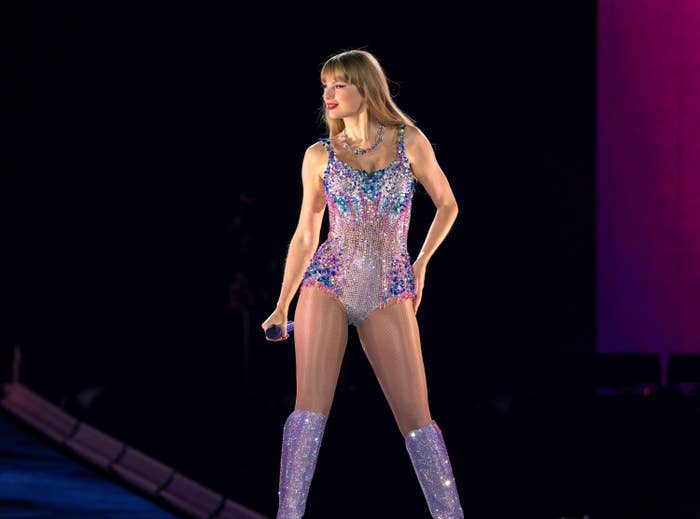 On Monday, plaintiffs for a lawsuit against Live Nation, Ticketmaster's parent company, appeared in court over the company's handling of tickets to Taylor Swift's Eras Tour.
Though around 10 plaintiffs attended the proceeding in Los Angeles, they're among the 340 people who accuse Ticketmaster of "intentionally and purposely" allowing scalpers and bots to snap up tickets to see Swift and resell them for profit.
This is the latest in the ongoing fallout for Ticketmaster after tickets for Swift's tour, which kicked off on March 17, went on sale last November. Millions of fans were reportedly unable to purchase tickets due to an "insufficient" ticket inventory. When the lawsuit was initially filed on Dec. 1, 26 plaintiffs said Ticketmaster was responsible for the tickets being immediately resold at far more expensive prices.
Attorneys for Live Nation were not in attendance at Monday's hearing but called in. Live Nation did not respond to BuzzFeed News' request for comment about the lawsuit and fans' accusations against Ticketmaster.
One of the many plaintiffs is Kiley Krzyzek, 28, who is from Los Angeles. She said she was initially waitlisted for the verified fan sale before being "booted off" the website during an exclusive presale for Capital One cardholders two days later. Ultimately, Krzyzek said she couldn't buy tickets herself, though a friend managed to secure her a ticket.
"This is really teaching all of us persistence, and really just fighting for what's right," Krzyzek told BuzzFeed News at a protest outside the courthouse. She believes Live Nation has become a monopoly for the live event industry as artists don't get a say in which ticketing platform they use for shows. "By fighting this, we're trying to get away from setting that precedent that there could just become a monopoly for entire industries."
According to the Associated Press, Ticketmaster is the largest ticket vendor in the world, processing 500 million tickets every year in over 30 countries. In January, Joe Berchtold, the president and CFO of Live Nation, spoke in front of the Senate Judiciary Committee and denied the accusations that his company holds a monopoly, highlighting the presence of companies like SeatGeek and Eventbrite.
Berchtold apologized to Swift and her fans, saying there were "several things we could have done better" and that attempted bot attacks required Ticketmaster to slow down and even pause its sales, which led to a poor customer experience.
Joe Akmakjian, a 31-year-old Swiftie from Denver, became a plaintiff after hearing about the lawsuit through a TikTok video posted by one of their attorneys, Jennifer Kinder. The attorney used TikTok to find fans who wanted to become plaintiffs, and she now uses the platform to provide updates on the case.
Akmakjian told BuzzFeed News he was in the Ticketmaster queue for nine hours during the initial sale and wasn't able to get tickets until the following day via the Capital One presale.
"For me it's not about whether you got tickets or you didn't get tickets. It's about how this company is allowed to continue operating in ways that harm the average American consumer," he said. "Ticketmaster has a chokehold on the live entertainment industry."
At Monday's hearing, Judge George Wu said attorneys for the plaintiffs have until May 12 to file a motion to avoid arbitration.