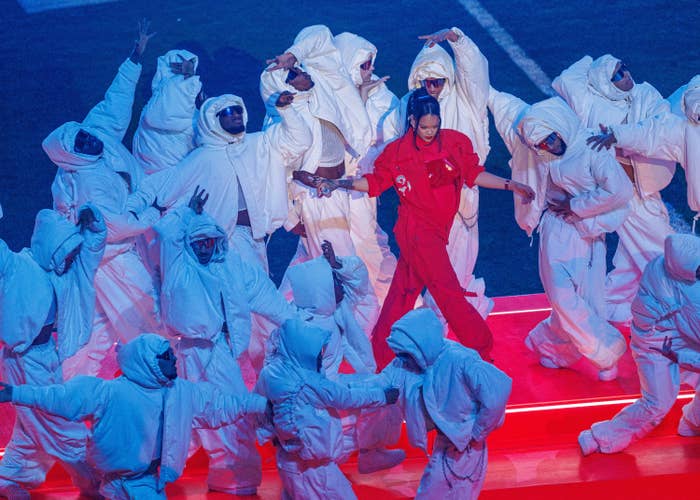 Rihanna didn't take on headlining the Super Bowl halftime show lightly.
For years, the singer declined the major event, in part because of the NFL's treatment of Colin Kaepernick, the football star who knelt during "The Star-Spangled Banner" at the start of multiple games in 2016 in protest against racial injustice and police brutality that sparked a larger movement.
"I just couldn't be a sellout. I couldn't be an enabler," Rihanna told Vogue in 2019. "There's things within that organization that I do not agree with at all, and I was not about to go and be of service to them in any way."
However, her opinion on headlining changed, as evidenced by her performance on Sunday that brought in the second-most viewers ever for a halftime show. Rihanna outlined her reasons for deciding to finally headline on Wednesday in a cover story for British Vogue. It turns out much of her justification has to do with last year's headliners: Dr. Dre, Snoop Dogg, Mary J. Blige, Eminem, 50 Cent, and Kendrick Lamar.
"Representing the urban community, globally. It is powerful. It sends a really strong message," Rihanna told British Vogue. "Two Super Bowls back-to-back."
That's not to say she doesn't still have her concerns with the NFL. "There's still a lot of mending to be done in my eyes," Rihanna said. "But it's powerful to break those doors, and have representation at such a high, high level and a consistent level."
Another major motivator was Rihanna's 9-month-old son, whose name she and A$AP Rocky have not shared publicly. Becoming a mother last year made her realize that "nothing is impossible."
"It's this knowing that you can do anything," she told the magazine. "Even things that seem the craziest, like, 'I'm going to say yes to the Super Bowl in the middle of postpartum?'"
But that wasn't the biggest surprise. Rihanna eventually learned that she'd be headlining while pregnant with her second child. As anyone who watched the Super Bowl knows by now, Rihanna unveiled a baby bump during the big show. Representatives for the singer later confirmed that she is pregnant.
She told British Vogue that she did not know she would be carrying another child when she agreed to take the stage, let alone taking the stage for the first time in seven years.
"Seven years! From zero to Super Bowl? That's mental," Rihanna said. "What the heck am I thinking? But you're geeked on a challenge like that because you know what your body just did."
The last motivator to take on the high-stakes show was her fans, who are barely surviving the Rihanna music drought. She wanted to put on a show for people who missed her music. With a list of infinite hits impossible to fit into 13 minutes, Rihanna said she opted out of costume changes to instead focus on giving her fans what they really wanted: to hear her sing. She managed to pack 12 songs into the show.
The singing won't stop, if Rihanna can help it. Of course, the singer also told the magazine about her long (long) awaited follow-up album to 2016's Anti. She's thinking it'll drop this year.
"Like, honestly, it'd be ridiculous if it's not this year," she said. "But I just want to have fun. I just want to make music and make videos."