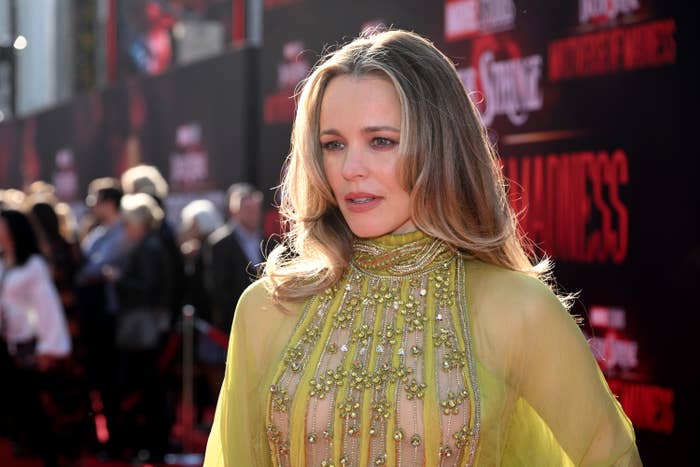 Andy Sachs might have worn pink on Wednesdays.
Rachel McAdams said that she turned down a role in 2006's The Devil Wears Prada as she took a break from acting following the success of Mean Girls and The Notebook in 2004.
McAdams said in a Bustle profile published Tuesday that she was offered parts in roles in films like Casino Royale, Mission: Impossible III, Get Smart, and Iron Man, which were all released between 2006 and 2008. McAdams said she turned down those offers because she believed it was best for mental health at the time.
During her two-year hiatus from Hollywood, she moved back to Canada, where she was born.
"I felt guilty for not capitalizing on the opportunity that I was being given, because I knew I was in such a lucky spot," McAdams told Bustle. "But I also knew it wasn't quite jiving with my personality and what I needed to stay sane. There were definitely some anxious moments of wondering if I was just throwing it all away, and why was I doing that? It's taken years to understand what I intuitively was doing."
McAdams did not reveal which part she was offered in The Devil Wears Prada, which starred Anne Hathaway, Emily Blunt, and Meryl Streep.
In a 2021 Entertainment Weekly interview, director David Frankel said that McAdams was in mind for the part of Andy even when they started negotiating with Hathaway.
"We started negotiating with Annie to make a deal, and that didn't go well with the studio," Frankel said. "We offered it to Rachel McAdams three times. The studio was determined to have her, and she was determined not to do it."
In addition to becoming box office hits, some of the films McAdams turned down had lasting cultural impacts. Casino Royale, which starred Eva Green, kicked off Daniel Craig's tenure in the James Bond franchise. Iron Man, starring Robert Downey Jr. and Gwyneth Paltrow, launched the Marvel Cinematic Universe, which McAdams would later join via 2016's Doctor Strange and 2022's Doctor Strange in the Multiverse of Madness.
"There's certainly things like 'I wish I'd done that," McAdams said. "I step back and go, 'that was the right person for that.'"
McAdams is next set to star in Lionsgate's adaptation of the Judy Blume book Are You There God? It's Me, Margaret, which premieres in theaters on April 28.