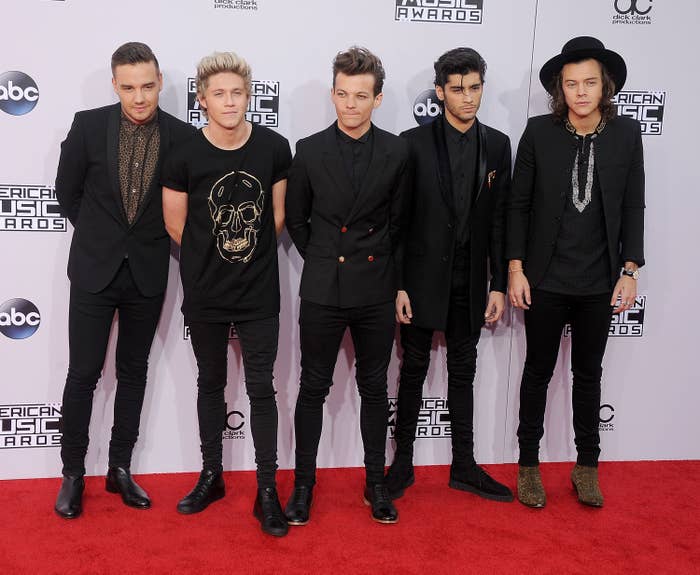 Leave it to a Directioner to recognize a split-second mistake about a critical moment in their favorite boy band's history.
Shortly after the release of Netflix's new action series Kaleidoscope, One Direction fans on Twitter noticed an error in a scene where a character tries to bribe a prison guard with tickets to see the band perform in March 2016.
But as the show's creators (and probably most other people) had forgotten, the band announced their hiatus in January 2016, which came after Zayn Malik's departure in March 2015. Since then, they've never performed together again — though they still haven't officially broken up.
The scene comes in the show's episode titled "Green." (The show's hook is that its episodes appear in a random order for Netflix viewers.) In the scene, criminal Judy (Rosaline Elbay) tries to smuggle SIM cards inside a prison for her boyfriend Stan (Peter Mark Kendall). When she is caught by a guard, Judy offers her tickets to see the "What Makes You Beautiful'' singers' show at Madison Square Garden on March 6, 2016.
Twitter user @Matildarryhs3 called out the error of the show's date as well as the fact that the band only performed at the iconic New York venue once in 2012. (They didn't immediately respond to questions from BuzzFeed News on Wednesday about their apparent eagle eyes.)
"WHY IS NO ONE TALKING ABOUT ONE DIRECTION TOUR TICKETS IN 2016 MENTIONED IN THE NETFLIX SERIES #KALEIDOSCOPE," they said. "THE FACT THAT 1D WENT ON HIATUS IN 2015 AND WEREN'T EVEN TOGETHER IN 2016!!??? ALSO THEY PLAYED MSG ONLY ONCE IN 2012 WTFF😭😭💔💔 IT HURTS BEING A DIRECTIONER."
The limited series, which follows a crew of bandits' 25-year mission to break into a vault holding $7 billion in bonds, dropped nine episodes on Sunday.
Like any good heist show, there are twists and turns. So maybe, another person on Twitter joked, the false date on the ticket was intentional??