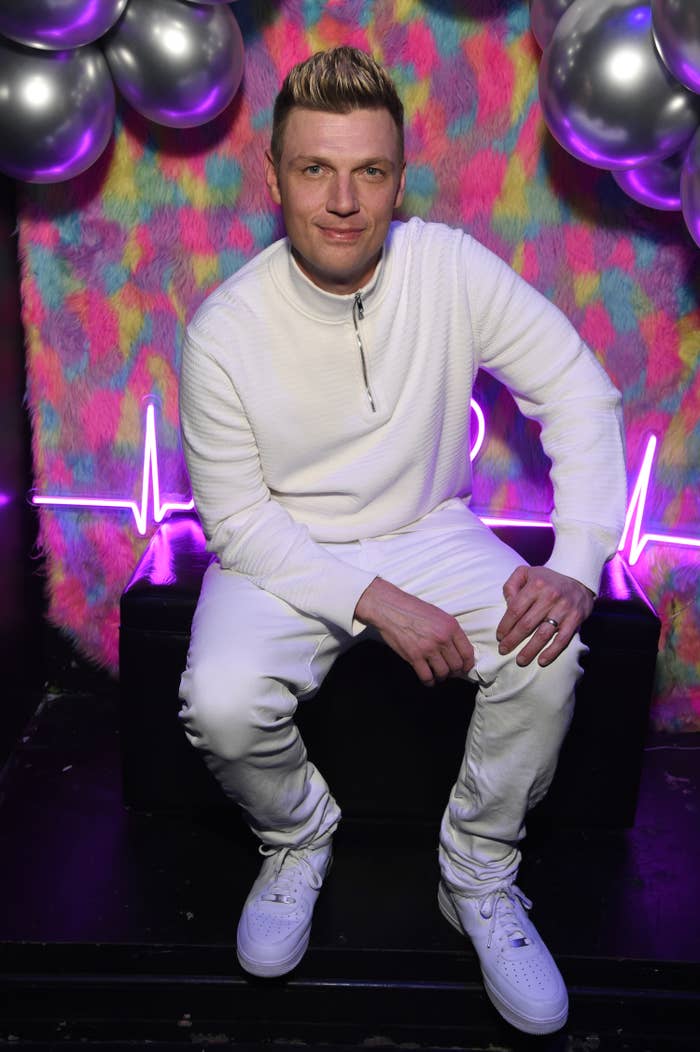 Nick Carter has filed a countersuit on Thursday against the woman who accused him of committing sexual battery when she was 17.
Shannon Ruth filed the initial lawsuit in Clark County, Nevada, against the Backstreet Boys singer on Dec. 9. She alleged Carter raped her in 2001 on the band's bus after a show in Tacoma, Washington, during the group's Black & Blue tour. The civil complaint stated the alleged assault left Ruth with human papillomavirus, or HPV, which can cause genital warts and even cancer.
In Thursday's countersuit, also filed in Clark County, Carter rejected Ruth's allegations. The suit claims Ruth "perpetuated a series of lies designed to harm Carter's reputation and ability to earn a living." The countersuit added that Ruth's lawsuit was part of an approximately five-year-long conspiracy plan to "harass, defame and extort" the singer.
"Protecting one's reputation and name by calling a liar a liar is not victim blaming or bullying. It is simply telling the truth," the countersuit reads. "These opportunists set out to thrust themselves into the spotlight and destroy innocent lives."
Carter is seeking over $2.35 million in damages, according to the lawsuit, which claims this is the same amount of money that Carter and the Backstreet Boys lost following Ruther's lawsuit. The countersuit alleged that the band had five promotional events as well as contracts or endorsement deals with entities like ABC, Good Morning America, MeUndies, Vrbo, and Roblox all canceled in light of Ruth's allegations.
The countersuit also accuses Melissa Schuman and her father Jerome Schuman of manipulating Ruth into "making false allegations." In 2017, Schuman accused Carter of raping her in his apartment in 2002 after getting her drunk. Carter responded, claiming the sex was consensual and was not charged with sexual assault.
Schuman did not file charges against Carter, explaining on a blog post that she "didn't have the money, the clout or access to an attorney who was powerful enough to stand up against my abuser's legal counsel."
The countersuit claims that Melissa, Jermone, and Ruth took advantage of the #MeToo movement and Carter's late brother Aaron, who died on Nov. 5, as part of a conspiracy plan to exploit him.
"Schuman, Jerome, and Ruth exploited Aaron's fragile condition and family stresses to cloak their defamatory campaign with credibility, relentlessly and repeatedly using Aaron to try to legitimize their frivolous tales," the countersuit reads.
Schuman did not immediately respond to BuzzFeed News' request for comment on Thursday's countersuit.
In Ruth's initial lawsuit, Carter has also faced allegations of sexual misconduct from three other Jane Does, including a 15-year-old. Ruth sought unspecified punitive and compensatory damages for medical expenses, pain, and suffering. She is autistic and lives with cerebral palsy, a disorder that affects movement and coordination.
"The last 21 years have been filled with pain, confusion, frustration, shame, and self-harm that are a direct result of Nick Carter raping me," Ruth said at a news conference. "After he raped me, I remember him calling me a 'retarded bitch' and grabbing me and leaving bruises on my arm."
In response to Carter's countersuit, Ruth's attorney Mark Boskovich questioned the singer's credibility due to previous allegations of sexual assault against him.
"Why should Nick Carter be believed with his long history of abusing females. A jury will weigh the evidence and decide," Boskovich said in a statement to BuzzFeed News on Thursday.