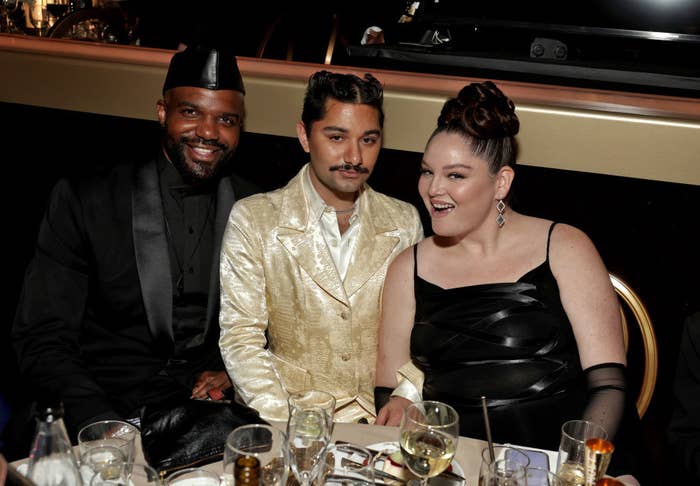 Megan Stalter and Mark Indelicato, two of the hilarious cast members of HBO Max's Emmy-winning series Hacks, said they'd love to jump to another HBO ensemble: White Lotus.
"I want to be the killer actually," Indelicato told BuzzFeed News in a red carpet interview at Tuesday's Golden Globes.
Stalter said she could see the two of them playing a miserable married couple with seven kids.
"There's always like two babies around my hip, and I'm so stressed and trying to have a good vacation for once," Stalter said.
"But there's something sneaky about this husband. He's got a secret," Indelicato said.
In Hacks, Stalter plays incompetent receptionist Kayla, who constantly annoys her boss, Jimmy (Paul W. Downs). But because she's the daughter of the talent agency's CEO, Jimmy fights the urge to fire Kayla every episode.
And she's not the only one saying she'd be perfect for the next season of the luxe destination drama. Before White Lotus' Season 2 finale on Dec. 11, people on social media shared their casting picks for a third season. Stalter was suggested alongside actors like Alexa Demie, who plays Maddy on Euphoria, and Ilia Isorelýs Paulino, who plays Lila on The Sex Lives of College Girls.
"I think that Meg is a shoo-in for White Lotus Season 3," Indelicato told BuzzFeed News on Tuesday.

On Hacks, Indelicato plays personal assistant Damien to comedy legend Deborah Vance (Jean Smart). The show was nominated for Best Television Series — Musical or Comedy but lost out to Abbott Elementary.
If the role of the killer is unavailable, Indelicato said he'd love for White Lotus creator Mike White to cast them as any main character.
"What we want to say to the creators is, we love you so much," Stalter added. "And if you want to put me in the show, I'll take you on a big shopping spree."