Ke Huy Quan, who got his start in Hollywood as a child actor, gave a triumphant speech Sunday night upon winning Best Supporting Actor at the Oscars. His win came decades after Quan largely stepped away from his acting career.
Quan won for playing Waymond Wang in Everything Everywhere All At Once, which is nominated for Best Picture among other categories.
"My mom is 84 years old and watching. Mom, I just won an Oscar," Quan said with tears. "I spent a year in a refugee camp and somehow I ended up here on Hollywood's biggest stage."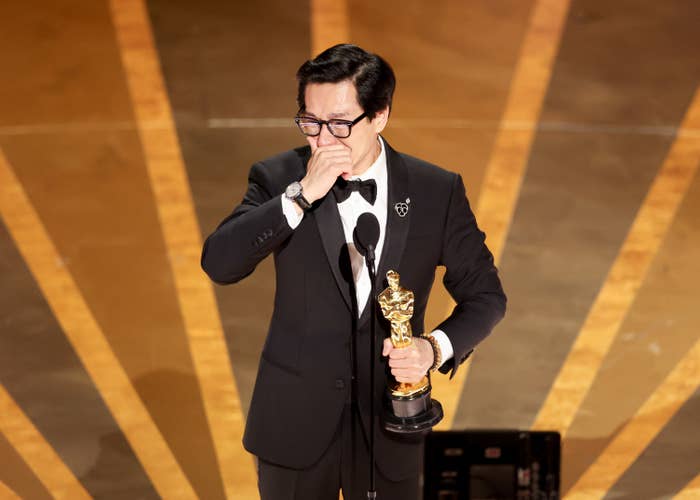 Quan got his start as a child actor starring in films like Indiana Jones and Encino Man. After struggling to find work as an adult actor, Quan began working in stunt choreography before Everything Everywhere All At Once revived his acting career. In his speech, Quan called his journey an example of the American dream.
Among the people he thanked was his friend and actor Jeff Cohen, who costarred with Quan in 1985's The Goonies.
"Goonies brother for life," he said.
Quan also thanked his wife, Echo Quan, saying he owed everything to her for encouraging him to continue pursuing acting.
"I owe everything to the love of my life, my wife Echo, who month after month [and] year after year for 20 years told me that one day, one day my time will come," Quan said. "Dreams are something you have to believe in. I almost gave up on my mine. To all of you out there, please keep your dreams alive. Thank you, thank you so much for welcoming me back."