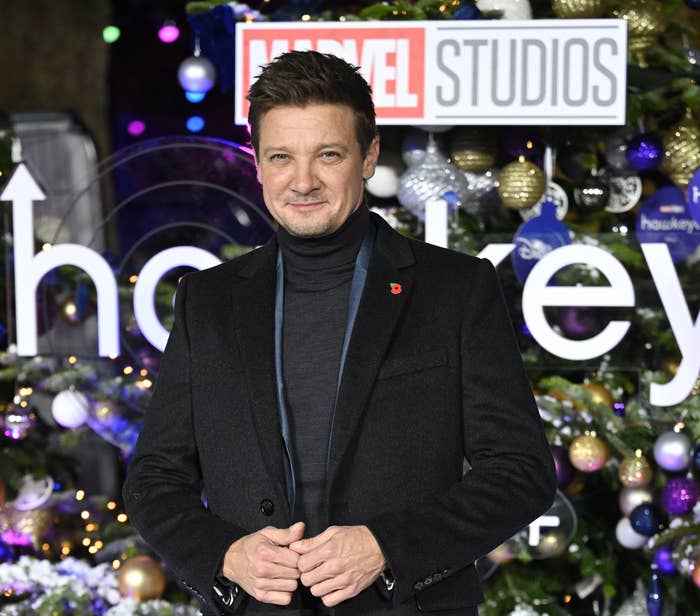 A 911 call log from the Washoe County Sheriff's Office has revealed that Jeremy Renner was "completely crushed" by a snowcat vehicle on Mt. Rose Highway in Nevada during his snowplowing accident on New Year's Day.
According to records obtained by CNN, on Jan. 1, at 8:55 a.m., dispatchers received an emergency call stating that the Hawkeye star was run over by a snowcat, a truck-like vehicle that runs on tracks instead of wheels. The log also noted that the person who dialed 911 was screaming while asking the dispatcher for help and that Renner could be heard "moaning loudly in the background."
During the call, Renner was "bleeding heavily from his head and other injuries" while the person who dialed wasn't "sure where all the blood is coming from," CNN reported.
The Washoe County Sheriff's Office told BuzzFeed News on Thursday that it could not comment on the records obtained by CNN.
The incident took place as roads were closed and at least three feet of snow was on the ground, Washoe County Sheriff Darin Balaam said during a news conference on Tuesday. He added that his office is investigating if there was any mechanical error with the vehicle and waiting to speak with Renner for additional details.
Reno Mayor Hillary Schieve told the Reno Gazette-Journal that Renner was trying to help a stranded driver when he was hit by his own plow.
The accident left Renner in critical condition. He underwent surgery on Monday after experiencing blunt chest trauma and orthopedic injuries. Since then, he's been recovering in the ICU. On Thursday, he shared a video in an Instagram story and on Twitter of himself enjoying a "spa moment" at the hospital with his mother and sister. In the clip, Renner enjoys receiving a head massage from one woman while another smiles at his bedside.
"A 'not no great' ICU DAY, turned to amazing spa day with my sis and mama," Renner captioned the tweet, which shows him wearing an oxygen mask over his bruised face. "Thank you sooooo much."
Renner previously shared a selfie from his hospital bed on Instagram, thanking people for their support.
"Thank you all for your kind words," Renner said. "Im too messed up now to type. But I send love to you all."
The comment section on that post was flooded with kind words from fans and friends, including Chris Evans and Chris Hemsworth.
"Tough as nails. Love you buddy," Captain America actor Evans wrote.
"Speedy recovery buddy. Sending love your way," Thor actor Hemsworth said.