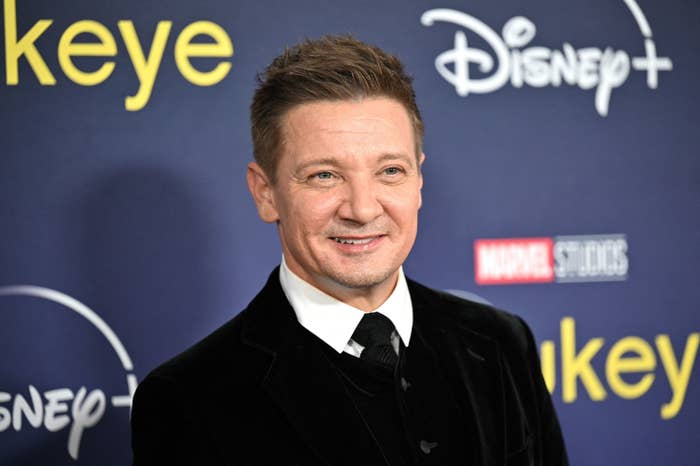 Jeremy Renner has made it home after being run over by a snowcat vehicle on New Year's Day.
On Monday night, the actor tweeted that he was with "family at home," recovering from his injuries. He offered the health update in a reply tweet to a post from the official Twitter account for the Paramount+ TV show Mayor of Kingstown. Renner stars in the crime drama, which premiered its second season on Sunday night.
"Outside [of] my brain fog [being] in recovery, I was very excited to watch episode 201 with my family at home," Renner wrote.
Renner was run over by a snowcat shortly after jumping out of it on a private road near Reno, Nevada, the Reno Gazette-Journal reported. A snowcat is a vehicle similar to a truck that runs on tracks instead of wheels.
People magazine reported that Renner also shared a photo earlier on Monday to his Instagram story of what appears to be his neighborhood near Reno with snow piled on buildings, trees, and the ground.
"Missing my happy place," the Avengers star wrote in the Instagram story.
A 911 call log from the Washoe County Sheriff's Office on Jan. 1 showed Renner was "completely crushed" by the snowcat. The log, which was obtained by BuzzFeed News, also noted the person who dialed 911 was screaming while asking the dispatcher for help and that Renner could be heard "moaning loudly in the background." Renner was "bleeding heavily from his head and other injuries" while the person who dialed wasn't "sure where all the blood is coming from."
The actor underwent surgery on Jan. 2 after experiencing blunt chest trauma and orthopedic injuries, Renner's representative said in a statement sent to BuzzFeed News that day.
On Jan. 3, Renner shared a selfie on Instagram from his hospital bed, thanking people for their support.
"Thank you all for your kind words," Renner wrote. "Im too messed up now to type. But I send love to you all."
He also shared a video on Twitter on Jan. 5 that showed him enjoying a "spa moment" at the hospital with his sister and mother. The video shows Renner receiving a head massage.