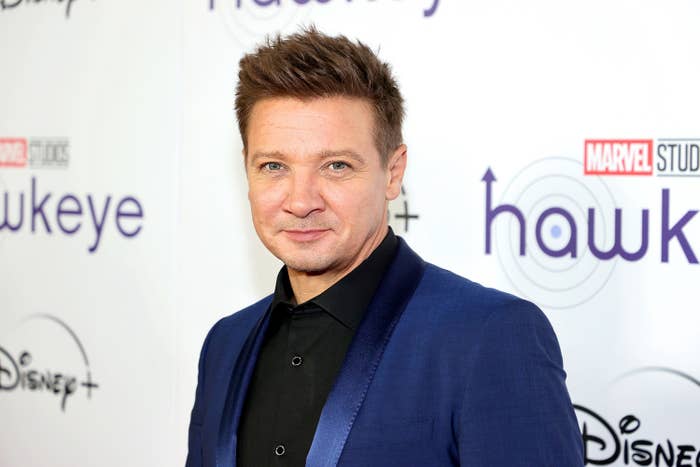 Jeremy Renner shared a photo from his hospital bed on Tuesday afternoon, thanking people for their support after he was critically injured in a snowplow accident on New Year's Day in Reno, Nevada.
"Thank you all for your kind words," said Renner, who underwent surgery on Monday after experiencing blunt chest trauma and orthopedic injuries. "Im too messed up now to type. But I send love to you all."
People commented on Renner's post, wishing him a speedy recovery, including Taika Waititi, Vanessa Hudgens, and Eiza González.
"Continued prayers your way brutha," fellow Marvel star Chris Pratt commented.
"Speedy recovery buddy. Sending love your way," Thor actor Chris Hemsworth said.
"You's a tough mother you know what and I love you for it all! Love you," actor Tasha Smith said.
Renner was trying to help a stranded driver when he was hit by his own plow, Reno Mayor Hillary Schieve told the Reno Gazette-Journal earlier on Tuesday. The incident took place as roads were closed and at least 3 feet of snow was on the ground, Washoe County Sheriff Darin Balaam said in a press conference on Tuesday. He added that his office is investigating if there was any mechanical error with the vehicle and waiting to speak with Renner for additional details.
"We do not suspect any foul play. We believe this was a tragic accident," Balaam said.
Balaam did not immediately answer questions about whether Renner was trying to help a driver at the time. But according to the Reno Gazette-Journal, Schieve is friends with Renner, who has a home in Washoe County, which encompasses Reno. The mayor described Hawkeye as an unsung, real-life hero who actively supports local charities.
"He's always calling and saying, 'Hey mayor, what do you need?'" Schieve said. "There are a few times he'll post about what he has done or donated toys, but most of it you would never know he is doing."
Officers responded to a traumatic injury in Reno at approximately 9 a.m. on Sunday, the Washoe County Sheriff's Office said in a press release.
When officers arrived, they arranged medical transportation for Renner and flew him to a local hospital. The sheriff's office confirmed that Renner was the only person involved in the incident and that the Washoe County Sheriff's Office Major Accident Investigation Team is currently looking into the circumstances surrounding it.