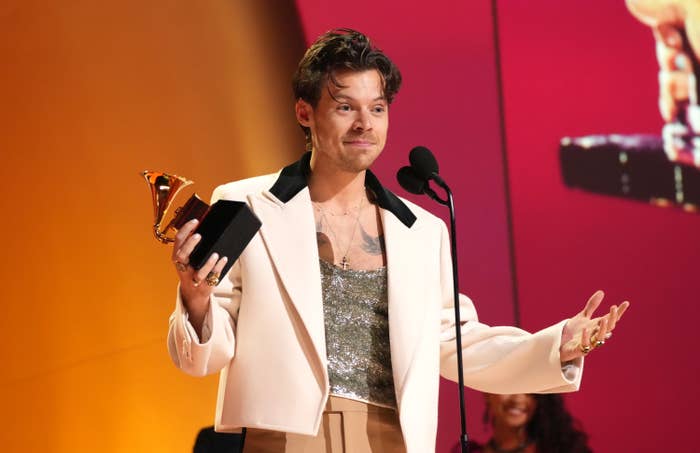 Harry Styles made the Grammys his house.
The singer took home Album of the Year, which is the award show's top prize, for his third studio album, Harry's House.
This wasn't his only win. Earlier that night, Styles also took home awards for Best Pop Vocal Album and Best Engineered Album (Non-Classical).
Styles's win for Album of the Year seemed to take him by surprise. When host Trevor Noah (with the assistance of a fan) announced his win, the British singer covered his face in disbelief.
"On nights like tonight, it's obviously so important for us to remember that there is no such thing as 'best' in music. I don't think any of us sit in the studio thinking, making decisions based on what's going to get us one of these," Styles said after taking the stage to accept his award. "This is really, really kind. I'm so, so grateful."
The One Direction alum triumphed against nine competitors for the award: ABBA, Adele, Beyoncé, Mary J. Blige, Brandi Carlile, Coldplay, Kendrick Lamar, Lizzo, and Bad Bunny.
"I have been so, so inspired by every artist in this category with me. A lot of different times in my life, I listened to everyone in this category when I'm alone," Styles said in his speech.
Host Trevor Noah allowed a Styles superfan to announce the win after bringing one fan of each of the Album of the Year nominees onstage.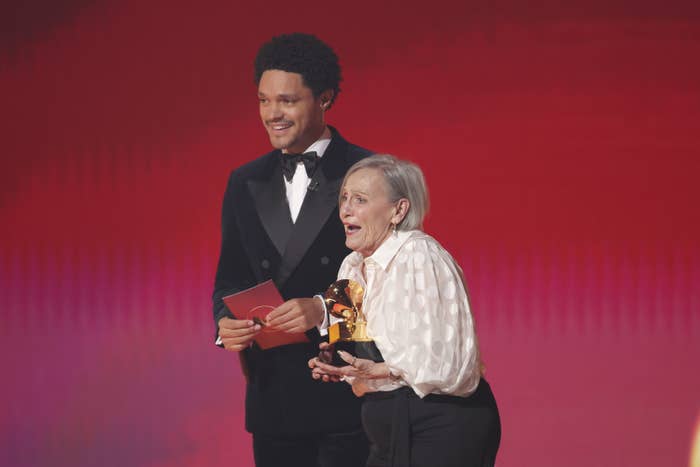 Harry's House was released in May 2022 and featured the hit single "As It Was," which was nominated for Best Music Video, Best Pop Solo Performance, and Song of the Year. It did not win in these three categories.
Elsewhere at the Grammys, Beyoncé and Lizzo were big winners. Beyoncé made history as the winningest artist in the history of the Grammys with 32 awards, while Lizzo won the Record of the Year for "About Damn Time." Bonnie Raitt won Song of the Year for "Just Like That." Samara Joy received the award for Best New Artist.