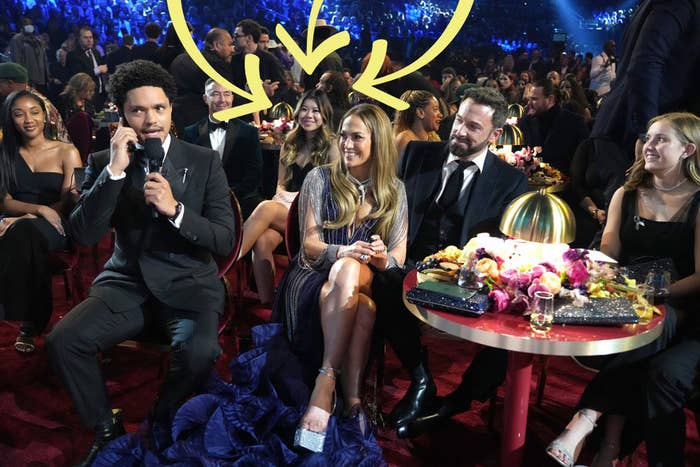 You don't have to be a pop star to attend the Grammys. Sometimes all you need is a bright smile, a formal dress, and a little ambition. That's all it took for Julie Phan, a UCLA student majoring in cognitive science, who took a break from studying to cosplay as a celebrity at Sunday's awards show.
Phan, who is from Santa Ana, California, attended as a seat filler, which is the name for a person who occupies empty chairs during the broadcast.
This wasn't Phan's first time at an awards show. She previously attended the 2021 People's Choice Awards and the 2022 MTV Movie & TV Awards in the fan pit. However, Sunday was her first time sitting among the stars, including Jennifer Lopez, Olivia Rodrigo, and Dwayne "The Rock" Johnson.
In January, Phan applied to attend the show through Seatfillers and More, an organization that brings people to Hollywood's biggest events, and learned her application was accepted just 10 days before the show.
In an interview with BuzzFeed News, Phan relived her Grammys experience, including just how affectionate J.Lo and Ben Affleck looked IRL.
This interview has been edited for length and clarity.
How excited were you to go to the Grammys?
I was beyond excited. I immediately searched up who's going to be there, who's performing, the nominees. To my luck, a lot of the people that I have grown up listening to, they were going to be there. So that was really exciting for me.
Who are some of your favorites that you got to see?
Taylor Swift, Harry Styles, Adele, Beyoncé. I would have loved to have seen BTS last year; however, they're not together right now.
I didn't even know seat fillers were a thing until today. Basically, you move around to where you're needed?
Yeah, pretty much. It's a game of musical chairs, really.
How many times did you move?
Initially, I started off on the side in the stands. Then I made my way down to the floor. I was mainly in the seat or rows for most of the time. Then I was moved around quite a lot. Immediately, whenever someone asked me to move, I just had to get up and go. I couldn't say no.
During [a] commercial break, I took the opportunity to get up and move towards the front, which is where the tables were. I was able to be placed right next to Jennifer Lopez. Right in front.
After that, I was moved back to the holding area, which was in the back for the [seat fillers] who did not have a seat at the moment. The whole process started again. Right after the holding area, I was back on the seated rows.
Were you usually in the front of the show?
Mainly the middle. That one time I was with Jennifer, that was the only time I was in the front.
How long were you next to J.Lo?
Right before Sam Smith's performance was when I took the seat. Right after the performance, I was booted. I feel 10ish minutes.
"Beyoncé walked right past me, and I was in complete shock. It did not feel real."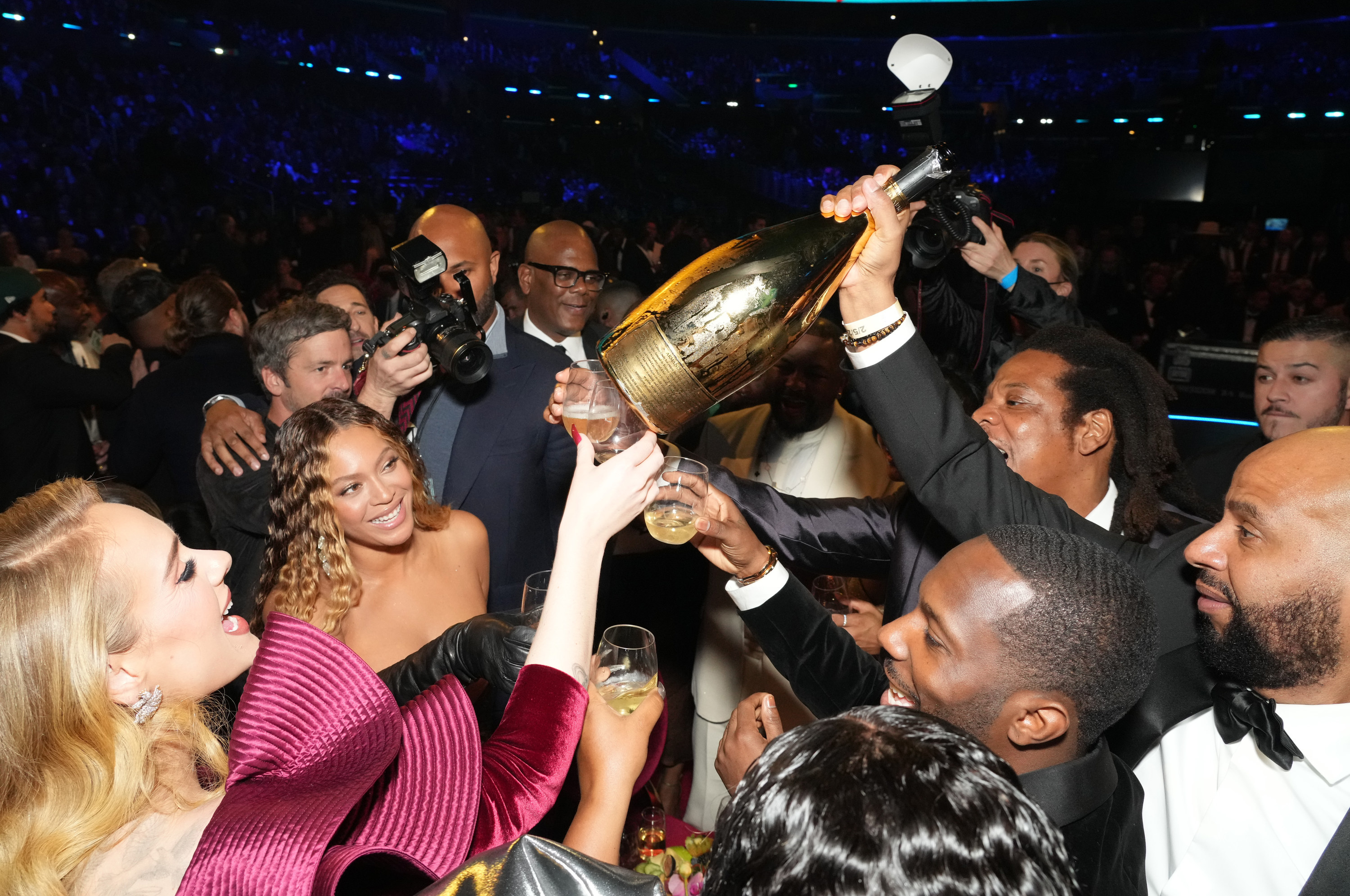 What other stars did you see?
[Once] I was behind the cameras, and celebrities were passing in that aisle. So I was able to say hi to Olivia Rodrigo. I witnessed Lil Uzi Vert taking photos right in front of me.
When I was on the floor, I was right next to the aisle. Beyoncé walked right past me, and I was in complete shock. It did not feel real. There were a lot of other artists [who] also passed by, [like] Omar Apollo. I know that Future was also walking around. Adele. It's a blur. Later at the end of the night, Taylor Swift and Harry Styles also passed by there.
I was able to talk to the Rock. I asked him — OK, technically you're not allowed to talk to celebrities. I just kind of did it anyway because there was an open opportunity to do so. There was an open seat next to the Rock. So I, as a seat filler, it was my duty to fill a seat. So I simply asked him if this seat was taken, and he said, "Yes, [it's] taken."
As for Jennifer, I wasn't planning on talking to her. However, she looked over at me. I found this opportunity as a way to tell her that she looks stunning. She said, "Thank you."
How was your interaction with Olivia Rodrigo?
She was surrounded by security and stuff. I called her name twice. She looks over, [and] I just say hi. She also said hi back, which I wasn't expecting, to be honest. Yeah, but she [was] really sweet about it.
"[Once] I was behind the cameras, and celebrities were passing in that aisle. So I was able to say hi to Olivia Rodrigo."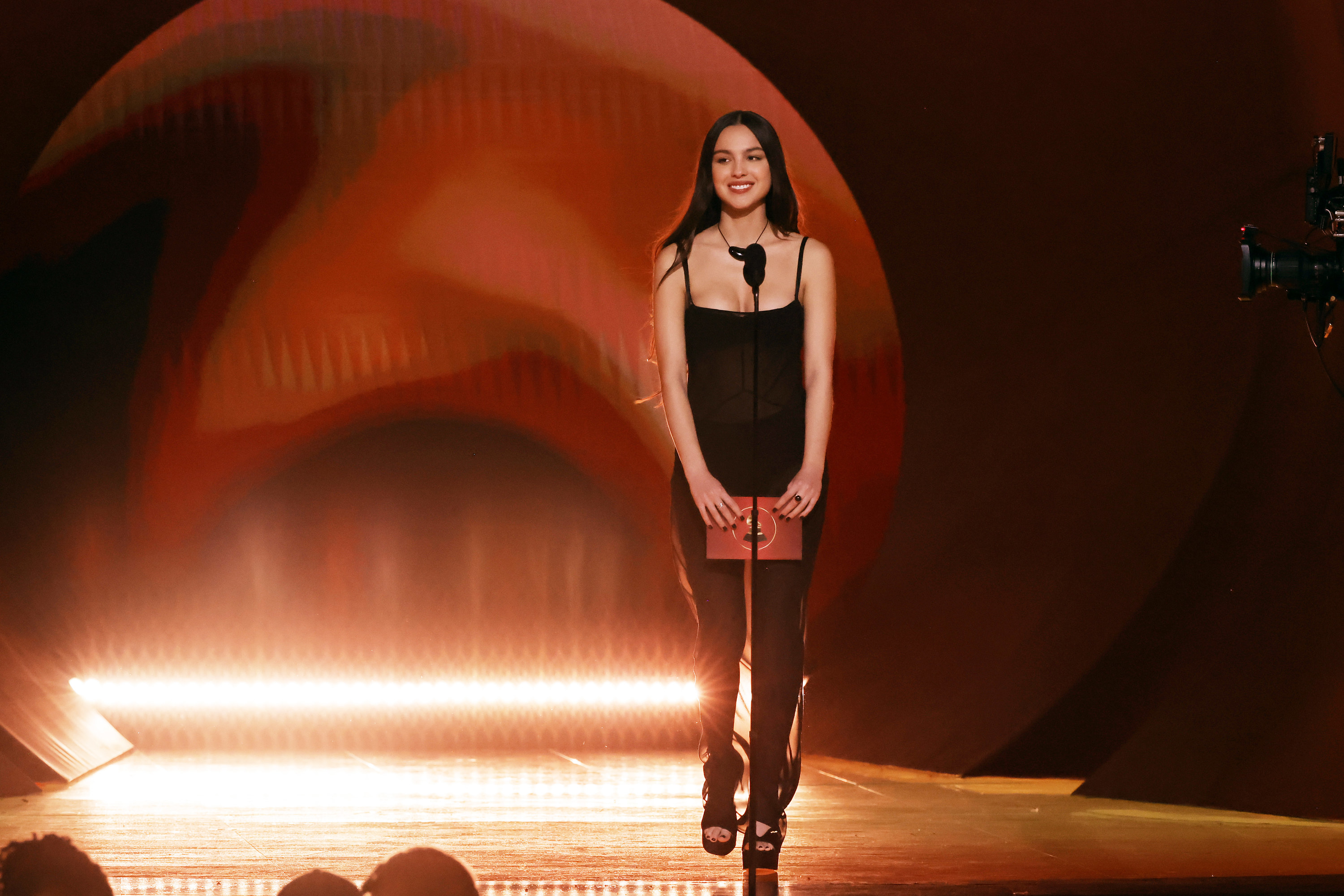 Were you able to hear any tea between J.Lo and Ben Affleck? There are a lot of memes going around about him.
That's what everyone's been trying to find out. Unfortunately, it was a lot at the moment, and I could not hear anything.
Throughout the time that I was there next to J.Lo, I just noticed that they were very affectionate towards each other. There was no bickering or fighting. He was hugging her and everything. I think at one point they were showing PDA to a point where, OK, I'll just look away. They weren't making out or anything, you know. Just very warm towards each other.
You posted a video of Julius de Boer, who is Beyoncé's bodyguard. He was telling you to leave a seat. How does that work?
The seat that Trevor Noah was in, that's where I was sitting. So I was right next to J.Lo. The commercial break starts, so Trevor Noah starts making his way over. He asked me to stand up and so I did. He sits down. He's greeting J.Lo, saying hi and everything.
I'm in this position where I don't know where I go now. I think it was Julius's wife or girlfriend or something who was sitting next to him. So I asked her, "Oh, is this seat taken?" She said, "Oh, Julius, he'll be coming right back," or something.
So I was conflicted. Where do I sit down? However, I know I couldn't leave the seat empty. Also, the lady was like, "Oh, yeah, just take a seat." So I did. This is where I'm caught looking over at J.Lo.
In another TikTok from a seat filler, they said you have to wear black but some people weren't following those rules. How did you go about your outfit?
Due to the late notice, I wasn't able to get the ideal outfit I wanted. I ended up borrowing something from a friend. It was a black dress with a slit.
It honestly shocked me to see that people were not following the dress code, because they made it a big deal that, like, you'd be escorted out if you weren't following [it].
So overall, was the experience amazing?
Yeah, it was such a surreal experience. It's a once-in-a-lifetime opportunity. I am literally just a college student, attending school [on] the weekdays. Then all of a sudden I had the opportunity to go to the Grammys. Yeah, it is super insane. I'm still trying to process everything that happened.